To most of us, running a half-marathon midway through a pregnancy sounds ludicrous. To softball legend Jennie Finch, it sounded like a warm-up.
"I went from a 2-mile run to a half-marathon," Finch said. "It's not the way you want to go about it. But I ran the whole way. I was thinking that it would be a good way to keep my competitive spirit alive. "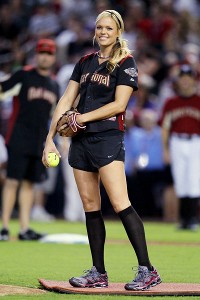 Jeff Gross/Getty ImagesJennie Finch, at a celebrity softball game on July 10, is preparing to run the New York Marathon about six months after having a baby.
Finch, who had her second son, Diesel Dean Daigle, on June 19, announced Wednesday that she is partnering with Timex and participating in the Nov. 6 running of the NYC Marathon just months after welcoming her second son into the world.
"I'm up to 10 miles right now," Finch said. "So I'm going to be crashing it in to get to where I need to be come November."
The two-time Olympic medalist will start last in the race, and Timex will donate one dollar for every person she passes to the New York Road Runners youth program. Although Finch hasn't set a timed goal, she has her eyes set on a certain mark.
[Former NFL receiver] Amani [Toomer] did it last year with Timex and passed over 25,000 people. That got my competitive juices flowing," Finch said. "I'm aiming for that right now."
As if motherhood and marathon running weren't enough, Finch also recently released a book, "Throw Like a Girl," which she hopes will help girls follow their dreams and lead active lifestyles.
"I know as a young athlete I couldn't find anything out there on female athletes," Finch said. "It's just exciting to have something out there to help inspire young girls to go after their dreams."
And for the next big project?
"I don't know, we'll see how the marathon goes," Finch said. "Maybe some more marathons in the future, and just being a mom and experiencing that. I'll take it one step at a time."
Make that 26.2 miles' worth of steps.