Capitalizing on the success of the P90X home fitness system and his best-selling book, fitness guru Tony Horton has launched a short-form radio feature called the "Bring It Minute."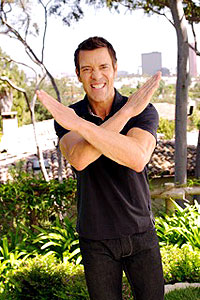 Courtesy of Tony HortonTony Horton's P90X2 system is coming out around Christmas time.
"It's basically motivation and inspiration for people to reach their goals," said the 53-year-old Horton, who has been helping people get in shape for 20 years. "I've done hundreds of radio interviews so I thought this would be a unique take for people to hear my thoughts on fitness."
Horton created the best-selling fitness program in America -- P90X -- which has sold more than 3 million DVDs. He has personally helped actress Demi Moore, singers Tom Petty and Bruce Springsteen and even First Lady Michelle Obama.
"I want people to get healthy and stay that way," said Horton of the radio show available through the Benztown Radio Networks. "I put a plan together for people who aren't afraid of working hard."
Next up is home fitness sequel P90X2, scheduled for release around Christmas. Pre-sales began a week ago, and Horton said the calls "crashed the server" on the first day.
"I'm high on life. I walk the talk. I get eight hours of sleep. I exercise regularly," said Horton, who was born in Rhode Island and lives in Santa Monica, Calif. "I've just made smart choices and made staying healthy a priority. Exercising and eating right are my drugs of choice."