A few weeks back, a video leaked of the rapper Game, in the studio recording lyrics for a mixtape. The verse was full of outrageous lyrical imagery. Soon after, he dropped "The R.E.D. Album." The album -- which debuted No. 1 on the Billboard chart and remains in the top 10 -- featured a couple of LeBron James barbs, including one from fellow Angeleno and provocateur, Tyler the Creator: "Fall back like LeBron's hairline against the Mavericks. … You lost."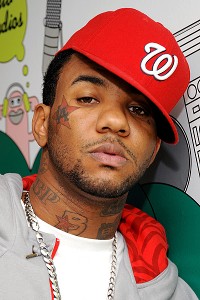 AP Photo/Peter KramerGame, an excellent basketball player, claims he was kicked out of college.
Game's explanation for needling a dude that just suffered the biggest disappointment of his career on a grand stage and in melodramatic fashion?
"Hey, man," he laughs, "we're from L.A. We're Kobe fans. It's that simple."
Game grew up in Compton playing everything. Basketball, football, rugby, running track. He would have been a swimmer, too, except, "at our high school, we had a pool with no water in it." As a 2-guard for Compton High, Game played against a slew of future pros -- Tyson Chandler, Jason Kapono, the Collins boys, Gilbert Arenas, Paul Pierce, Baron Davis -- and excelled. He claims he went to Washington State for basketball and was kicked out of school. But that love for sports and competition is still there.
Two lead singles on "R.E.D" -- the Lil' Wayne assisted "Red Nation" and "Pot of Gold," with Chris Brown -- both feature Game, as usual, in full bore "sports reference mode." On "Red Nation," Game name checks Ochocinco, Zab Judah and Yogi Berra, all over a beat that reinvents Zombie Nation's "Kernkraft 400," which any sports fan would immediately recognize as a sports arena staple. Game doesn't go more than one bar before mentioning LeBron in "Pot of Gold" and he throws in the New Orleans Saints and Albert Pujols to keep Bron company. If you had to bet on which rapper drops the most sports references per bar, the smart money would have to be on Game.
And then there's the whole "rap beef" thing. Game recently released a mixtape single, "Uncle Otis," which takes not-too-veiled shots at Jay-Z and Kanye West, and, of course, he had a long-running feud with 50 Cent, the King of Rap Beef. But Game says the public often gets it twisted.
"Listen, it's strictly competition," he said. "A lot of people misconstrue it as beef. If you're from the streets you know what beef is. What we do on record is just competition."