Topps celebrated its 60th anniversary of making baseball cards this year by placing actual diamonds into cards.
Next year, it's going gold.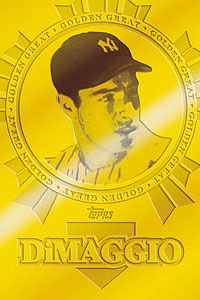 Courtesy of ToppsTopps will be putting gold cards in some packs next year.
The company recently unveiled the design for its flagship card set to arrive next February, and it's one that sets a new standard with gold all over the product.
As in real gold -- the stuff that set a new record high at $1,922 an ounce earlier this month.
"I think next year, with our baseball products, we will set a platform up and introduce the way that trading cards will be looked at in the future," said Topps Director of Sports Brands Clay Luraschi, speaking at the National Sports Collectors Convention. "I know that's a big statement, but we feel like next year will be a big game-changer in how we distribute and sell and create our trading cards."
In every sixth pack of 2012 Topps, collectors will find a Golden Giveaway code card that could potentially unlock a Golden Moments version of any card in the set with a piece of real gold embedded into it. To be found in packs are are 15 one-of-a-kind Solid Golden Greats cards (like the Joe DiMaggio card seen here) made of solid gold as well as Golden Moments 24-karat gold leaf cards with the foil stamping made of the precious medal instead of foil.
Elsewhere in the product, there will be simpler -- and less pricey -- nods to gold with every card found with a reflective gold foil front as well as Golden Moments, Golden Greats, Gold Standard and Gold Futures insert cards, too, though those cards can be found with autographs as well.