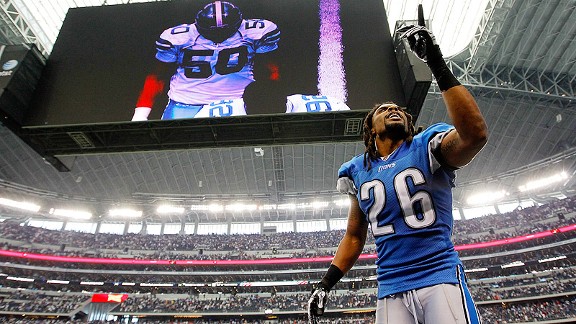 Tom Pennington/Getty ImagesThe Lions' Louis Delmas taunts fans after Detroit beat the Cowboys 34-30 on Sunday.
Move over Bambino, Billy Goat and Black Pearl. There's a new curse in town.
That town is Dallas (Arlington, Texas, technically). And it's the Curse of Cowboys Stadium, a stadium that's been uncommonly unkind to the home team since its opening in 2009:
The Opener: Proud and loud as their new stadium opened, the Cowboys … lost. On "Sunday Night Football." To the rival New York Giants. On a last-second field goal.
The JumboTron: Actually, the curse began earlier, when a Titans punter hit the oversized scoreboard during a preseason game. Sure, it was A.J. Trapasso's kick. But he didn't put the JumboTron there.
Wade Phillips: Wade took pretty nicely to the new place, going 11-5 in 2009 and then winning a playoff game. So if you believe the 2010 debacle erased his "Eternal Sunshine" style, Phillips (now defensive coordinator for 3-1 Houston) withstood the curse pretty well.
Tony Romo: See Phillips, Wade, and add in the Oct. 2, 2011, Lions game. Or the Oct. 24, 2010, debacle in which he broke his clavicle against the visiting Giants and missed the rest of the season.
Texas A&M: The Aggies lost 41-24 to LSU in the most recent Cotton Bowl … and on Saturday inspired Romo with a 42-38 come-from-way-ahead loss. (And yes, we know Texas has had some success in the stadium. But Google Maps says Austin is about 15 miles farther away than College Station -- clearly pushing it outside the "hometown" window.)
Miles Austin & Kim Kardashian: They became an item (reportedly) in the 2010 offseason. But when he went back to work, they split up -- news that broke on the day of the team's season opener. Now she's with a B-list NBA player, rather than an A-list receiver. (And that receiver is hurt, no less.)
The Super Bowl: Usually when someone buys a ticket, they, you know, can get into the game. That didn't quite happen in February. At least it wasn't Cowboys Stadium's biggest night to date.
NBA All-Star Game: The West lost a heartbreaker. In front of a record crowd. Embarrassing.
Revenge: Bobby Carpenter pulled the ultimate reversal on his Bro-mo, as the QB's groomsman keyed Detroit's comeback with a pick-six (off the team that let him go, too). Also this year, Nick Folk -- another recent Cowboys castoff -- booted the game winner for the host Jets.