Mario Lopez gets to be alone only two times, like, ever.
He laughs and jokes that he only gets to be with his thoughts when he's at church or when he's running.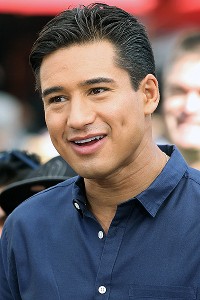 JB Lacroix/Getty ImagesMario Lopez is training for the New York City Marathon on Nov. 6.
The fitness enthusiast who hosts Hollywood gossip show "Extra," signed up a few months ago to run the New York City Marathon on Nov. 6. He's not really a runner, but he was enticed to take part in the marathon because he's also serving as a pitchman of sorts for a new Motorola device, the motoactv, which is smaller than an iPod and is designed for runners that goes over the arm, plays music, checks heart rate and detects which songs the runner performs better.
It's perfect for him because it's easy to use and Lopez says he's like Fred Flintstone when it comes to technology. Plus, running has become a new vice for the guy who let's face it, we will always fondly think of as A.C Slater from the long-running "Saved By the Bell" series.
"Running has become therapeutic for me. I can clear my mind and I can just go through my day and have a lot of clarity," he said. "It's become sort of a ritual now."
Lopez is no stranger to working out -- his fitness routine is diverse and includes boxing three times a week and swimming.
"I like to mix it up," he said. "I like to take in those different sort of classes too, like Crossfit training classes. So anything, whether it's shooting hoops … I just like being outside when it's nice and indoors maybe taking a spin class. Because I'll get bored if not."
He has a goal for the marathon, which is his second ever (he ran the Boston Marathon years ago in addition to a couple of half-marathons and a triathlon once). Other celebrities and athletes signed up to run the marathon include Jennie Finch, Apolo Ohno, Christy Turlington and Mya.
"I'd like to go as close to four hours as possible. OK. I'm going to do four and a half to be honest. Because my running partner tore his hamstring, so I'm feeling bad and I'm feeling guilty. Do I just leave him and go do my own deal? He's my partner/trainer, so I feel kind of bad!" he said. "I put it out on Twitter and everybody's like, 'Aw…'' It's about the journey and about being fit and being healthy. But … I'm a little conflicted. I'm definitely gonna complete it. I know that."