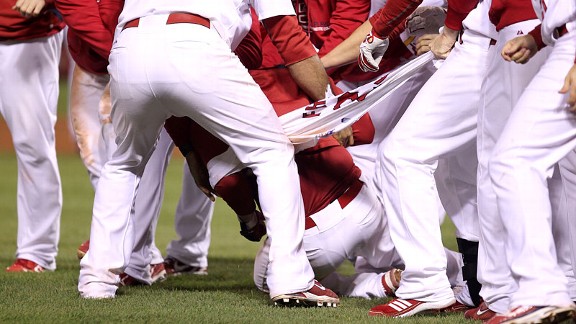 Ezra Shaw/Getty ImagesCardinals players tear the jersey of Game 6 hero David Freese while celebrating their improbable win.
By now you've probably heard that the Cardinals celebrated Thursday night's victory by tearing David Freese's jersey off his back. If you've been following the Cards for the past few months, you may know that this ritual began with Nick Punto, who likes to shred his teammates' dress shirts and got some payback by having his jersey ripped to shreds back in early September. The tradition continued after the Cards beat the Phillies in the National League Division Series and celebrated by shredding Chris Carpenter's jersey.
But unless you're a serious Cardinals scholar, you probably don't know that celebratory uniform shredding has a long history in St. Louis -- a history that goes back all the way to 1942, when the Cards beat the Yankees in the World Series.
The hero of that series was Whitey Kurowski, a rookie third baseman who hit a game-winning homer in the ninth inning of the fifth and deciding game. According to this newspaper story, his teammates came up with a unique postgame celebration in the clubhouse: "When Kurowski's cleated shoes hit the concrete again [after he had been hoisted on his teammates' shoulders], the players grabbed him by the seat of the pants and ripped off the back of his trousers. Pieces of his pants were torn into shreds by the players who clamored for souvenirs."
Pants shredding? Compared to that, Freese got off easy. Indeed, we all did.