Looking back at pictures of himself from five or six years ago, Troy Gentry vowed never to return to that unhealthy state.
So after the country music singer had knee surgery following horseriding accident and another operation on his shoulder years later, Gentry began an intense workout regimen that he continues to this day.
It's transferred over into Gentry's newest venture in Franklin, Tenn., MPower Fitness, which combines physical therapy with personal training. Through relationships built during physical therapy, Gentry approached Dr. Burton Elrod, the Tennessee Titans' team physician, with the idea to open up a business.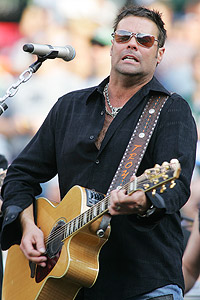 AP Photo/Tim LarsenUgh. Country singer Troy Gentry never wants to look this big again, like he did in 2005.
"Obviously I don't know anything about the physical therapy business, so all I can go off is the motivation and the inspiration, to help these people learn about diets and how to stay fit," said Gentry, who played basketball in high school and lacrosse in college. "In the last three or four weeks, I have met some people in there when I've been working out, people in there with knee or shoulder surgeries, and talking them through hopefully as motivation."
These days, Gentry's music duo, Montgomery Gentry, recently released its newest album, "Rebels on the Run" a few weeks ago. Accordingly, Gentry and Eddie Montgomery are busy with sparse shows across the country, a potential downfall for musicians looking to score quick meals at fast food joints.
"You roll into one town and there's a lot of sitting around," Gentry said. "Just from sitting on the bus all day long, there's not a whole lot of activity unless you go out and find it yourself. I think a lot of people get into that rut because of a lack of accessibility. When I'm on the road, I have to physically go online or find a place to go work out, or I'll fix my own food."
Gentry has microwaves and electric skillets on the tour bus, so he can cook for himself "nine times out of 10." Occasionally he'll have breakdowns, visiting the drive-thru here and there, but those are pretty rare.
"Unfortunately, if I haven't had the knee surgery and the shoulder surgery, I might not be where I am today," Gentry said. "The changes I saw in my physical therapy, how it changed me and it kept me motivated, I definitely don't ever want to go back to the way I was five or six years ago."