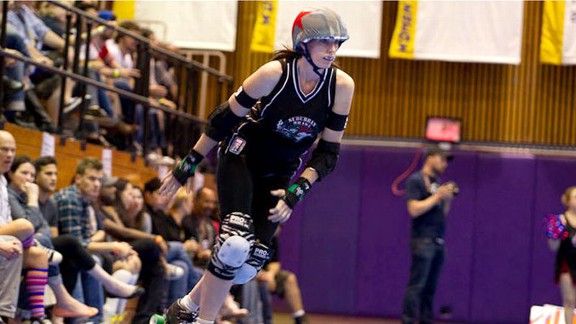 Courtesy Manish GosaliaJane McManus was, once upon a time, a mild-mannered mom and sportswriter. She's now added the adrenaline rush of competing in roller derby to her life's résumé.
It was nearing 11 p.m., and I was speeding for home with a frozen chicken patty wedged under my freshly broken tailbone after falling while lunging after a jammer. I thought of my job covering sports, my two kids, my Ivy League adjunct position.
My dignity.
"Should I really do this?" I thought, as I painfully punched the clutch to shift gears. "Is roller derby really worth it?"
I'd been playing for only a few months, but it was already too late. There was only one answer to that question, and it was worth choking back a half dozen Advil a day for a solid three weeks to calm the ouch. All while never missing a practice.
Aye captain, she is.
Playing rollery derby is like being part of a cult. At first, it seems innocent enough. I will get in shape! I'll meet new and interesting people! I will wear funny socks!
And once roller derby has her little tenterhooks in you, that's when she starts to reel you in. Your family hears from you less and less, unless you are trying to sell tickets for an upcoming bout. You take a CrossFit class to get stronger. Your sock drawer will no longer close.
"It does consume your life if you let it," said Gotham Girls skater OMG WTF, aka Danielle Flowers. "In a good way."
This weekend, I'll be covering the Women's Flat Track Derby Association 2011 national tournament in Broomfield, Colo. There will be 12 teams filled with women who feel the same way I do about their relatively new sport. It has changed the trajectory of many of their lives, broken up their unworkable relationships and created new ones. It's turned them into athletes, if they weren't already.
To read the rest, check it out here on espnW.