Comedian Larry the Cable Guy has joined with Prilosec OTC to find the best tailgaters in the United States with a chance to win two tickets to Super Bowl XLVI in Indianapolis.
"I'm a great tailgater and a frequent heartburn sufferer," said Larry, who was in New York Tuesday to kick off the venture. "I'm the perfect guy to do this. I love tailgating so much that sometimes I forget to go to the game."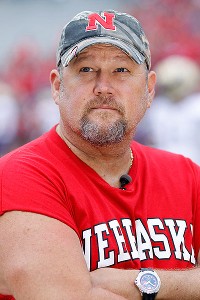 Joe Robbins/Getty ImagesLarry the Cable Guy says he's an avid tailgater.
Larry's search will conclude in January when he and Prilosec OTC will pick three "A Better Way to Tailgate" winners. Fans can register at the tailgate fans contest website until Jan. 4, 2012, for a chance to win their way to Indianapolis. Three grand prize winners will each win the ultimate prize pack, including the chance to showcase their tailgate style in Indianapolis, and two tickets to Super Bowl XLVI. There are three categories in the contest: food served; tailgate set-up and team spirit. All entries must include a tailgate photo.
Larry, who was born in Nebraska and is a huge Cornhuskers fan, is no stranger to tailgating at football games.
So let's let him tell some stories:
"We have so many great tailgaters at Nebraska. You'd think our school colors were barbecue and mustard because that's what people have on their faces when they walk into the stadium."
"At Nebraska, you have to remember to wear sweatpants while tailgating. You just know your belly will grow by midafternoon."
"I love barbecue sauce so much that you must remember to wait an hour before you can lick the grill."
"The ultimate idea for tailgating is to line your pickup truck with trash bags and you pour in melted cheese. You mix in 195 cans of chili. You get your friends to use their feet to mix it around like wine. Then you all jump in like it's a hot tub. You can dip your chips in the cheese and chili bath. That's how I met my wife."