Clemson football coach Dabo Swinney found himself trending on Twitter two days before the ACC championship game. However, his surge in popularity had nothing do with the Tigers' upcoming matchup with Virginia Tech.
Instead, Swinney was being recognized for railing against in-state rival South Carolina over a comment attributed to Gamecocks coach Steve Spurrier.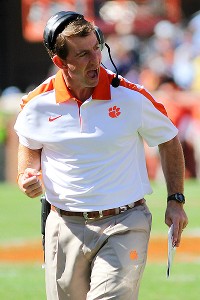 Joshua S. Kelly/US PresswireClemson's Dabo Swinney fired back at what he mistakenly thought was a Steve Spurrier comment.
The irony is, while Swinney's quotes made him fodder for thousands of tweets, the quote that set it all off was really misattributed.
The debacle began when, at the end of the Gamecocks' 34-13 win over Clemson, South Carolina play-by-play broadcaster Todd Ellis said, "As Coach Spurrier says, 'We may not be LSU or Alabama, but we ain't Clemson, folks.'"
The quote was posted on the Gamecocks' football Twitter feed, where it was directly attributed to Spurrier and retweeted dozens of times. Only problem is -- as @GamecocksFB clarified Thursday night -- "Coach Spurrier often points out that our team isn't LSU or Bama, (one of the elites in the country) He didn't make the comment about Clemson"
But even though information moves fast in the digital age, the correction came too late for Swinney, who unloaded earlier Thursday when asked about the comments. Swinney began his nearly four-minute response by saying he'd heard the line and wasn't sure if Spurrier said it, but he assumed he did. Swinney then unleashed a few digs of his own, including the following:
• "There's a lot of rivalries out there. This is more of a domination. And that's a fact. My kids' grandkids won't live long enough to ever see this really become a rivalry."
• "We've won more bowl games than they've ever been to."
• "They ain't Alabama. They ain't LSU. And they're certainly not Clemson. That's why Carolina's in Chapel Hill and USC's in California and the university in this state always has been, always will be Clemson."
Bothered "the quote" was getting attention, when he believed the focus should be on Saturday's ACC title game, the Clemson coach concluded, "So, you can print that, tweet that, whatever."
Considering "Dabo Swinney" shot to the top of Twitter's trends, it's safe to say the masses did just that.