Los Angeles Clippers forward Blake Griffin lands on the cover of the January/February issue of Men's Health, sharing the workout routine responsible for making him an explosive NBA player.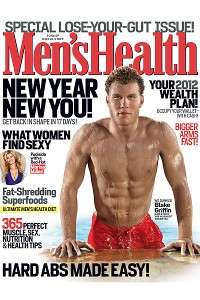 Courtesy of Men's HealthBlake Griffin is on the cover of the January/February issue.
"Energy is something you can control," Griffin said. "In everything you do, you're going to face people more talented than you. I set myself apart by bringing more energy than they do."
In the issue, on the newsstands Tuesday, Blake talks on a variety of subjects.
On dunking: "I constantly heard that all I do is dunk. … And I can understand it. There aren't 'SportsCenter' clips of me shooting 15-footers."
On recovering from injury: "There were days when I didn't feel like going through the same routine. … But I learned that if you're positive, any situation can be a chance to improve yourself."
On the importance of being a team player: "I recently got to talk to Magic Johnson. … He said he used to tell individual teammates, 'Come in before practice and work with me.' He emphasized that being a leader isn't about just pushing yourself. It's also about motivating teammates."