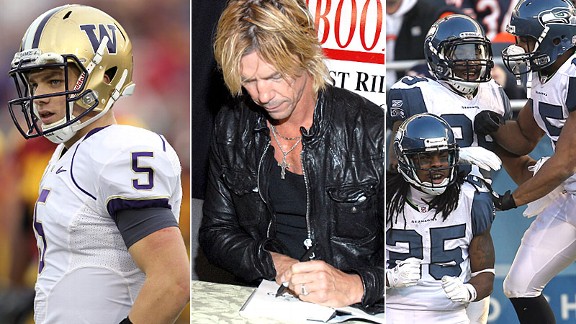 Getty ImagesRock, recovery, Huskies and Seahawks were some of the topics on the minds of Duff's readers.
After writing 50 columns for ESPN in the past year, I'm changing things up this week by answering some of the many emails you've sent in to my mailbag.
Duff: I know exactly how you feel! I'm a Cleveland sports fan from Columbus, and not only get to see the Browns blow it year in and year out, but the Cavs were on the verge of winning it all and blew it! And then, as if it couldn't get worse, I got to watch the Buckeyes come oh so close two years in row, only to watch them lose it at 4 in the morning from the Persian Gulf aboard an aircraft carrier! I feel your pain, but keep the faith, Sooner or later, our teams have to win, right? Right?!
John-Ryan
Boulder, Colo.
Answer: Damn, I hope so John. Well, at least your Buckeyes were dominant for a few years there (I was lucky enough to see the first game of that undefeated 2003 season at The Horseshoe against Texas Tech). The Browns have Colt McCoy and Mike Holmgren as a GM. That program has as good a chance for an uptick as any. Cavs? Well, that is probably a different story.
Hi, Duff. Great write up. Longtime fan of you and your music and Northwest sports in general (born and raised here in Washington). Just finished your book and it was great. Glad you made it out alive :) Nothing better than talking rock 'n' roll and football. Thanks for all you do and here's hoping the Hawks can go 10-6 … well it could happen!
Allen Reed
Puyallup, Wash.
Answer: Thanks for the props on the book, Allen. It just seems that rock 'n' roll and sports go hand in hand for whatever reason. The Seahawks have made great improvement throughout this second half of the season, but alas, 10-6 was not our lot. Here is hoping for a .500 season anyways!