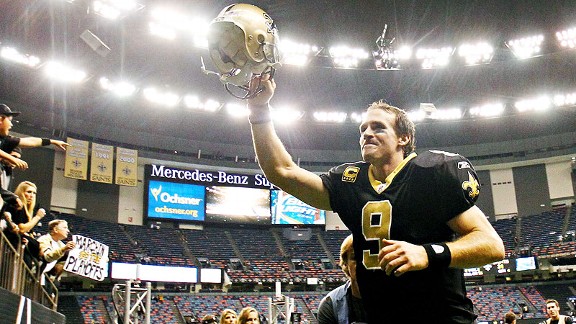 Derick E. Hingle/US PresswireSaturday's game between the Saints/Drew Brees and the Detroit Lions will be high scoring.
I think the NFL playoff game with the most intrigue is the Detroit Lions at the New Orleans Saints. Two passer with more than 5,000 yards playing against each other in the playoffs. Never happened before. Between Matthew Stafford and Drew Brees, the final score could be NBA-type numbers for both.
In honor of the great year of Drew Brees, here are five quotes about him:
1. "At 211 degrees, water is just scalding hot. But at 212, it boils. It's the significance of one degree. Everything about Drew Brees' preparation is about that one extra degree."
-- coach Sean Payton on Drew Brees
2. "The San Diego Chargers have lost their mind."
-- Loreane Tomlinson, mother of LaDainian, on the Chargers letting Drew Brees go
3. "Drew Brees was the perfect guy for an imperfect situation."
-- Mickey Loomis, Saints general manager, on the leadership Brees displayed in helping New Orleans after the devastation of Katrina
4. "The Saints made the right decision signing Drew Brees -- not just in terms of his arm, but because of his heart and mind."
-- NFL Hall of Famer Marshall Faulk
5. "Brees is a champion who can overcome anything."
-- running back Pierre Thomas
For more sports quotes, check out my site.