When the Indianapolis Colts fired vice chairman Bill Polian and his son, general manager Chris Polian, a day after the regular season ended, the NFL fan community was sent spinning. That includes Slipknot/Stone Sour singer Corey Taylor, a die-hard Colts fan, who sees the move as panic.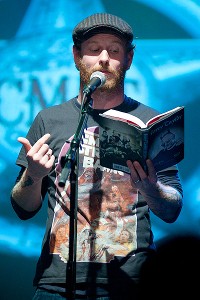 Michael N. Todaro/Getty ImagesCorey Taylor reads from his autobiography during a performance Dec. 5 at the Highline Ballroom in New York City.
"I know we were all thrown for a loop when the loss of one man turned a Super Bowl-caliber team into a team with the worst record in the NFL, but this takes the cake," Taylor said.
Instead, Taylor thinks it would have made sense to replace head coach Jim Caldwell, despite any locker room loyalty. And speculation that the Colts are looking long term with their No. 1 draft pick has him worried that quarterback Peyton Manning might not play another season with the team. "Quite honestly, it seems like they're cutting off their nose to spite their face. I don't care about [Andrew] Luck or [Robert Griffin III], I care about my Colts -- right now."
The Colts were 0-12 when The Life sat down with Taylor backstage at The Met Cafe in Pawtucket, R.I., several hours before his solo acoustic performance that also featured a Q&A session and the singer reading from his New York Times best-seller, "Seven Deadly Sins: Settling the Argument Between Born Bad and Damaged Good."
The Life: Do you need a hug?
Taylor: I can't even believe it, dude. It's almost … [Laughs] it's almost like a movie at this point, man. Like, I'm just watching 'em, going, "How can one person's absence make that much of a difference? How can a Super Bowl-caliber team become, basically, the Lions of two years ago?" [Laughs]