Look out, Bob Arum. Hold onto your hair, Don King. Hey, Golden Boy Oscar De La Hoya, there's a new gal in town, and she's looking to carve out some space in the boxing promotion world.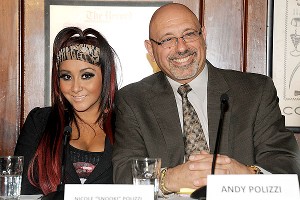 Jamie McCarthy/WireImage"Jersey Shore" cast member Nicole "Snooki" Polizzi and her father, Andy Polizzi, will represent the Hyland brothers in their fledgling promotion.
Maybe you've heard of her. Judging by the prolonged session of flashes that popped at McFadden's in New York City on Thursday afternoon, there seems to be a high level of interest in Snooki, aka Nicole Polizzi, a diminutive diva of reality TV and a budding empire builder. Yes, Snooki is adding "boxing promoter" to a résumé that got cooking two years ago, when "Jersey Shore" debuted on MTV, and a portion of the nation intrigued by the goings-on of carefree party people from New Jersey and regions thereabouts went gaga over their cavalcade of hot-tub hookups, barroom dustups and fascination with tanning booths.
The Marlboro, N.Y., native admitted that she isn't all that well-versed in the particulars of the sweet science, as she brought up the "Rocky" series when asked about her level of knowledge and fondness for the sport. But this hardened heart belonging to a fightwriting cynic melted a tiny touch when Snooki told the assembled media gaggle that she was diving into the boxing scene because it's an activity she can share with her dad, Andy.
Snooki is named as the "owner" of Team Snooki Boxing, which is comprised of her, her dad, Brian Burke and Mike Pascale of Final Round Promotions (a Poughkeepsie outfit) and a stable of fighters currently limited to the Hyland brothers, Patrick, Eddie and Paul.
The brothers will all rumble in the Team Snooki debut, which will unfold on Jan. 28 at Resorts Casino Hotel in Atlantic City. The show will stream on Behindthering.com for $9.95.