This story has been corrected. Read below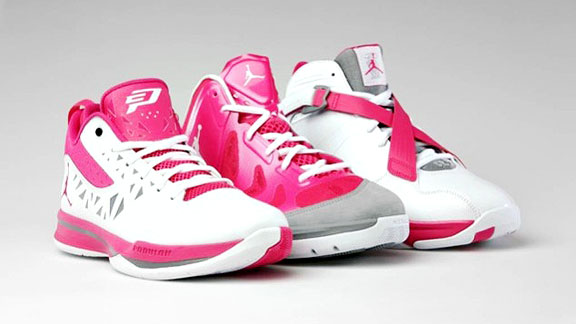 Courtesy of Jordan BrandNorth Carolina, Georgetown, Marquette and Cal will be wearing these shoes this month.
It's usually the NFL that makes the bold statement. Every October they go pink and the world knows it. So pink, singer Alecia Beth Moore might get jealous.
Last year, the people at Jordan Brand decided college basketball needed to lend their voice to the cancer cause so they got together with the American Cancer Society and joined the "Coaches V. Cancer" movement. For this month, the NCAA men's basketball programs that rep the brand -- North Carolina, Georgetown, Cal and Marquette -- will be wearing special player-exclusive sneakers designed to bring attention to the global fight against cancer.
"As a brand, in working with our schools, we're kind of doing our part to raise awareness," Jordan Brand spokesman Josh Benedek said. "We've all had people in our lives, whether it's coaches, players or people affiliated with our brand that have been affected by cancer. Which is why we are in such strong support of this campaign."
This year, the Brand is releasing (not for retail, calm down!) three styles -- the Jordan CP3.V, Jordan Play In These II and Air Jordan 8.0 -- to spread the awareness.
A Jan. 15 ESPN.com Page 2 column on the Jordan Brand and schools wearing its shoes in support of Coaches vs. Cancer incorrectly stated when the movement began. Coaches vs. Cancer has been a collaborative effort of the American Cancer Society and the National Association of Basketball Coaches (NABC) since 1993. This is the second year the Jordan Brand has created a special shoe in support of the program.