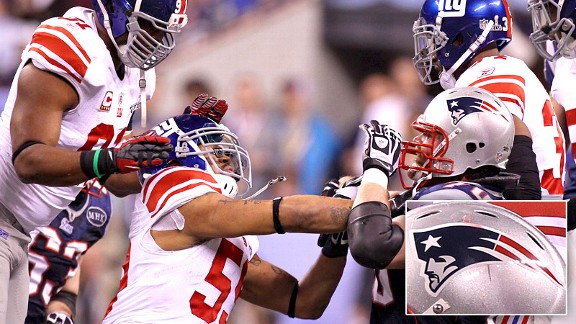 Jim Davis/The Boston Globe via Getty ImagesLook closely and you can see that Logan Mankins wore a mustachioed helmet in Super Bowl XLVI.
Patriots offensive lineman Logan Mankins sported a Fu Manchu mustache this past season, which garnered a fair amount of attention. But what most fans didn't notice is that Mankins took his 'stache to the next level during the Super Bowl -- by wearing little Fu Manchus on his helmet logos.
That right: Look closely at shots of Mankins from the big game and you'll see that the "Flying Elvis" logo decals on his helmet had been Fu-ified! He doesn't appear to have done this for any earlier games, so it was apparently something special he did for the Super Bowl (or maybe a special Super Bowl prank played by a Sharpie-wielding teammate).
Mankins' mustachioed Elvis recalls a similar bit of helmet embellishment from 20 seasons ago, when Raiders quarterback Todd Marinovich drew sunglasses and a goatee onto his helmet logo for his NFL debut. And no, that's not a Photoshop job -- you can see it for yourself in this video clip.
As for Mankins, he didn't respond to inquiries left with the Patriots on Tuesday -- no surprise, since a player who just suffered a last-minute Super Bowl loss will presumably be in no mood to talk about uniform minutiae. But even if we never get the full backstory, the Fu-ification of Mankins' helmet stands as one of the coolest uni-related details in Super Bowl history.