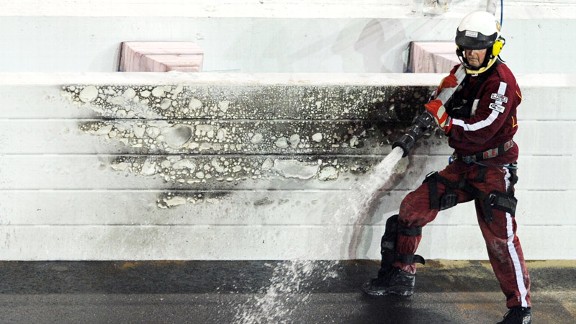 John Harrelson/Getty ImagesAfter Tide rescued the Daytona 500, can NASCAR cash in and grab some new sponsors?
Anyone who stayed up late Monday for the 54th running of the Daytona 500 knows who the surprise star of the broadcast was: It was seeing box after box of Tide laundry detergent ingeniously being spread across the asphalt to clean up that nasty residue buildup everyone knows gallons of spilled jet fuel leaves behind. Well, guess what? Fans of stock car racing will be surprised to know that many other sponsor products can be useful for cleaning purposes and household chores.
More surprise spring cleaning product tie-ins for NASCAR:
5-hour Energy: Drink half a bottle, rinse your hubcaps with the rest, then apply 2½ hours of elbow grease. You'll get your rims so shiny, you can see yourself.
Old Spice plus Axe Body Sprays: Only by combining the two in equal measures can anyone hope to eliminate odors emanating from the RVs of fans who spent two extra days camped in the infield.
Valvoline motor oil: Always comes in handy as an impromptu solvent after colliding with the cargo hold of the Daytona Chicken Wing X-change Food Truck and 50 pounds of raw drumsticks flash-fry themselves to your hot car hood.
Bounty paper towels: Proved invaluable in mopping up that foamy film on a young Dale Earnhardt Jr.'s driveway during spring break when his car with a trunk full of Mentos collided with a tanker full of Diet Coke.
But remember: Tide laundry detergent's No. 1 NASCAR use remains its ability to clean the soiled firesuits of drivers and pit crew members who were close enough to a hellfire's worth of a jet fuel fireball that it singed their sideburns.