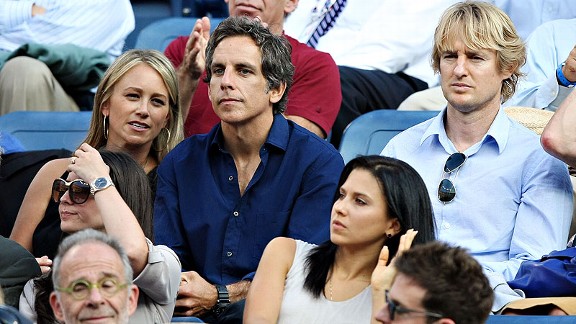 Al Bello/Getty ImagesChristine Taylor, husband Ben Stiller and friend Owen Wilson watch the U.S. Open in September.
Actress Christine Taylor always loved tennis, playing as a child growing up in Pennsylvania.
When she married actor/director Ben Stiller in 2000, she wanted him to love the sport also.
"It started out for him loving tennis by default because it was always on our television," said Taylor, who started acting in 1989 and is known for roles in "The Brady Bunch Movie" and "Dodgeball: A True Underdog Story," among others. "I begged him to take me to Wimbledon for my birthday a few years ago and we did. And this past U.S. Open, he was screaming at the finals harder than me!"
Now with two children -- Ella, 9, and Quinlin, 7, and living in New York City, Taylor is hoping to spread the word about the sport. She recently was named the spokeswoman for the USTA's 10 and Under Tennis program as the organization launches the March into Tennis, a monthlong drive to get more children to play the sport.
"I started playing when I was young, and now that I'm a mom, I want them to play," said Taylor, who met her husband while making a TV pilot in 1999. "It was so inspiring for me to watch tennis growing up. I thought I was really good playing, until my brother told me I wasn't!"
March Into Tennis coincides with Monday's "Tennis Night in America," which will feature Roger Federer, Andy Roddick, Maria Sharapova and Caroline Wozniacki squaring off in a battle of former world No. 1s in Madison Square Garden. Live coverage of the matches begins at 7 p.m. on ESPN3. A tape-delayed broadcast of the event will air at 11:30 p.m. on ESPN2.
Taylor will be there to show her support for her 10 and Under venture and then watch some tennis.
"We want to encourage the young ones to learn and get some confidence in sports," Taylor said. "It's fun and keeps you active and moving."
Taylor said it has worked for her children.
"They are out there having fun, even if they're just hitting the ball in the driveway," Taylor said. "You've never met my kids. But if they weren't having fun, my life would be miserable!"