Peyton Manning's final press conference as a member of the Indianapolis Colts will be the template going forward for athletes on how to step away with grace. Manning and Colts owner Jim Irsay comported themselves with the utmost class and dignity.
So, yeah, if you were hoping for bitterness, anger and spiteful comments, Manning's press conference was a massive letdown.
Here are some things it would have been nice to hear.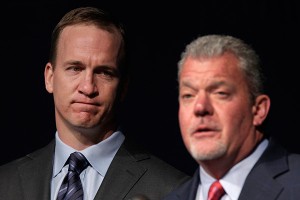 AP Photo/Michael ConroyThese guys leave a little bit to be desired when it comes to testy press conference exchanges.
Irsay: "As a fan of classic rock, I know a lot about old, washed-up people. Without further ado, here's Peyton Manning."
Manning: "I have to respect Jim's business and football decisions. He obviously is an expert, what with being given a franchise by his dad." [rolls eyes]
Manning: "Yeah, I'm totally bummed out about leaving a 2-14 team. Really. I'm not being sarcastic at all. I think this team can turn it around next year and win as many as five games. I believe in you, fellas!"
Irsay: "It's really going to be hard watching Peyton lose in the playoffs with another team."
Irsay: "Sure, this could come back to bite us if Peyton plays for another team and develops into a quarterback of the quality of his little brother. But that is unlikely at his age."
Manning: "I couldn't have had all of my success here without Jim Irsay or, you know, really any other rich guy. The owners are completely interchangeable. The players do everything. But, still -- thanks, Jim."
Irsay: "Years from now, when these wounds are healed, we'll be able to look back and say that Peyton Manning was the greatest quarterback in Colts history, after Johnny Unitas and Andrew Luck, of course."
Manning: "So long, Stinktown."
See? That's the kind of stuff that would get people talking, not this mutual respect, amazingly classy stuff. Ugh.