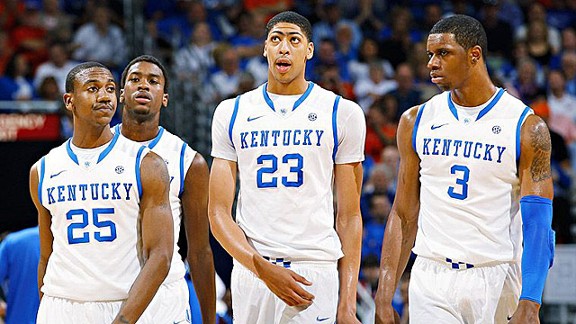 Chris Graythen/Getty ImagesPage 2 wonders whether the talent-laden Kentucky Wildcats could defeat a lower-tier NBA team.
We're eagerly waiting for Final Four weekend, not to see whether Kentucky will win the NCAA tournament, but to see how badly the Wildcats will destroy Louisville and whoever's behind the Ohio State-Kansas door.
That means we have time to ponder a more significant question: Can this Kentucky team for the ages beat an awful NBA team?
Former Maryland coach Gary Williams says Kentucky can beat the Washington Wizards. Former NBA star Charles Barkley says the Wildcats can beat the Toronto Raptors. Magic coach Stan Van Gundy says the entire conversation is absurd (but maybe he's just jealous that no one's asking the Orlando Magic to be part of this). Michael Jordan must be wondering if the Charlotte Bobcats are so bad they're ineligible to be part of the discussion.
Interestingly, here's what SportsNation thinks would happen under such a scenario.
Meantime, Page 2 would like to see a one-night-only event -- played under the following set of circumstances to level the playing field:
• It's at Rupp Arena.
• The opposing NBA team is playing its third game in three nights.
• The refs are all at least third-generation Kentucky fans.
• NBA commissioner David Stern has no inkling this is going on, and thus can't stop it from happening.
Remember, this is a one-night-only deal. No best of three, no home-and-home.
Because if there's one thing John Calipari's Kentucky team can specialize in, it's the concept of one-and-done.