Commentary
Uni Watch on the bat knob revolution
Originally Published:
July 14, 2011
By
Paul Lukas
| Page 2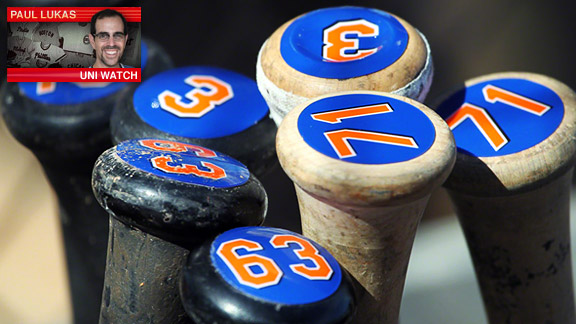 Gordon Donovan
The look of baseball is always changing. But for generations, one thing about the game has stayed the same: Players have had their uniform numbers written on the knobs of their bats.
It isn't a big deal -- just a simple way for everyone to know whose lumber is whose when poking around in the bat rack -- but it's one of baseball's little visual signatures that most of us have internalized without even thinking about it.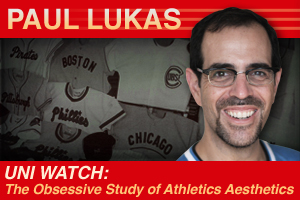 At least five MLB teams, plus a few scattered players and several minor league clubs, are now challenging the long-standing protocol by using little uni-numbered decals, like the ones in that photo, on their bat knobs.
Some of you may be saying, "Who cares?" But in the detail-driven world of uniform and equipment fanatics -- a world in which bat knobs have looked pretty much the same for decades -- it's nothing short of revolutionary (yes, revolutionary!). In Uni Watch terms, it's pretty much a perfect storm, as it combines equipment, uniform numbers, functional specificity, and minutiae fetishism in one convenient inch-and-a-half-wide sticker.
"It's one of those little details that a lot of guys don't even think about or know about," says Rays equipment manager Chris Westmoreland. "But I think about them all the time, because I'm a details guy."
Westmoreland should know, because he was the first to use the little bat knob labels, back around 2004 or '05. "In spring training we get a lot of bats in -- two dozen for guys on the 40-man roster, and a dozen for non-roster invitees," he explains. "When we'd get that first shipment in, I'd open them and start to number them with a marker, and I'd think, man, there has got to be an easier way."
So that's how the idea was born. But are stickers really that much easier? "Yeah," he says. "With the marker, you'd have to take the bats out of the box first -- otherwise it wouldn't look good. With the stickers, you just open the end of the box and slap 'em on. And before, if a player started using another player's bat, we'd have to black out the old number and then re-mark it in silver. But now we can just put a new sticker over it. So the batboys know who the bat belongs to, the players know, everyone knows."
He pauses for a second and then adds, "And it looks cooler, too. A lot cooler."
Westmoreland originally got his knob decals from Schutt, the football helmet manufacturer. But in 2007 he got cold-called by a guy named David Sulecki, a former stockbroker and corporate wireless salesman who'd recently started a tiny Florida-based company called Pro Helmet Decals. Westmoreland liked the idea of working with a fellow Floridian ("There's quick access, quick shipping, in case I need something in a hurry"), so he began ordering from Sulecki.
Since then, Sulecki has taken Westmoreland's idea and run with it, as a slow but steady stream of MLB clubs have started ordering the bat numbers from him. Here's the full breakdown, including what each team's sticker design looks like:
A STICKLER FOR STICKERS
Rays equipment manager Chris Westmoreland, who pioneered the use of bat knob number decals, has come up with another innovation in adhesive labeling: color-coded luggage decals, which he orders from Pro Helmet Decals, the same company that supplies the bat numbers.
"I'm the only guy in baseball who uses the luggage tags," he says proudly. "The guys in the hotels and trucks love 'em. We do three different kinds: white with black numbers, for players; red with white lettering, for VIPs, which means team executives, Joe Maddon and his staff, and any 10-year players; and a yellow sticker for extended staff, like trainers, massage therapists, guys like that. When we get into the hotel, a player can call down and say, 'I'm a player, I'm number whatever,' or 'I'm a trainer, my name is Harper' or whatever, and it's right there."
And what about the VIPs -- do they get special treatment? "When we go to the hotels, their bags are sent directly to their rooms, instead of them having to call down for their luggage," says Westmoreland.
Interesting. And what color is Westmoreland's decal?
"Red," he says. "Hey, I came up with the system."
• Rays: Westmoreland keeps it simple -- black numbers for light-colored bats, white numbers for dark bats. "I know some other guys have used team colors and logos, but I think that's pushing it a little too far," he says. Even in the small world of bat knob stickerology, there are your boundary-pushers and your purists.
• Dodgers: By Westmoreland's standards, Dodgers clubhouse manager Mitch Poole is a bat knob radical. Poole, who does all sorts of baseball-related artwork on the side, started by asking Sulecki to provide decals in Dodger blue." But this year he went further. "I wanted something that looked like a seal, something that looked connected to the Dodgers," he says. So he and Sulecki came up with a version based on the team's logo. "I'm sticking with that for now," says Poole. "But we'll probably tweak it at some point. I get bored."
• White Sox: The Sox have been using simple block numerals, much like the Rays. But once they saw the logo-based design being used by the Dodgers, they asked Sulecki for something similar, so he came up with this (a little busy for Uni Watch's tastes, frankly), which the Sox may start using next season.
• Mets: Sulecki created these samples for Mets equipment manager Charlie Samuels a few years ago, but they were never used. After Samuels was sacked last fall in the wake of a gambling and theft investigation, his replacement, Kevin Kierst, got in touch with Sulecki and arranged for a simpler treatment.
• Brewers: The Brew Crew are Sulecki's newest bat knob client, having recently ordered this design, although they don't appear to be using it yet.
• Rangers: The Rangers don't use knob decals on the big league level, but their minor league equipment coordinator, Chris Guth, recently had Sulecki design decals for the team's minor league affiliates. "Players are drawn to logos, especially the younger kids in the lower levels of the minors," says Guth. "And if a bat cracks, a lot of times the team will put it in the concession stand and sell it, so the sticker actually adds a bit of value, because it's a cooler look." The Hickory Crawdads -- the Rangers' low-A affiliate -- are even using the decals on their batting helmets.
Sulecki has made designs and samples for lots of other MLB teams (that Royals design is particularly nice, no?), but most have opted not to use them, at least for now. "Some of our guys are really particular about what goes on the bottom of the knob," says longtime A's equipment manager Steve Vucinich. "Kurt Suzuki always wants me write an '8' a certain way. And for Cliff Pennington, I sometimes write out 'T-W-O,' because he's No. 2. Also, when [Sulecki] first approached me, we were breaking more bats than just about anyone else, so I didn't think it was worth it."
Some players have taken matters into their own hands, such as Adam Jones of the Orioles. When he saw the Rays' number decals a few years back, he liked them so much that he asked Westmoreland, the Rays' equipment guy, to hook him up. "So I ordered a bunch of extra No. 10s for him, and whenever they came through town I'd give him a dozen or so," says Westmoreland. Now Jones just orders them directly from Sulecki.
At the other end of the spectrum is Mets pitcher R.A. Dickey, who's the one Met not to use the decals. According to this article, Dickey gives each of his bats its own name. He writes his uni number on the center of the knob, with the name curled around the number. That's a knuckleballer for ya.
The funny thing about all this is that Sulecki started his company with the goal of producing decals for football helmets. He's scored accounts with a few high-profile college teams -- BYU, Ole Miss and San Jose State -- but the bat knob decals may end up as his claim to fame.
And now that he's developed this niche, does he find himself fixating on players' bat knobs when he watches a ballgame? "Constantly," he says. (Uni Watch suspects that the same may now be true for everyone who read this column.)
It remains to be seen how widely this particular type of equipment embellishment will spread. But one thing's for sure: If the bat knob decals had been around in the late 1980s, Billy Ripken's life would've turned out a bit differently.
Paul Lukas hasn't the slightest idea what Chris Westmoreland meant when he referred to himself as "a details guy." If you liked this column, you'll probably like his daily Uni Watch web site, plus you can follow him on Twitter and Facebook. Want to learn about his Uni Watch Membership Program, be added to his mailing list so you'll always know when a new column has been posted, or just ask him a question? Contact him here.