Commentary
Deion Sanders has no regrets on his life
Updated:
August 4, 2011, 3:05 PM ET
By
Lynn Hoppes
| Page 2
NEW YORK -- On Saturday, it'll be Prime Time -- literally and figuratively -- at the induction ceremony for the Pro Football Hall of Fame in Canton, Ohio.
Deion Sanders, the flamboyant, outspoken, one-of-a-kind superstar, joins Richard Dent, Marshall Faulk, Shannon Sharpe and a host of others as inductees in this year's class at 7 p.m. ET on ESPN.
Sanders will not be short for words when he speaks about his 16-year NFL career, which included two Super Bowl victories, eight Pro Bowl selections and six first-team All Pros.
Born in Fort Myers, Fla., Sanders was a three-sport star (football, basketball and baseball) in high school and then a three-sport star (football, baseball and track) at Florida State before taking on the NFL.
During his career with five NFL teams, Sanders had nearly 8,000 all-purpose yards and scored 22 touchdowns, even though he spent the majority of his career on defense and kick returns. He was voted to the NFL's All-Decade Team of the 1990s.
All the while, Sanders was a pop culture icon in numerous TV commercials, released a rap album -- "Prime Time" -- in 1994 with the minor hit "Must Be The Money," and even dabbled in reality TV.
He currently is a studio host for the NFL Network and lives with his wife and children in Prosper, Texas.
Page 2 caught up with Sanders, who at 43 still is in great shape, while he was filming a commercial for DIRECTV in New York. He talked about today's game, reality TV and what's on his bucket list.
How would you fit into today's game?
Well, the thing is I've never been the person who tried to fit in. I tried to fit people around me to do things constructively. I just pray we're doing it in the right manner. I try to bring guys together for the purpose of doing the right thing.
[+] Enlarge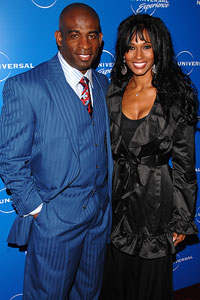 AP Photo/Peter KramerDeion Sanders and Pilar Sanders have three children together.
Would you want to play in today's game?
Today's game, yesterday's game or next year. I could have played in any era.
Do you miss those Sundays on the field?
You don't miss what you walk away from. It's more about what walks away from you.
Are you a religious person?
I had the background of stability from my grandmother and my mother. We went to service every Sunday and prayed every day. It's all about dealing with the trials and tribulations.
Did you love doing the reality show, "Prime Time Love" in 2008?
It was a great experience. Reality was reality. We did it for the simple fact that African-American families are depicted wrongfully on air. We think "Flavor of Love" is the way we get down or handle our business. Now "Run's House" and its spinoff, that's the real story of African-American families. "The Jeffersons" "Good Times." I can't think of one African-American show on television."
What about Tyler Perry and all his shows?
Yeah, you're right.
Spike Lee isn't a fan of those shows. He thinks they show over-the-top stereotypes.
Maybe because Spike didn't come up with the idea. It's comedy. It's fun. What Tyler is doing is incredible. I love what he's doing.
Now, what did you think when your wife was on that reality show of hers, "Football Wives?" She wanted off that show badly.
I didn't really validate her going on that show. I knew what it was going to turn into. She wanted to do it and I had to go along with it. You have to live and learn.
What is on your bucket list?
Deep-sea diving. Just once. Jump out of a plane. Once. Sleep in the White House. One night.
Looking back on your career, do you have any regrets?
No. None whatsoever. I wouldn't be sitting here without all that. You learn from it. You grow and mature. I'm pleased with my decisions and lifestyles.
[+] Enlarge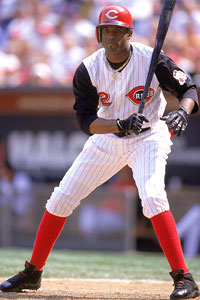 Mark Lyons /Allsport Deion Sanders played about nine years in pro baseball and had career batting average of .263.
What about your relationship with Dez Bryant? That has gotten a lot of press.
I took a stance for what I believe in. As a parent, I try to instill values. I basically told him, if you're going down, you're not taking me down. I travel and speak with a lot of schools. I can't have you on my back. This is a kind of mentorship. I always look at the larger picture.
Weren't you flamboyant yourself?
How so? Let me call your bluff.
Let me rephrase: Don't you think you were a little outlandish?
What? Are you talking about my reality show? I had a bad hip and a bad toe. I'm riding around the house in a scooter. What was flamboyant about that? You see me on a golf cart. How flamboyant is that?
I'm talking about on the field.
Listen. When you and your football homeboys are in the park and playing, I'm just being a fan on the field. If I grabbed everyone in a flag football game, you don't think the person who scored a touchdown won't spike the ball and dance?
So you live a pretty boring life?
I have five kids. I'm always active with them. You think anybody with five kids can get some rest?
Tough dad?
We have a rule in our family: You don't have to be the best. You just have to give your best. That's it.
Lynn Hoppes is Senior Director of Page 2 and Commentary. He can be reached at lynn.hoppes@espn.com