Commentary
Dwight Howard gets taste of Comic-Con
Originally Published:
July 25, 2011
By
Doug Williams
| Special to Page 2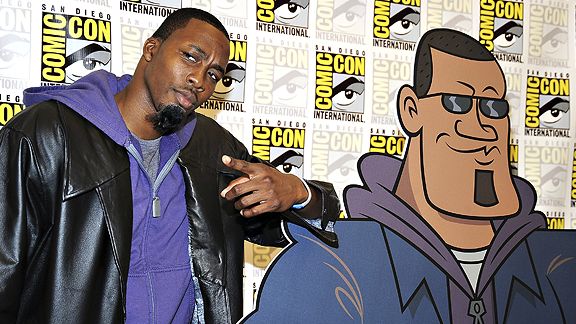 Frazer Harrison/Getty ImagesDwight Howard is the voice of Rock Callahan, a character on "Kick Buttowski: Suburban Daredevil."
SAN DIEGO -- Outside the room, there were Klingons and Darth Vaders and Wolverines parading through the halls of the San Diego Convention Center.
This is Comic-Con, after all, the mecca of masquerade and an annual stage for playing pretend.
Inside, a big man with dark glasses and a deep voice was doing the same thing, trying his best to stay in character as Rock Callahan, super-cool actor and action star on the Disney XD animated series "Kick Buttowski: Suburban Daredevil."
This imposing figure was introduced as Rock and wore the same outfit as the character he voices as he entered to high-fives and the cheers of several hundred Comic-Conners.
Yet even as he sat at a table, bantering with his fellow actors as part of a panel discussion about the upcoming second season of "Kick Buttowski," the big man in the shades couldn't help but revert to his alter ego, NBA superstar Dwight Howard, when fans lined up to ask questions.
• Question (to Charlie Schlatter, the voice of Kick): "How do you like working with Dwight Howard?
• Question: "Dwight, when are you coming to the Heat?"
• Question: "Mr. Howard, will you ever be a Laker?"
• Question (from a kid wearing a Dwight Howard Magic jersey): "How does it feel to be taller than everyone?"
• Question: "Houston's a great place. … How about being a Houston Rocket?"
• Question: "Dwight, can I have your name tag?"
Even at Comic-Con, it's difficult for a 6-foot-11, five-time All-Star to play pretend for long. While he wants to play Rock, others want to know about Dwight.
[+] Enlarge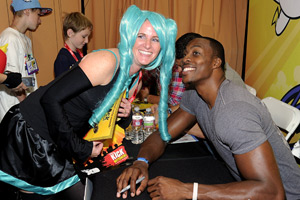 Frazer Harrison/Getty ImagesHoward now knows that blue hair is nothing out of the ordinary in the land of Comic-Con International.
They want to know if he'll leave the Magic when he becomes a free agent in July 2012 -- and whether he'd look good in a Heat, Lakers or Rockets jersey. He said he's been asked "a million times" about his future since the end of the season.
But for now, Howard is having fun off the court -- including doing the show and exploring other entertainment opportunities -- and looking forward to a busy summer of travel, camps and enjoying life.
"I always wanted to do voice-overs and cartoons and stuff like that," he said after the panel discussion. "They reached out to me, and I was like, 'I've got to do this. I've got to get my feet wet.' Now I want to do more stuff."
Doing voices and impersonations is nothing new for Howard. On team flights and bus trips, he'll grab a microphone and do what he calls "announcements," imitating the likes of Charles Barkley, Shaquille O'Neal and Eddie Murphy, as well as his coach, general manager and teammates.
"I'm always practicing," he said. "I would hear somebody talk and I would try to remember how they sounded, and put my little spin on it."
Playing a part on "Kick Buttowski" gives him a chance not only to do Rock's voice and be "a big kid," but help send a message he agrees with.
On the show, Kick is a 12-year-old miniature Evel Knievel who lets nothing stand in his way as he pulls off outrageous stunts. Rock Callahan is Kick's idol and inspiration.
"What it shows kids is that nothing's impossible," said Howard. "Anything you believe you can do, you can do. Kick always finds a way. That's the prevailing thing. That's what I like about the show."
Disney and the show's creator, Sandro Corsaro, allowed Howard to help shape the Rock character. Howard suggested he have a soul patch and broad shoulders (like his), and came up with the deep, serious voice that's in tune with Howard's vision of Rock.
[+] Enlarge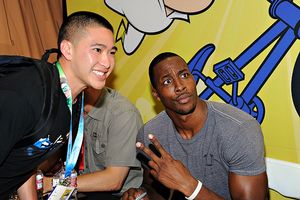 Frazer Harrison/Getty ImagesHoward hams it up with a fan for a photographer.
"He's a laid-back superhero," said Howard. "He's just so cool. Actually, I got it from 'Shaft,' because that's one of my favorite movies. You can kind of see the resemblance between Rock Callahan and Shaft. They're just so cool."
Corsaro said Howard is nothing like "Shaft" during their recording sessions, however.
"He's ridiculously funny and personable," he said. Since joining "Kick," Howard said he'd love to branch out, do more voice work and even do his own cartoon series some day.
Until then, however, there's plenty of basketball to be played and questions to be answered, such as:
• What about the Lakers? "That's everybody's question," he told the "Kick" audience. "I am wearing purple … but that's Rock's outfit."
• The Heat? "Never."
• Stay with the Magic or leave for free agency? "At this point, I don't know what I'm going to do. I'm just enjoying life and taking advantage of being young and being able to travel and do the things that I've always wanted to do."
• Will he consider playing overseas if the NBA lockout drags on? "Yeah, I don't want to just sit around and do nothing. That's just a waste. There's no telling when the NBA season's going to start, so if I'm just sitting at home and one day it decides to pop back up and I'm not ready, I'm going to look bad."
• What kind of basketball player would Rock Callahan be? "He'd be too cool for basketball."
• So is Rock cooler than Dwight Howard? "No. He's almost there, but he's not."
• How did a guy who has dressed up like Superman in the Slam Dunk Contest like his first taste of Comic-Con? "It's been a beautiful experience. I didn't know what to expect. I've seen the 'Star Wars' outfits. I've seen Thor and Captain America."
He also got a chance to meet more "Kick Buttowski" fans, something he said he doesn't get to do as often as he likes. Although most "Kick" fans know he's an NBA star, there are a few young ones who don't even know he can dunk a basketball.
"There's a lot of kids who come up to me, and they don't even know me as Dwight Howard the basketball player," he said. "'Hey, there's Rock Callahan! We've seen you on Disney.' It's like a whole different world."
Doug Williams is a freelance writer based in San Diego.