Commentary
Pitcher finds good use for Mariners' bats
Originally Published:
August 3, 2011
By
Jim Caple
| Page 2
Seattle Mariners reliever Chris Ray reached into the storage area above his locker, pulled out a bat, removed it from a thin plastic wrapping and handed it to me. I placed my nose to the barrel, and instantly my nostrils filled with the deliciously familiar aroma of freshly brewed hops. As the great philosopher Homer Simpson would say, Mmmmm ... beer.
I wish the Internet were capable of transmitting smells, because baseball bats probably haven't smelled quite like this since Babe Ruth cleaned out his locker for the final time. And the aroma was because Ray used a dozen maple bats as part of the aging process of Homefront IPA, a beer he created with the Fremont Brewing Company that was released in Seattle this past weekend.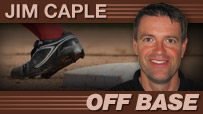 The bats soaked in the beer for three weeks. (Ichiro would be appalled.) The result is a good, solid and hoppy IPA with perhaps a faint hint of a hard-hit grounder up the middle.
"I'm not sure if it adds a ton of flavor, but it ties it into baseball and gives it a unique twist," Ray said. "It might add a little bit of flavor, but maple is a hard wood -- that's why they use it for bats -- so there's not a whole lot of absorbing going on. There are a lot of beers that age on oak chips and toasted oak chips, so we just thought if it added a little flavor, great. If not, it's a nice story."
It would be an even better story if Ray had further replicated the wood chips by using bats that had been personally splintered by his fastballs. Even so, Louisville Slugger flavoring is certainly more appetizing than say, Rosin Bag IPA, Pine Tar Porter or Stirrup Sock Hefeweizen.
Plus, it's the most productive use of Mariners bats in at least two seasons.
Ray has been brewing his own beer for several years -- "I like brewing it more than drinking it" -- and plans to open a brewery with his older brother, Phil. They already have a name, COTU (Center of the Universe) Brewing, a website (cotubrewing.com) and a signature brewing style.
"I like to use different flavors; I like to use things that people usually don't use," Ray said. "I've used sweet potatoes instead of pumpkin -- some people make a pumpkin beer, but I think the sweet potato has more flavor. I've used green tea, apricots, peaches, basically anything you can think of. I do all ales because I don't have the equipment to do lager, but hopefully that will happen this offseason."
Because COTU is still in the embryonic stage, Ray teamed with Fremont Brewing to produce 15 barrels (60 cases of 22-ounce bottles) of the Homefront. The proceeds go to the Operation Homefront charity, which provides support for the families of military who are overseas. This isn't a case of a player merely lending a name to a product; Ray went to the brewery and helped brew the beer.
And don't worry. These were not game-used bats. (Insert punch line about the Mariners' hitters here.) There was no pine tar or tobacco juice on them. They came direct from Louisville Slugger, mixed with the beer in the finishing tank, then went back to Louisville Slugger, where the company engraved them for Ray to auction off to raise more money for Operation Homefront.
Forget Prince Fielder, Ryan Braun or Rickie Weeks. Ray should be your new favorite brewer. (He isn't entirely alone in the beer business. I see that former White Sox slugger Frank Thomas has his nickname on a new beer in Chicago, the Big Hurt Lager, with a 7.0 alcohol content, although I'm not sure how involved he was in the brewing process.)
The Prince of Pilsner, the Sultan of Suds, the High Priest of Hops ... whatever the nickname, Ray is actually working in the perfect city for a major league pitcher and aspiring brewer. Granted, the baseball could be a bit better in these parts -- the Mariners are in last place again and recently endured a 17-game losing streak -- but after a couple of pints of local brew, not even Chone Figgins' batting average seems that bad. Michael Jackson, the world-renowned beer critic (not the pop artist) once said that the best beer in the world is in Seattle and Portland. Although that's a matter of taste and considerable debate, no matter what your favorite beer is, chances are its hops are from the state of Washington. Roughly 75 percent of U.S. hops grow here.
Seattle may be best-known for its coffee, but it's not the only beverage we know. There are 145 craft breweries in the state and about 50 in the Seattle area.
(David Wells would have loved pitching here.)
"It's amazing just going to a gas station here, and the beer cooler is four times the size of the other drinks. It's just the opposite on the East Coast," said Ray, who lives in Virginia. "There are as many different kinds of beer you would want just at a gas station. It's pretty cool."
Ray says he doesn't drink during the season, but he does bring his home brews into the clubhouse for his teammates to enjoy, likely making him the Mariners' most popular teammate since Edgar Martinez.
"There is so much you can get out of a beer, flavorwise, besides the major traditional light beers. I don't know why people drink them," Ray said. "I'm changing some people in here."
I wish Ray good luck in brewing and also hope he gets promoted to closer at some point. Seeing the bullpen doors swing open and the closer take the mound to "The Beer Barrel Polka" instead of heavy metal would be even more refreshing than a good IPA.
CSI: BOX SCORE
You know the rules. You get a fragment from an old box score and the challenge of determining what game it is from and why it is significant. I give this one a difficulty rating of 7.0.

Kurt Snibbe/ESPN.com
BOX SCORE LINE OF THE WEEK
It was another good week for box score lines. Atlanta's Martin Prado was the first batter in five years to go 0-for-9 (9 AB, 0 R, 0 H, 0 RBI) in that 19-inning disaster with the Pirates. And Florida's Ricky Nolasco somehow held Atlanta to just one run despite allowing 12 hits (6 2/3 IP, 12 H, 1 R, 1 ER, 0 BB, 4 K). But this week's award goes to Anaheim's Ervin Santana, who not only threw a no-hitter Wednesday but also became the first pitcher in 18 years to do so while allowing a run. Santana's line:
9 IP, 0 H, 1 R, 0 ER, 1 BB, 10 K
BALLPARK RANKINGS
New Yankee Stadium: The new Yankee Stadium is fittingly enormous, suitably grand and appropriately expensive. The only way you could walk into the stadium and feel poorer was if the players flashed their wallets and bank account statements at the turnstiles. I do like how the Yankees replicated the old stadium as much as possible, although fortunately, the claustrophobic concourses that smelled of rotting garbage are a thing of the past. The concessions are greatly improved with a much wider variety of items -- you can actually buy fresh fruit here (in a concession area that I bet Joba Chamberlain never visits). I wasn't a big fan of the old Yankee Stadium, but it nonetheless bothers me that they got rid of the old place. I firmly believe that any spot where Babe Ruth played should be preserved forever as a national historic site. The Steinbrenners should be arrested for tearing it down and forced to wear orange pinstriped jumpsuits while cleaning up the garbage after games and listening nonstop to the Liza Minelli version of "New York, New York."
[+] Enlarge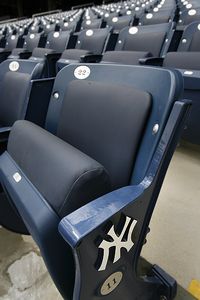 AP Photo/Seth WenigThere are a lot of expensive seats at the new Yankee Stadium.
Score: 79. Current rankings:
1, PNC Park, Pittsburgh: 98
2, AT&T Park, San Francisco: 94
3, Camden Yards, Baltimore: 92
4, Target Field, Minneapolis: 91
5, Wrigley Field, Chicago: 90
6, Dodger Stadium, Los Angeles: 88
7, Safeco Field, Seattle: 87
7, Comerica Park, Detroit: 87
7, Coors Field, Denver: 87
10, Kauffman Stadium, Kansas City, Mo.: 86
11, Progressive Field, Cleveland: 82
12, Yankee Stadium, New York: 79
13, Busch Stadium, St. Louis: 78
14, The Ballpark in Arlington, Texas: 77
15, Chase Field, Phoenix: 76.5
16, Nationals Park, Washington: 76
17, Rogers Centre, Toronto: 75
18, Oakland-Alameda County Coliseum: 74
19, Tropicana Field, Tampa Bay: 68
BASEBALL CARD OF THE WEEK
[+] Enlarge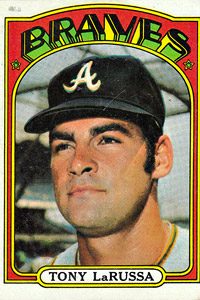 ToppsIn 1972, Tony LaRussa already had that glare.
Tony La Russa was 28 years old when this card was released, (1972 Topps No. 451), but from the smug expression you can tell that he already thought he was the smartest man in baseball.
CSI: BOX SCORE ANSWER
I gave this a 7.0, but this is actually a fairly easy box score just so long as you look very closely at the fragment. If you haven't figured it out yet, look again, paying particular attention to the home runs hit. See that Tobin hit three home runs? Now look at the lineup, and you'll see that Tobin was also the pitcher. Jim Tobin set the major league record for most home runs in a game by a pitcher in this game played May 13, 1942. Tobin went 105-112 as a pitcher but also hit 17 home runs in his career and was occasionally used as a pinch hitter. Who says pitchers can't hit?
(By the way, the Bithorn you see in the Chicago lineup was Hiram Bithorn, the first Puerto Rican to play in the majors. Puerto Rico's Hiram Bithorn Stadium, where the Montreal Expos once played 22 "home" games, is obviously named after him.)
Jim Caple is a senior writer for ESPN.com. You can follow him on Twitter at jimcaple.