Commentary
Japan's 'Knuckle Princess' aims at MLB
Originally Published:
August 3, 2011
By
Gideon Rubin
| Special to Page 2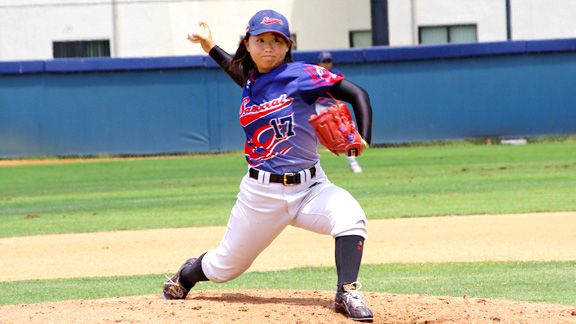 Courtesy Gideon Rubin Eri Yoshida, 5-foot-1 and 115 pounds, was inspired by Tim Wakefield to be a knuckleballer.
SAN DIEGO -- Eri Yoshida faced some formidable gender, cultural and language barriers when she surfaced in the United States last year to pursue her dream of becoming the first female major league pitcher.
The really intimidating part for the then 18-year-old, however, came when she first stepped onto a winter instructional league mound in Arizona. She saw what, compared to players in her native Japan, seemed like cartoonish body types.
"I was scared because the guys in the batter's box were so big," the 5-foot-1, 115-pound Yoshida said through a translator. "Their arms were bigger than my legs."
Yoshida didn't back down. She turned to what she knew: a self-taught knuckleball she developed after watching her idol, Tim Wakefield, on TV when she was 14. The pitch seemed tailored for the predicament she was facing.
"I could tell [Wakefield's pitches] were very slow and the big guys struck out a lot," Yoshida said. "That's when I started to get interested in the knuckleball. I didn't know whether or not I could do it, but I just wanted to try it."
Yoshida was a freshman at Kawasaki Kita High in Yokohama playing club baseball when she tried it after finding a book illustrating the proper grip. It worked well enough to land her a spot on her high school team as a sophomore, instantly making her a national sensation nicknamed the "Knuckle Princess" by the Japanese media.
"It was so weird," she said. "I couldn't believe I was on TV."
Her star has been soaring ever since.
Yoshida, now 19, is in her third year of pro ball -- her second in the United States (she was drafted out of high school as a junior and played independent ball for a year in Japan before coming to the United States). She is scheduled to make her first start Saturday night for Maui's Na Koa Ikaika team in the North American Baseball League at Maehara Stadium in Maui against the Edmonton Capitals. She'll be playing for Garry Templeton, who also managed her in 2010 at Chico (Calif.) in the independent Golden League.
Yoshida was honored by Cooperstown, which sent Hall of Fame representatives to Chico to recognize Yoshida for becoming the first woman to pitch professionally in two countries. She was also honored as the first woman to collect a hit in a men's professional league game in more than 50 years.
But despite the good vibes, sellout crowds and modest successes she was inconsistent in Chico, going 0-4 with a 12.28 ERA.
A retooled delivery has restored the diminutive teen's confidence. Yoshida has more command of her knuckler since going from a sidearm to a three-quarters delivery. It's an adjustment she made under the tutelage of former major league pitcher and fellow countryman Akinori Otsuka, her pitching coach on the Samurai All-Japan semi-pro team she played for this summer.
And the early returns suggest it works.
Yoshida collected her first win on U.S. soil, throwing four shutout innings of five-hit ball in a 3-0 victory over the San Diego Mavericks in a season-ending exhibition fundraiser for Japan earthquake relief.
"It moved every other way every time, it was just tough to pick up out of her hands," Mavericks power-hitting outfielder Tom Harkey said.
Templeton believes that if Yoshida can command the knuckleball, she can have success in affiliated ball "at any level," but he cautioned that the knuckler isn't an easy pitch for anyone to harness. She'll have to find an organization and a manager that are willing to give her a chance, and he admires her bravery.
"I don't know how many ladies would go out and do what she's done and go through a lot of the things that she's been through," Templeton said.
For her part, Yoshida said she's determined to do whatever it takes to achieve her dream.
"I have kind of a high goal so I am not satisfied," she said. "My goal is to reach the same level as Wakefield, and I know I have to work harder and harder."