Commentary
NFL's most flamboyant figures, 20-11
Originally Published:
August 4, 2011
By
Patrick Dorsey
| Special to Page 2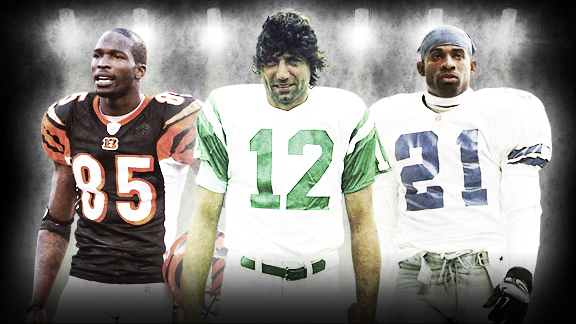 ESPN.com Illustration
Page 2's Top 50 flamboyant NFL figures:
We're getting close. Page 2's Flamboyant 50 is down to its final two days, and with it the 20 flashiest guys in NFL history.
If this is your first look at the list, check out Nos. 50 through 41, 40 through 31 and 30 through 21 linked above. Then peruse the next 10, as we continue counting down toward No. 1.
20. Rod Tidwell
With apologies to the car-stealing Paul "Wrecking" Crewe (the Burt Reynolds and Adam Sandler versions of "The Longest Yard"), the garbageman-turned-arrogant-kicker Barney "G-Man" Gorman (Tony Danza in "The Garbage Picking Field Goal Kicking Philadelphia Phenomenon"), and the flamboyantly violent New York Giant Quantrell Bishop (Jonathan Hamm in the excellent "Big Fan"), there's only one fake NFL player that can get on this list: Cuba Gooding Jr.'s Tidwell, of "Jerry Maguire." Must we explain why?
19. Ricky Williams
We're not here to make light of mental conditions (Williams has been diagnosed with social anxiety disorder). No, we're here to celebrate how flamboyantly different this guy is. How many Heisman winners are PETA-supporting vegetarians, convert to Hinduism and become students of holistic medicine? How many Pro Bowlers take a mid-career retirement that's more like a sabbatical, infuriate fans everywhere, then return to win back the hearts of those supposedly betrayed supporters? And if that's not flamboyant enough for you, we present one final bit of evidence: the wedding dress.
18. Rex Ryan
We step (get it? step?) into the coaching realm with Ryan, who is definitely an unusual one in his ranks. Sure, there have been wild ones like Jimmy Johnson and Iron Mike, but usually team leaders are stone-faced to the point of annoyingly boring. Not Ryan. Seeming to know he's on solid footing (another one!), Ryan doesn't tippy-toe (we could keep going with these) around with his thoughts or words, offering the ultimate in anti-coachspeak -- be it in a book, at the podium (in costume!), with his calves or on "Hard Knocks." Yes, he gets a lot of it from outspoken father Buddy. But no matter the origin, when Ryan talks, the shoe's often on the other foot (last one, we promise).
17. Randy Moss
Not every all-time-great receiver rocks excellent hair, fake-moons a crowd and popularizes the catchiest sports phrase ("Straight cash, homey") this side of "both teams played hard." But Moss did that, and so much more.
16. Jim Brown
Cool. Confident. Forceful. Powerful. Those are words that Brown evoked throughout his career -- and still today (just look at that stare) -- as a hyper-talented multi-sport athlete who destroyed the NFL during his relatively brief stint with the Browns. But Brown was one of football's first off-field celebrities, a guy who famously retired from the set of "The Dirty Dozen" (through the media and, amusingly, this letter exchange with Art Modell). In the 1980s Brown regained the athletic spotlight (and Sports Illustrated's cover) by declaring that he wanted to return to football at age 47. That never happened, but his acting career continued for decades, as did his Hollywood Hills living (described in that SI piece). Oh, and we can't forget about the hat.
15. John Matuszak
"Goonies" fans, get ready for a surprise: The guy who played Sloth wasn't quite as huggable as that lovable 1980s lug. Instead, "Tooz" was a hard-partying (and yes, that's a euphemism) defensive end who never quite lived up to his status as the NFL's No. 1 overall pick in 1973. He did, however, put together a prolific acting career, flaunt his whole body on the pages of "Playgirl" (yeah, we're not linking to that), and was the subject of the wonderfully titled book "Cruisin' with the Tooz." Tooz left us too soon, though, at the age of 38.
14. Billy "White Shoes" Johnson
The Ickey Shuffle. The Dirty Bird. The Worm. Do we have any of these dances without White Shoes, the Godfather of Touchdown Celebrations? Maybe. Maybe not. But Johnson's "funky chicken" sure turned heads when it debuted in the 1970s, as did this small-but-flashy return man's footwear that (surprise, surprise!) earned him his nickname.
13. Ray Lewis
Plenty of players have appeared in films. But Lewis seems to be living in one. When he talks. When he tackles. When he shouts. When he dances. All of it is pure cinema, turning football into the modern gladiator movie it so often resembles. Are you not entertained?
12. Terry Bradshaw
If he wanted to, Bradshaw could have flaunted that 4-0 Super Bowl record and nothing else. But that's not how the goofy former Steeler chose to play it. Early on he was, as he described in his book, "out of control," with failed marriages (including one to figure skater JoJo Starbuck) and other ills. But later the man seemed to get it together ... while remaining unabashedly personable as a loosey-goosey TV analyst, an actor (including, among many things, a funny cameo in an episode of "The League" and a considerable role in the Matthew McConaughey vehicle "Failure to Launch"), and -- at the height of his fame -- a country crooner (he even cracked the Billboard Hot 100!).
11. Hollywood Henderson
Henderson! Yes, the man was born Thomas but became known as Hollywood for his wild antics -- some of them legal, some of them not, but nearly all of them entertaining. Michael Weinreb, in his Outside the Lines piece two years ago, summed it up thusly:
"Here is a man, after all, who has snorted cocaine while playing in a Super Bowl, who has partied with Lou Rawls and Richard Pryor ... who has flipped the bird to the whole of Giants Stadium, who has attended the Grammy Awards and filmed a 7-Up commercial ... who has been convicted of a felony and served 28 months in prison while willing himself off a crippling cocaine addiction, who has gone on a hunger strike for charity, who has won $28 million in the Texas state lottery, and who now lives in a pink house with a bright red roof in a neighborhood where local crack addicts sometimes rattle the bars on his front door in the morning in search of a handout."
That's not all. He'll forever be linked to No. 12 on this list, saying "Bradshaw's so dumb he couldn't spell cat if you spotted him the 'c' and the 'a'" ... right before the Super Bowl. But here's the best part: For all his drug issues, Henderson has proudly proclaimed his long-standing sobriety (since 1983) -- and remains flamboyant, celebrating 25 years on the wagon by ordering himself an ice sculpture. Hollywood, indeed.
Check back Friday for the big finale, where we bring you Nos. 10 to 1.
Patrick Dorsey is a writer based in South Florida and a regular contributor to Page 2. He can be reached at bypatrickdorsey@gmail.com.