Commentary
NFL's most flamboyant figures, 10-1
Originally Published:
August 5, 2011
By
Patrick Dorsey
| Special to Page 2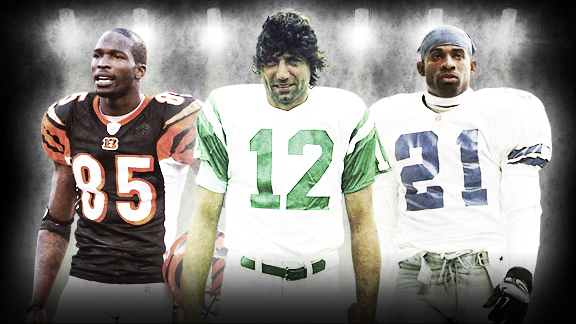 ESPN.com Illustration
Page 2's Top 50 flamboyant NFL figures:
Here we are. After four days and 40 flamboyant faces, it's time for the 10 most outrageously flashy NFL personalities of all time.
Some are old-school. Some just retired (maybe). Some are still around. But, after keeping football from being totally serious, all will last in our memories forever.
10. Brett Favre
Aw, he's just a good ol' country boy, wearing those Wranglers like your usual everyman. Or not. OK, so he isn't exactly dressing like some of the guys higher up on this list, nor flaunting fast cars or elaborate post-touchdown dance moves. But Favre can create a media circus like nobody else, is the ultimate quarterback "gunslinger," and lately has been embroiled in some unusual controversy (you know what we're talking about; heck, it's still landing his name in some late-night talk-show monologues). Also, let's not forget his as-himself cameo in "There's Something About Mary" (with very NSFW language), a spot often considered one of the best (and worst) player-turned-actor appearances in the history of screens.
9. Clinton Portis
We've heard from many loud players on this list. We've seen some pretty creative dressers, too. But few, if any, offer the Clinton Portis combination. Word-wise, the running back facetiously called then-Washington coach Jim Zorn a "genius"; had some not-so-harsh things to say about Michael Vick's dogfighting situation; riled people up over the Ines Sainz controversy; and, after first seeing eventual star University of Miami quarterback Ken Dorsey (no relation to this writer), said: "Man, we trippin'." As for his outfits, Portis creates costumed characters like a sketch comedian would. Describing them would do no justice. Just take a look.
8. Lawrence Taylor
As a player, few were more feared than this Giants linebacker, whose flamboyantly physical presence is said to have revolutionized the game. But then there was the other stuff: the legal stuff, the stuff that shouldn't be celebrated yet kept football's ultimate bad boy in the public eye as more than one of the greatest defensive players ever. In the book "LT: Over the Edge," he admitted to chasing cocaine "the way I used to chase quarterbacks -- with relentless, reckless abandon."
But Taylor also cashed in on his image at times, appearing as himself in "The Waterboy" and on "Dancing with the Stars"; as a football player who seemed a lot like L.T. in "Any Given Sunday"; and as a WWF-ified version of himself in Wrestlemania XI, where he took on Bam Bam Bigelow (the whole thing is on YouTube; thanks, Internet). Now let's hope L.T. does more of the former and less of the latter going forward.
7. Michael Irvin
Irvin, too, has had his share of run-ins with the law. But The Playmaker is/was charismatic throughout, starting in college (as one of the faces of The U) and continuing on those flashy 1990s Cowboys. Irvin went flamboyant even when the legal issues arose, turning his trial into a farce, described thusly by Skip Hollandsworth:
"[Irvin] came to court each day in sunglasses, alligator shoes, and tailored suits, one of which was lavender. 'At least the trial was held in the summer,' a member of his entourage whispered, 'so we didn't have to worry about him showing up in that damned mink coat.'"
Irvin didn't slow down after football. TV and film have come calling, including a role in the new "The Longest Yard," a solid run on "Dancing with the Stars" and his own football-themed reality series on Spike, "4th and Long." Irvin also took a stand not typical of athletes, recently supporting gay rights (and his late brother Vaughn) by doing an interview and posing shirtless on the cover of Out magazine. And finally, when needed, Irvin can captivate and motivate with his words, like this past spring at his old school (mild language).
6. Jim McMahon
Just what you'd expect out of BYU. And that's apparently what McMahon thought of his years in Provo, where he fought the system until he finally got out. Then McMahon went to Chicago (beer in hand) and conjured up words like "bad boy" and "punky" -- which he just so happened to use in the NFL's most iconic song this side of the "Monday Night Football" theme.
But many Bears appeared in the "Super Bowl Shuffle." Only McMahon constantly rocked the sunglasses, posed leather-clad for a "Mad Mac: The Grid Warrior" poster, and engaged in a back-and-forth headband battle with Pete Rozelle that, at one point, had him wearing one that read simply "Rozelle."
McMahon also acted (although not much), appeared on "Oprah" (among many other shows), wore his Bears jersey to the White House as a Packer, returned for "Super Bowl Shuffle" redux, and -- of course -- was the media's go-to guy when BYU's honor code made headlines this spring.
5. Brian Bosworth
The Boz was a biz before being a biz was big. In fact, according to Danny O'Neil's 2010 Seattle Times piece, the person who tops the Flamboyant 50 was quite inspired by this ex-Sooners uber-star, reportedly saying that inspiration happened "when I saw a white linebacker at Oklahoma getting all that attention."
What kind of attention did that white linebacker get? Well, where do we start? At Oklahoma he was famously loud and, after being suspended by the NCAA for steroids, wore a shirt reading "National Communists Against Athletes." Soon after, the mullet-headed Boz became one of the NFL's higher-profile supplemental draft picks, with the Seahawks using a first-rounder on him.
In the Pacific Northwest, the floodgates stayed open. He notoriously arrived at the team facility in a helicopter. He started producing shirts, both pro-Boz and anti (according to that Times piece, a teammate one day flashed one of those negative shirts at Boz, to which he responded: "He just paid for the seat covers on my Corvette"). His autobiography dropped at age 23. Really, football just seemed in the way, which is why (1) he didn't much get in the way of Bo Jackson on this infamous play, and (2) his career* ended at age 24.
*Football career. Because acting came next, although not all that successfully. His first film, the 1991 actioner "Stone Cold," bombed big-time, earning only $9.15 million domestically (per Box Office Mojo) and a Razzie nomination. That didn't finish him, though. He has 15 credits to his name on IMDB, including a bit part in the acclaimed "Three Kings" and a role in the "The Longest Yard" remake (which landed him a Teen Choice Award nomination for Choice Movie Sleazebag). He also was a commentator for the short-lived XFL, and -- sticking to initialism -- has his own TMZ entry.
4. Terrell Owens
Get your popcorn ready. This guy's a show. First, he got great as a receiver. Then he took celebrating to a new level: the Dallas star, the Sharpie, the pompoms, the Ray Lewis, the Belichick, the aforementioned popcorn, and many, many, many (just keep saying "many") more.
He talked big, too, taking shots at several former quarterbacks and shedding tears over Tony Romo.
He's been all over TV, with his VH1-based reality series "The T.O. Show" most notable, along with the Nicollette Sheridan "Monday Night Football" clip that caused quite a stir -- and his special guest appearance doing sit-ups in his own driveway.
Also, let's not forget: He deserves credit for (1) being a Hall of Fame-level receiver, and (2) never getting caught up in legal trouble. He's everything a flamboyant football player should be (except, maybe, for the whole teammate thing).
3. Chad Ochocinco
Some might consider Chad to be T.O. 2.0. Like Owens, he's a standout receiver with a bizarre personality, few legal problems and a penchant for excessive celebration (Chad's best: Proposing to a Bengals cheerleader, the Riverdance, the golfer, the Future Hall of Famer and "Please don't fine me.")
But there are some contrasting factors. For one thing, Ochocinco's a Twitter superstar. The 2011 offseason also proved special for Chad, as he engaged in countless endeavors including bull riding, trying out with Sporting Kansas City of MLS, spinning around Atlanta Motor Speedway and considering a foray into fashion (all before his trade to the Patriots).
But the biggest reason is right in front of you. "Ochocinco." I mean, he changed his name to Ochocinco. That's flamboyant.
2. Joe Namath
Broadway Joe. His reputation took a turn in past years, but back in the day hardly anybody could say "Namath" without using his nickname, the one he earned by being the NFL's original Mr. Flamboyant in NYC. Heck, his Super Bowl III exploits basically created the league -- even if the late, great Bubba Smith once claimed the game was rigged.
But it was about more than winning the big one. The wavy-haired Namath embodied the big-city quarterback lifestyle, getting called "Joe Willie Namath" in that famous Howard Cosell voice but "Broadway" by most others. He wore a full-length fur coat on the sidelines during games; Roger Goodell might boot Ochocinco from the league for such antics today. He appeared in numerous commercials, including Noxema (with Farrah Fawcett), Brut and Beautymist -- in pantyhose.
And let's not forget his best line. No, not The Guarantee. The one from the title of his book: "I can't wait until tomorrow … 'cause I get better-looking every day."
1. Deion Sanders
Because of Neon Deion. Because of the speed -- on the basepaths and the gridiron. Because of the (attempted) two-sport doubleheader. Because of the commercials. Because of "Must be the Money" and everything else on "Prime Time."
Really, because he was Prime Time -- and everything that name entailed.
He might not think he's flamboyant. But to us, Deion Sanders is No. 1.
Thoughts? Be sure to join our chat today at 4 p.m. EST.
Patrick Dorsey is a writer based in South Florida and a regular contributor to Page 2. He can be reached at bypatrickdorsey@gmail.com.