Commentary
Homeless Sonics reunite at Safeco
Originally Published:
August 5, 2011
By
Kevin Pelton
| Special to Page 2
Shawn Kemp walked in and sought out his former point guard Gary Payton for a hug. Jack Sikma and Gus Williams commiserated about their golf games. Payton and Detlef Schrempf mentioned how, a few years into retirement, they no longer even play basketball recreationally. Everyone discussed what good shape George Karl is in a year removed from his battle with throat cancer and swapped stories from the old days.
In nearly every respect, the gathering of Seattle SuperSonics legends that took place last Friday, July 29, was a typical reunion. One thing, however, was off. Instead of being held on a basketball court, this celebration of the Sonics took place at Safeco Field. While the 1978-79 championship team once played in the Kingdome, once located a long home run away from Safeco, no hoops have ever been played at the home of baseball's Mariners.
"It's a little different," admitted Kemp.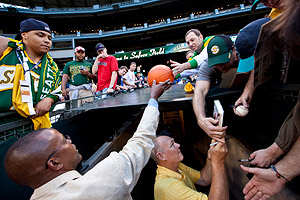 AP Photo/John FroschauerFormer SuperSonic Dale Ellis, left, and coach George Karl, center, sign autographs before the Seattle Mariners' game against the Tampa Bay Rays in Seattle on July 29.
Why Safeco? The short answer, as former voice of the Sonics Kevin Calabro told the crowd during the pregame ceremony that took place on the field, is that the Mariners wanted to honor their former professional peers in the spirit of keeping the Sonics' legacy alive.
The more complex explanation is that events like Friday's represent the hidden cost of franchise movement. Nobody owns Sonics history, a concept that sounds funny enough when applied to stats and records and becomes far stranger when it refers to actual, tall humans.
Technically, the Sonics' 41-year history in Seattle followed the team to Oklahoma City, which is why there was briefly a firestorm this spring when the Thunder's playoff victory over the Denver Nuggets was referred to as the team's first since 2005, when the Sonics beat the Sacramento Kings. (TNT's Charles Barkley, for one, wasn't having it, boosting his popularity in the Emerald City.) Most Oklahoma City fans don't want that past. They're not disrespectful of it, just cognizant of the fact memories can't be packed in a moving truck.
So it is that the tangible aspects of Sonics history, like the 1979 championship trophy, remain in Seattle at the Museum of History and Industry. And so it is that the Mariners were about the only group that could have put together the largest group of Sonics legends ever assembled.
DUFF ON THE SONICS
Taking in "Sonics Celebration Night" at a Mariners game brought back great memories for Seattle resident and former Guns N' Roses member Duff McKagan, who was reminded of what Seattle lost.
"It's weird, but it's great," Payton told reporters while sporting a Mariners jersey. "I'm glad that the Mariners are doing this for us. They're trying to show that they want a basketball team back here. They knew how much the Seattle SuperSonics mean to this city."
That's difficult to tell now at KeyArena, which no longer contains any reference to its former tenant. The banners the team raised are gone from the building's rafters. So too are the retired jerseys of six players, all of whom were in attendance last Friday.
"I'm used to it by now," said Lenny Wilkens, the former Sonics player and coach who still lives in the area and regularly visits KeyArena to broadcast Seattle U basketball and attend Seattle Storm games. "It's disappointing, but it's just a part of life."
At least players like Wilkens got the chance to experience a traditional jersey retirement. That wasn't the case for Kemp and Payton, the Sonics' two most popular players. Because their careers ended shortly before the move, neither No. 40 nor No. 20 was ever formally retired. Both have said they have no interest in a ceremony in Oklahoma City, which would be an insult to Seattle fans. Until the Sonics return, Kemp and Payton will be two of the most accomplished players never to see their jerseys retired.
Payton is two years away from being eligible for the Naismith Memorial Hall of Fame. It might not happen on his first try in 2013, but Payton is a lock to be selected for the Hall of Fame at some point. Every eligible player with a score as high as Payton's on Basketball-Reference.com's Hall of Fame probability has been voted in. Unlike in baseball, players aren't tied to a specific team as part of their Hall of Fame induction. When Payton goes in, however, there will be no franchise to celebrate his accomplishments.
That's not the same as there being no fans, another takeaway from Friday's event. For one night, the dominant colors on the concourses at Safeco were green and gold. Nearly half those in attendance had something Sonics on, sporting jerseys of players through the years and T-shirts that have been stored away since the team's move. Late in the lopsided Mariners loss, a band of die-hards traveled throughout the stadium, starting up Sonics chants.
Instead of a funeral, Sonics Night at Safeco Field felt more like a celebration of a team that is gone temporarily, not forever. As much as players and coaches reminisced about the past, they also talked about their support for a possible return of the NBA to Seattle, so the next time this group gets together it won't be at a baseball stadium.
"When you come in a room with these guys and see the history, you know it's a brotherhood," Kemp said. "You get the feeling that we've got some unfinished business in this area. From a player standpoint, we want to remain friends, keep a brotherhood and bring the history back here to Seattle."
Kevin Pelton covers the NBA for ESPN Insider. He has been writing about pro basketball since 2003 for several publications, including Hoopsworld.com, 82games.com and SI.com, and he has been an author for Basketball Prospectus since the site's inception in 2007. You can find his ESPN archives here and follow him on Twitter here.