Commentary
UFC fighter joins elite list of worst looks
Originally Published:
August 8, 2011
By
Patrick Dorsey
| Special to Page 2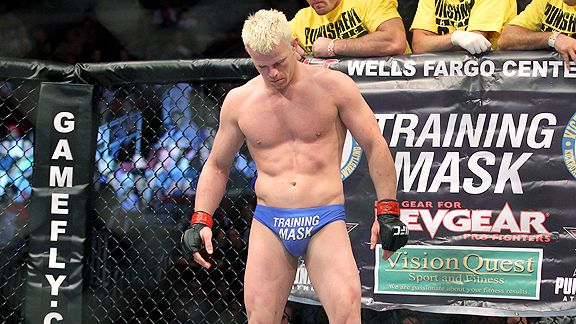 Ed Mulholland for ESPN.comDennis Hallman's lack of coverage left his boss, Dana White, more than a little upset.
Dana White, we agree.
White was pretty mad -- "horrified," actually -- when Dennis Hallman entered the UFC ring this weekend in what amounted to a Speedo. In fact, the UFC president gifted opponent Brian Ebersole $70,000 just for dispatching Hallman in the first round, labeling it a "getting-those-horrifying-shorts-off-TV-as-soon-as-possible" bonus.
Then White said he's banning the look forever. But it's not gone entirely. Because Hallman's short, short, short shorts will be inducted into Page 2's pantheon of Worst Looks in Sports History, alongside these chosen 10:
[+] Enlarge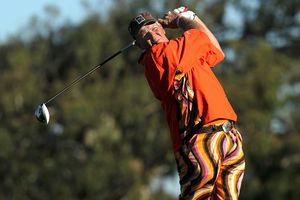 Stephen Dunn/Getty ImagesJohn Daly's pants tend to be a little loud.
John Daly's Pants
Some golfers -- most of them European -- can pull off the outlandish look (Ian Poulter, anyone?). But there's just something wrong about an oversized guy swilling a beer (or a Diet Coke) while lumbering down the fairway in this. Or this. Or this. Not your typical dress for a country singer, either.
Soccer Collars
From a sport that needs collars to one that has no business with them on their unis. Sure they're traditional, and the most valuable franchise in the world (Manchester United) flaunts them on a regular basis. But seriously. This isn't polo. This isn't croquet. Athletes just shouldn't play 90-minute, sweat-inducing, speed-needing sports while looking like Bradley Cooper in "Wedding Crashers."
Australian Women's Basketball Team
Right, let's promote gender equality by … putting world-class athletes in form-fitting clothing while playing on the highest level of a sport that never requires such outfits. But that's what the Opals used to do, dressing superstars like Lauren Jackson in what amounted to leotards. Thankfully, they've stopped. Much classier, Australia.
White Sox in Dark Shorts
Leave aside the potential problems with, you know, sliding into bases. The South Siders' decision on Aug. 8, 1976, to sport shorts (and collars, to boot) just looked wrong, like the players were in some beer league softball game instead of at the height of baseball competition. We expect that sort of behavior from the Cubs, but… (too soon?)
[+] Enlarge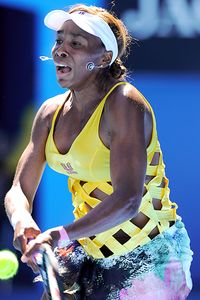 Torsten Blackwood/AFP/Getty ImagesVenus Williams shakes up the tennis fashion landscape.
The Williams Sisters
They're two of the most dominant tennis players of our time … but they don't get a pass just because they're good. Not when Venus wears something that looks like the crust on top of a pie, or Serena goes biker-chick-meets-country club.
Jorge Campos
For those who don't follow the sport, soccer goaltenders wear different uniforms than their teammates. Usually, they're just some sort of solid (and typically neutral) color, an indicator that this guy goes by different rules than the rest of the players. But Campos, a former Mexican national team goalkeeper who spent nearly two decades playing in his home country and in MLS, went off the map. Wayyyy of the map. But come to think of it, could you take penalties well with a zig-zaggy rainbow in the corner of your eye?
Tampa Bay Buccaneers
There have been many, many, many bad team uniforms in pro sports. But the original Bucs win here because 1) they introduced themselves world back in 1976 by 2) taking a vomit-looking color, adding an off-putting secondary hue and throwing in a weird Musketeer-looking guy on the helmet, and 3) unlike teams with flashier bad uniforms, they couldn't make an argument like: "Hey, it was the 70s! You know, disco!" Nope, these just looked outright ugly.
European Hockey Billboards
Look, everybody's gotta make a buck. That's why it's hard to begrudge WNBA or soccer teams for stamping corporate logos on their shirts. But when Jimmie Johnson should be driving your uniform around an oval, that's a problem. And this is no isolated incident.
[+] Enlarge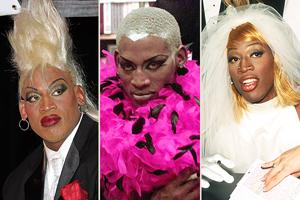 AP Photo, Getty ImagesDennis Rodman had (has?) a flair for the dramatic.
Brian Wilson at the ESPYs
Sometimes, intentionally bad is funny. And in Wilson's case, many found this year's red carpet-crashing Spandex tuxedo (w/trademark beard) to be exactly that. But be it good-bad or bad-bad, bad is still bad.
Dennis Rodman
We could describe his visual antics, or you could just Google them. Because there's enough to create a list by itself. And to think, he once looked like this -- short shorts and all.
Just not as short as Dennis Hallman's.
Got some other possible inductees? Let us know in the comments section.
Thanks to DJ Gallo, Paul Lukas, Jerry Greene, Lynn Hoppes and Dave Wilson for assistance in compiling this list.
Patrick Dorsey is a writer based in South Florida and a regular contributor to Page 2. He can be reached at bypatrickdorsey@gmail.com.