Commentary
Al Kaline, grandson share a first pitch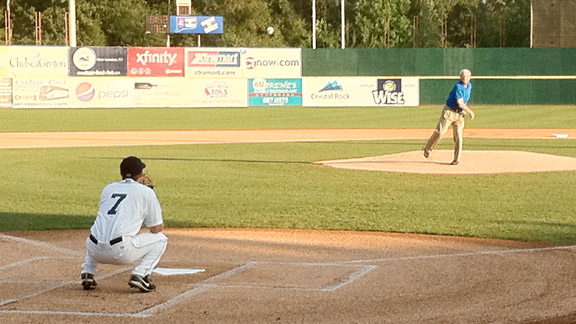 Thomas Neumann/ESPN.comAl Kaline delivers a strike on a ceremonial first pitch to grandson Colin, a Detroit Tigers farmhand.
NORWICH, Conn. -- Al Kaline recorded 3,007 hits and 399 home runs during his 22 seasons with the Detroit Tigers.
He remains the youngest batting champion in major league history, having won the AL crown at age 20 in 1955. He helped lead the Tigers to victory in the 1968 World Series. One of the finest defensive right fielders ever, he became the 10th player to be voted into the Baseball Hall of Fame on the first ballot in 1980.
Still, there are still baseball memories to be made for Kaline, 76, who joined the Tigers' front office in 2001 after working 26 seasons as a broadcaster for the club.
Kaline enjoyed one of those moments Monday, when he threw out the ceremonial first pitch for the minor league Connecticut Tigers to his grandson Colin, a rookie second baseman with the team.
The elder Kaline delivered a strike, drawing cheers from the 2,326 in attendance at Dodd Stadium.
"It's always a special moment when you get to do something like that with a grandparent," said Colin Kaline. "I'm just lucky to get to do it in front of a lot of people."
Colin, at 5-foot-10, 150 pounds, was picked in the 26th round of this year's draft out of Division II Florida Southern. His father, Michael Kaline, played college baseball at Miami (Ohio). Colin isn't as physically gifted as his grandfather, but Al said Colin has inherited the family work ethic.
"His desire is as great as mine, even though he doesn't have the same strength or size," said Al Kaline. "I know how much he loves the game of baseball. For him to get a chance to play professionally is really a great thrill for me, and I know it's a great honor for him."
[+] Enlarge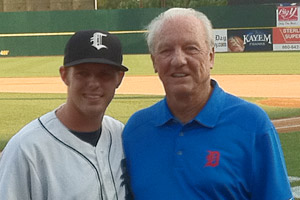 Thomas Neumann/ESPN.comColin Kaline continues the bloodline of grandfather Al as a rookie infielder with the Connecticut Tigers.
Colin grew up in the Detroit area and said he and his sisters and cousins always looked forward to annual trips to Toronto with his grandparents when Al was broadcasting. Colin also said people might be surprised to know that his family members aren't consumed with baseball talk when they get together. When they do talk baseball, it's more about Al's memories than instructions or pointers.
Colin, 22, expressed awe when asked about Al winning a batting title at 20, two years after going directly from Baltimore's Southern High to the major leagues.
"It's really hard to believe," Colin Kaline said. "I always had immense respect for that, but now, being older than that and seeing what he had to go through to get there, it's really unbelievable."
After the festivities, Page 2 caught up with the Hall of Fame outfielder to talk about his career, the evolution of fans and the late, great Tiger Stadium. Here's what transpired:
Page 2: Two of your grandson Colin's teammates are Patrick Leyland [son of Detroit manager Jim Leyland] and Nick Avila [cousin of Detroit catcher Alex Avila and nephew of Detroit executive Al Avila]. Is it unusual to have three legacies on one team?
Al Kaline: I don't really know, but I do know the Tigers thought they were all good prospects. That's why they were signed. ... It's a crap shoot, because the game is so hard, and you don't really know which players are going to go forward and which players are not. But it's a tremendous thrill and an honor for these guys. Anybody that gets signed professionally, it's really big, because there are millions of kids out there that would love to sign a professional contract.
Are baseball fans more or less civilized than when you played?
I think the fans when I played -- I don't know whether civilized is the right word to use or not -- but they were more pulling for their team and wouldn't really pull against them or get mad at them as much. Because of the economy today and the players making a great deal of money -- which I think they earned; the owners obviously think they can afford to pay them, and that's fine; I have nothing against that -- I think there's a resentment from the fans that the players are making that much money. We always said we'd play the game for nothing, because we loved it so much. But that's not really true. I would play it for nothing if you were playing it for nothing. I think the fans were more on our side and gave us a little more leeway than they do today.
Which ballpark had the toughest fans when you played?
You know, I was lucky. Everybody seemed to treat me really good. I got booed a lot [on the road], but I never had any problems with any of the fans. You hear certain things, and they call you certain names that you can't repeat all the time. But that's part of the game. They didn't really mean anything. They were really just [rooting] for their home team -- which they should be, and I took it that way. So it never bothered me one bit.
Who was your favorite athlete growing up?
I'll never forget, when I was a kid, I used to have a poster of [former Notre Dame quarterback and 1947 Heisman Trophy winner] Johnny Lujack throwing a jump pass. I hung that up over my bed when I was real little. Of course, my favorite athlete of all time was Stan Musial. I enjoyed the way he played, and I was fortunate enough to meet both of them.
When you signed with the Tigers in 1953, could you ever have imagined spending six decades with the same organization?
I was just hoping to make enough money to buy a house. I remember Ray Boone, who was our third baseman the year I joined the ballclub -- he had just been traded from Cleveland -- told me, "If you can leave this game by owning your own house, you've had a great career. That's how much money we were making -- $5,000 a year. But no, I can't ever say that I would've envisioned myself being in a Tiger uniform all those years and being a part of the organization all those years. But I'm grateful for it, and I'm very honest about it. It's the only thing I really know, and it's the only thing I ever wanted to do. I enjoy it. I enjoy being with the young guys, and trying to help them out a little bit to have a career in baseball because the game was great to me.
Is it true Ted Williams once advised you to squeeze baseballs as hard as possible to strengthen your wrists?
When I met him, I was only about 150-155 pounds. But he related to me, because when he signed -- even though he was taller -- he was very, very thin. He wanted me to make sure I got my hands and my wrists strong. He wanted me to squeeze a rubber ball as much as I could, and also to swing a heavy bat in the wintertime to try to strengthen my arms, my forearms and my wrists. Ted was a huge part of my career. He liked me, and I had a chance to talk to him quite a bit. Of course, I always thought he was the greatest hitter I've ever seen. For someone like that, who would take the time and effort to try and help me, that meant a lot.
Did it break your heart a little bit when Tiger Stadium was torn down?
I spent my whole playing career there -- almost 22 years. Yeah, a big part of me left when they tore it down. But I have great memories, and you can't take that away from me. Now, we build new memories at Comerica Park.
Have you saved any pieces of memorabilia from Tiger Stadium?
I have a seat that my wife used to sit in all the time. ... After I got established, they'd always give me the same seat for her when she came to the ballpark. So we have that, but basically that's all. ... Even though I don't have a lot of memorabilia, I have a lot of memories.
How did your recent biography, "Six," come about?
I've never been one that wanted a book done on me, but my wife [Louise] and my good friend Dan Ewald got together on that. I helped out a little bit after the fact. There were some things that I wanted in there, with some of the players I was involved with like [Harmon] Killebrew, [Jim] Palmer and Brooks Robinson and on and on. But my wife wanted something to say about what I was able to accomplish and my upbringing in Baltimore and about my amateur career and my mother and father and so on.
Thomas Neumann is an editor for Page 2.