Commentary
@Page2 guides athletes on social media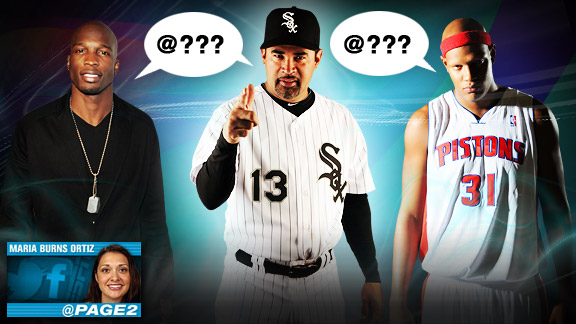 ESPN.com Illustration
Hello, sports personalities.
Welcome to the world of sports social media. Maybe you're a recruit or a rookie new to the scene. Maybe you're looking to pick up a few more followers. Maybe you're aspiring to one day join the UFC and really want to score one of those Twitter bonuses when that day comes. Well, you've come to the right place.
The @Page2 Guide to Social Media will guide you through the perils and faux pas of being an athlete in the social mediasphere. These tips may not get you the following of Cristiano Ronaldo, but they'll help you avoid the fines of Mark Cuban.
Think before you tweet.
This sounds like an easy one, but apparently to a lot of people, it's not. Here are some things you should definitely avoid posting: racist language, NCAA violations, homophobic language, comments that will get you dropped by sponsors, photos of things that are best left covered (don't worry, we're not showing anything). These are things we shouldn't even have to go over.
Don't tweet during games.
This is true in the NBA, the NFL and MLB.
Have a point to what you're posting.
UFC president Dana White has built himself and his company into a social media leader, so I'll let him sum up this point.
"I talk to people when there's really something to talk about," White said. "You know how many celebrities I see on there that say the dumbest [expletive]? Like, 'Here's my thought for the day.' Oh Jesus. I get on there when there's actually something to say, and I have something that people might actually care about."
Enough said.
Don't overshare.
Fans often follow because they enjoy an inside look at the life of a professional athlete. But you don't have to take them completely behind the scenes. For example, keep the bathroom door closed. Always.
Don't get into Twitter wars.
Trash talk on the field is inevitable. Trash talk in the Twitterverse is avoidable. Before you know it, your coach is stepping in to tell you to knock it off or you find out you've been feuding with a fake Laker. No one ever comes out of these social media back-and-forths looking mature.
You've messed up, now what?
OK, so you've posted something that makes you look like a complete jerk -- and it's been retweeted thousands of times. Know you're not the first. Now, you've got two options.
There was a time not so long ago that the common way to handle that was to blame it on being hacked. Or losing your phone. However, that approach got old fast, and people started being skeptical. That is, until LeBron brought the "It wasn't mine, I was holding it for a friend" defense to the social mediaverse. Of course, as the "karma tweet" fallout proved, there's a reason that lame excuse didn't work with your parents -- no one buys it.
Which leaves you with the road less traveled -- genuinely apologize. The thing with social media is you can't actually argue your words were taken out of context like sports personalities before you have done when it comes to the media. So when you apologize, you really have to come off like you mean it. It's a skill many have yet to master.
One last thing...
Remember, as the above links show, even if an insensitive post is up for less than one minute, information lives forever on the Internet -- even if you delete your account.
Newest Olympic event: competitive tweeting
The Olympics might be just under a year away, but the United States can claim an early victory after garnering the most tweets in the London2012.com's #1YearToGo social media contest.
The friendly competition sought to engage fans from around the world and kick off the official one-year countdown to the 2012 opening ceremonies. Social media users were encouraged to tweet as well as post videos to YouTube and photos to Flickr to show which country had the strongest -- and definitely the most social media savvy -- fan base.
Although Great Britain held an early lead, the host nation had to settle for the bronze with 14 percent of social media submissions. The United States came on strong to win with 16 percent, while Brazil, host of the 2016 Olympics, finished second with 15 percent.
The event was just one of the many social media initiatives Olympics fans can expect to see in the coming year.
Chad Ochocino has Klout
Social media company Klout released its list of the "Top 10 NFL Players with Klout."
Klout scores seek to identify the amount of influence a social media user has. Klout scores take into account multiple variables, including the number of followers a user has, how likely a user's post is to be acted on (responded to or reposted/retweeted) and how the user influences other influential users.
Unsurprisingly, New England Patriots receiver and avid Twitter user Chad Ochocinco topped the list, scoring 89 out of a possible 100. Miami Dolphins running back Reggie Bush was second with 83, with Philadelphia Eagles quarterback Michael Vick (81), Denver Broncos quarterback Tim Tebow (77) and San Francisco 49ers receiver Braylon Edwards (77) rounding out the top five.
What's in a name?
NFL linebacker and current free agent Kirk Morrison might not yet have a team, but he now has a permanent Twitter handle. A Canadian college student with the same name agreed to give over his Twitter account to the football player.
When Morrison joined Twitter as a member of the Oakland Raiders, he used his name and then-jersey number, 52, he explained to CBC News. After the player was given No. 55 in Jacksonville, he had to update his Twitter handle. And once again on the move, it appeared Morrison was going to need to change not only his address, but also his Twitter user name.
Hoping to make at least one of those moves a permanent one, his agent approached @kirkmorrison about the account.
The Morrison that doesn't play in the NFL agreed to part with the handle, telling CBC, ""I can let my 83 followers go." In return, he and a friend will get flown out to meet his name double and attend a game, wherever Kirk Morrison the athlete ends up signing.
The original @TonyBruno wasn't as lucky.
Sports radio host Tony Bruno, who tweets using @TonyBrunoShow, made headlines for posting an insensitive, offensive and what many believed to be racist comment about San Francisco Giants pitcher Ramon Ramirez. Bruno promptly removed the tweet, but not quickly enough, as the story went viral. The host was widely criticized and reportedly suspended for a week.
However, not all of the ire was appropriately directed. As @TonyBruno tweeted, "I'm not Tony Bruno of Fox Sports. I understand Giants fans have cause 2 believe he's racist."
The post included a picture of just a few of the angry posts that @TonyBruno received this week that were clearly meant for @TonyBrunoShow.
Elsewhere in the social mediasphere
New York Giants vice president of communication Pat Hanlon got some media attention and plenty of new followers this week for his tweets to Giants critics and critical fans. … Major League Soccer is surveying soccer fans on Facebook with the "North American Soccer Almanac" survey. … Choosing a player to go after can be a challenging decision, but England's Stockport County soccer team came up with a unique solution -- put it to a Twitter poll.
Got a story we should feature? Have a site we should check out? Who's on your must-follow list? Tweet me at @BurnsOrtiz. If your idea gets mentioned in this column, so will you. Follow Page 2 on Twitter at @Page2.
Maria Burns Ortiz is based in Boston.