Commentary
America has clearly failed Eli Manning
Updated:
August 17, 2011, 4:58 PM ET
By
DJ Gallo
| Page 2
We hear it all the time: American schoolchildren are falling behind their counterparts in other countries in math, science, geography, you name it.
However, there is still one area where we Americans are still No. 1: self-esteem. Yes, a study published last November in Psychology Today found that, thanks to going criticism-free from parents and educators for decades, today's American students feel they will make outstanding parents, spouses and workers -- even if they've accomplished nothing in or out of the classroom to merit such positive feelings about themselves. We might be dumb, but we're proud of it!
[+] Enlarge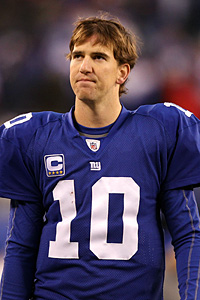 Al Bello/Getty ImagesEli Manning is good enough, smart enough, and doggone it, people like him.
"What this shows is that confidence has crossed over into overconfidence," Jean Twenge, an associate professor of psychology at San Diego State University, said of the study. "High school students' responses have crossed over into a really unrealistic realm, with three-fourths of them expecting performance that's effectively in the top 20 percent."
Which brings us to Eli Manning and the state of the American quarterback. On Tuesday, Manning -- again: this is Eli Manning, not Peyton Manning -- told ESPN Radio 1050 in New York that he considers himself to be in the same class as Tom Brady. Last year Manning led the NFL in interceptions and was 17th in passer rating. He has a quarterback rating of 80.2 for his career. I would compare his production to Brady's, but I fear doing irreparable damage to Eli's burgeoning self-esteem.
Unfortunately, Manning is not the only NFL quarterback with delusions of grandeur. Baltimore Ravens quarterback Joe Flacco has played awfully in the playoffs for three consecutive seasons. Yet he had this to say to NFL Network at the start of training camp:
"It doesn't matter what other people say. I think I'm pretty damn good. I don't need to go out and tell everybody that and show it on every given Sunday. I go out there and I play. You can think what you want about me. The bottom line is: I'm going to feel pretty good about myself no matter what you say."
Year of the Quarterback

ESPN has dedicated 2011 to examining one of the most crucial positions in all of sports -- the quarterback.
Year of the QB »
Sounds like someone spent his offseason having one-on-one sessions with Stuart Smalley.
And then, of course, there is Carson Palmer. If you were Palmer, you might be happy that there is still an NFL team willing to give you a paycheck. Yet after four consecutive bad seasons, Palmer feels he has some sort of leverage to force a trade. His self-esteem must be his agent.
But instead of mocking these quarterbacks for not realizing their true place in the game, I say we celebrate their confidence. We can't make all quarterbacks great, but we can help all quarterbacks FEEL great.
From now on, I propose that "interceptions" be renamed "alternate completions."
"Losses" shall be henceforth called "scoreboard-based learning opportunities." (Or bad quarterbacks can just feel free to call scoreboards what they are: "HATERS.")
And "fumbles" are now "FUNbles."
Because if Eli Manning, Joe Flacco and Carson Palmer can think of themselves as elite players, why can't every quarterback? All we have to do is agree to ignore reality together and we will instantly find ourselves in the Golden Age of Quarterbacking.
It's a genius idea. But of course it is. I thought of it. Me, the greatest writer of our time.
DJ Gallo is the founder of SportsPickle.com. His first book, "The View from the Upper Deck," is available from only the finest bargain-book retailers. His next book project will be released soon. You can follow him on Twitter at @DJGalloESPN.