Commentary
Miami could be headed for sports misery
Originally Published:
August 22, 2011
By
Patrick Dorsey
| Special to Page 2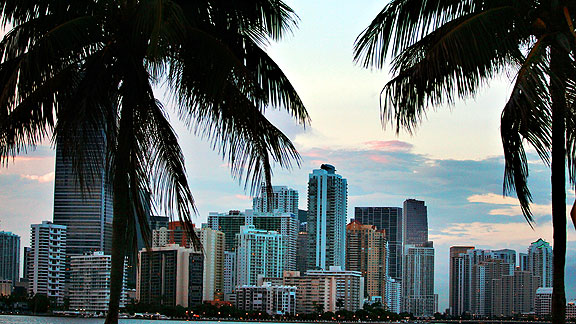 Joe Raedle/Getty ImagesIt's an uncertain time in Miami sports. Fans might actually have to settle for beaches and nightlife.
MIAMI -- This metropolis rests at the edge of America.
But, sports-wise, it seems like the edge of a cliff.
The University of Miami scandal. The NBA lockout. The impending NFL season. And so much more.
All of it might have Miami close to competing the title of "Most Miserable Sports City."
SOUND OFF!
Page 2 wants to know which town's sports scene is currently the most miserable and why. We'll reveal our
best reader responses on Thursday.
• Jerry Greene's Top 10 reader list
Close. But not quite. Which is an awkward position all by itself.
"[It's like] you're in sports purgatory," said Jorge Sedano, a sports talk host on Miami's 790 The Ticket and a South Florida native. "You're in sports purgatory, and you don't know what's going to happen."
Of course, the Canes could escape serious NCAA penalties, the Heat could play next season, the Dolphins could surprise and the Marlins could flourish in their new ballpark.
But the opposite just as easily could happen, subjecting South Florida to a deep -- and unprecedentedly bizarre -- level of sports sadness.
Don't believe us? Here's the breakdown:
UNIVERSITY OF MIAMI FOOTBALL
Since the calendar year 2002 ended, things had been iffy for the five-time national champions. They lost the 2003 Fiesta Bowl (and national title) on a controversial call that still steams locals. They won 11 games the following year but haven't had a 10-win season since. They won just 28 games in the four-year Randy Shannon era. And when searching for a replacement, they landed on enthusiastic -- but major-conference-untested -- Al Golden of Temple.
Then the scandal happened.
[+] Enlarge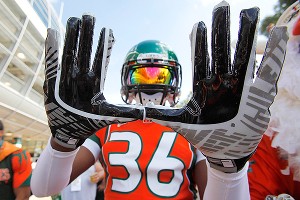 AP Photo/Lynne SladkyThe University of Miami is emphatically disproving the saying that "any publicity is good publicity."
"At least [before the scandal] there was still the unknown there, with Al Golden and the new coaching staff," Sedano said. "Whereas here now there's an unknown, but it's certainly not a positive unknown."
Potential punishment remains a mystery. The NCAA's investigation is ongoing, and the term "death penalty" has been mentioned. But with 12 current players cited by former booster Nevin Shapiro and with USC receiving a bowl ban for the Reggie Bush case, Miami's look in 2011 and beyond remains highly uncertain.
Billy Corben, a Miami alumnus and the director of the ESPN 30 for 30 film "The U," said parts of the university have grown tighter in light of the swirl surrounding a school that is accustomed to having an us-against-the-world mentality, and doesn't believe the allegations warrant the harshest punishment.
"I think that the community is really rallying around the team and the players," Corben said. "They're kind of like the underdogs right now."
Still, until an NCAA ruling is made, dreams of national title No. 6 couldn't be further from reality.
MIAMI DOLPHINS
Once the only team in town and often the hottest ticket -- even if it hasn't won a Super Bowl since the early 1970s -- the post-Dan Marino Dolphins have ranged from decent to plain bad. But when 11-5 (2008) followed 1-15 (2007), it seemed like the Dolphins might be headed back toward winning.
[+] Enlarge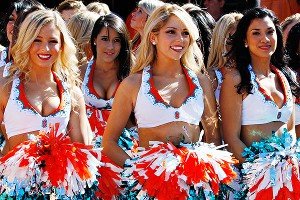 AP Photo/Wilfredo LeeWho says Dolphins fans don't have anything to get excited about?
The encores: 7-9 and 7-9, followed by the team shopping for a new coach while it already had one, shopping for a new quarterback while it already had one, then admonishing fans for booing the QB they wanted replaced. Now prevailing wisdom says the Fins are neither good enough to topple the Patriots and the Jets, nor bad enough to land perceived savior Andrew Luck in the 2012 draft.
Talk about purgatory.
"It's been a long time -- I know people are getting impatient," said Bob Brudzinski, a former Dolphins linebacker and co-founder of the South Florida-based Bru's Room Sports Grill chain. "You can tell the fans are down. … They'll get there, [but] it may take longer than people want."
In the meantime, though, at least the franchise keeps it fun off the field; it opened up a Club LIV inside Sun Life Stadium, and is minority-owned by Marc Anthony and J-Lo, the Williams sisters, Fergie, Gloria and Emilio Estefan and Jimmy Buffett.
FLORIDA (SOON-TO-BE MIAMI) MARLINS
Never a team keen on P.R. for the sake of P.R., the Marlins often have made up for it by winning at a remarkably low cost.
[+] Enlarge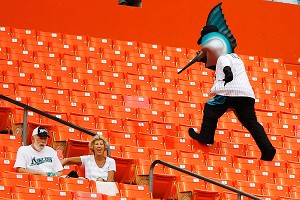 AP Photo/Lynne SladkyBilly the Marlin does his best to entertain hundreds of fans dressed as empty seats.
But in 2010, after seasons of 84 and 87 victories, the team went an average 80-82, while experiencing a Roy Halladay perfect game, subsequently peddling that contest's unsold tickets, running an unpopular (to the players) vuvuzela night, losing regulars to shoe-tying and pie-in-the-face injuries, firing now-playoff-bound manager Fredi Gonzalez but failing to secure Bobby Valentine as a replacement and releasing fan favorite Cody Ross only to see him win the National League Championship Series MVP for the Giants.
This year? A 29-19 start disintegrated quickly (they lost 19 of their first 20 games in June), their manager surprisingly resigned, big-money players Josh Johnson (injury) and Hanley Ramirez (general struggles) haven't lived up to expectations and the recent demotion of social media star Logan Morrison got people buzzing.
In 2012, the team's impressive new stadium is supposed to help turn things around and eliminate low attendance numbers. But even the ballpark has generated ire and political action from some locals (Corben called the opposition "vitriolic").
And among those who support it, said Sedano: "Do you trust [the team] to spend the money to truly compete?"
[+] Enlarge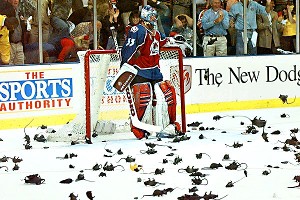 AP Photo/Hans DerykIt's been 15 years since the Panthers' salad days, when plastic rats rained down on opposing goalies.
FLORIDA PANTHERS
The NHL team is almost an afterthought in South Florida; the Everglades-adjacent franchise is "way the heck up" in west Broward County (Corben's words, although he's still a fan), and reportedly drew just 3,000 household TVs last year. Even for supporters, the Panthers are on an unprecedented run of ineffectiveness: a record 10 straight seasons out of the playoffs … in a league in which more than half the teams make the postseason each year.
Some believe the team and its new regime are trending upward. But in South Florida, anything short of a deep playoff run is just a tree falling in Okaloacoochee Slough State Forest.
MIAMI HEAT
Even after The Decision, The Celebration, The 9-8 Start, The Bump, The Celebration Part II and The Collapse, Heat fans had hope: Next year.
[+] Enlarge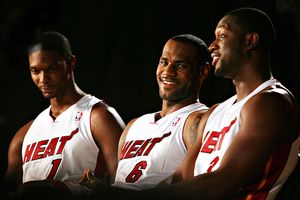 Marc Serota/Getty ImagesIt's not a foregone conclusion that he Heat's big three will deliver championships to Miami.
Or not.
It's still uncertain whether the 2011-12 season will happen in any form. But one thing's for sure: If there's no season, that's one fewer year that the LeBron James-Dwyane Wade-Chris Bosh triumvirate can make good on its promise of multiple titles.
"That's the one team that we have that we can expect to really compete and be competitive for a championship year-in and year-out," said Josh Baumgard, a Miami native, part-time producer at Miami radio station WQAM, and creator of the blog MIA Sports Guy. "It's very depressing."
Also, it doesn't help that Wade -- approaching 30 and sometimes an injury worry -- wants to play at all costs, or that LeBron can't stay away from viral dunk clips.
ELSEWHERE
Meanwhile, outside of major sports …
At Florida International University, basketball coach Isiah Thomas' two-year run has been largely uninspiring: Just 18 total wins, plus endless rumors that he'll rejoin the Knicks.
The typically strong Hurricanes baseball program struggled through 2011, lost to rival Florida in the NCAA regionals and saw a player from Miami Dade College drafted before any Canes.
magicJack: The Boca Raton-based Women's Professional Soccer franchise got a major attendance spike after the U.S. World Cup run, thanks to the presence of American nationals Abby Wambach, Megan Rapinoe, Shannon Boxx and Christie Rampone. But Hope Solo, also a member, was injured in Germany, and the team's championship hopes fell short to Philadelphia in Saturday's Super Semi.
WHERE TO TURN?
Of course, all hope isn't gone -- even if the Heat's season gets lost to the lockout.
If current UM players don't get sanctioned, the aforementioned Canes rally could breed a pleasantly surprising 2011 season featuring some talented NFL prospects (such as possible first-rounder Marcus Forston).
South Florida also is a major hotbed for high school football. Prime example: defending ESPN RISE national champion and longtime power Fort Lauderdale St. Thomas Aquinas, which is hardly the only contender in the area.
"There's so much talent down here," said former NFL running back Errict Rhett, a late-1980s South Florida prep star who went on to play seven NFL seasons. "[We have] so many competitive schools."
Up one level is FIU football which, all things considered, might be the best thing going in South Florida. The Golden Panthers are coming off a Sun Belt Conference title and their first bowl game (and win), have receiver T.Y. Hilton (a Miami native), a dynamic playmaker, and in a creative -- if polarizing -- move, the team hired ex-CNN newsman Rick Sanchez as a color commentator for radio broadcasts.
"I don't think there's any question that they're building something there," said Sedano, an FIU alumnus who himself used to call Golden Panthers football. "I just think that the end of the day there's not a lot of tradition, there's not a lot of history. It's hard to sell tickets, even if you're good in South Florida."
STILL IN PURGATORY
Let's get serious: All of those positives would be small victories if everything else goes wrong.
So the ultimate question, then, is how bad will it get? As bad as 2007 and 2008, which included the 15-loss Dolphins, the 15-win Heat, the 5-7 Hurricanes, no playoffs for the Marlins or Panthers and an FIU football losing streak that stretched to 23 games?
Maybe. Really, with an entire college program potentially in tatters and a professional season possibly lost to money squabbles, Miami could breeze past other beleaguered sports locales such as Buffalo, San Diego, D.C. and Cleveland, and see a year that just might rival Seattle's "Worst Year Ever" as, well, the worst year ever.
For now, though, here Miami sits, hopeful and harrowed all at once, stuck in a sports purgatory that soon might become hell.
At least Miamians are used to the heat.
Patrick Dorsey is a writer based in South Florida and a regular contributor to Page 2. He can be reached at bypatrickdorsey@gmail.com.