Commentary
How to win big by losing cheaply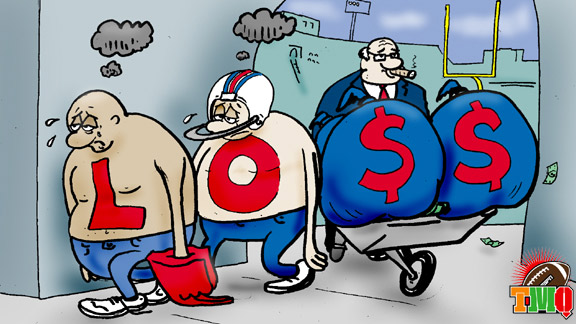 Kurt Snibbe/ESPN.com
One reason NFL action is so competitive is the league has a hard salary cap. The new collective bargaining agreement adds a hard salary floor, mandating that nearly all cap space be spent each year -- as cash, not as amortization of past bonuses. This is a provision NFL players are going to like quite a bit. Fans of perennial cheapskate teams will like the provision, too.
But the must-spend clause does not take effect until 2013. The result is that many NFL teams have oodles of unused cap space, yet made few if any moves in free agency. The Chiefs have nearly $33 million of unused cap space. The Bucs, Jaguars, Bengals, Bills, Broncos and Browns have at least $20 million each. Another six teams have at least $10 million unused. And cap space is not cellphone minutes. It doesn't roll over to next season.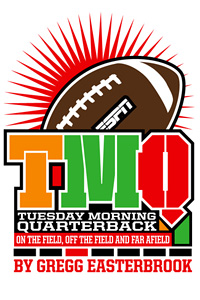 Cash flow is no problem for any of the teams with ample salary-cap space. The $125 million each NFL club will receive this season from the league's many national television contracts will cover player expenses, while ticket sales and local marketing cover overhead, and then some, even for small-market clubs. That leaves mucho grande greenbacks. Yet many NFL teams are not spending anywhere near as much as they could.
Player expense might not equate to wins, of course. But there's something more basic happening. In the NFL structure, a cheap team that loses might have more profits than an expensive team that wins. Victory is nice, to be sure, but losing cheap can be remunerative. As all NFL teams save the Packers are privately held, and of those all save the Raiders are family businesses, money that is not spent on players goes into the pockets of the owner and his relatives.
Each NFL team gets exactly the same national TV payment whether it's winning big on "Monday Night Football" or losing badly and never aired nationally. Ticket sales can vary and generally are where the profit resides. But the revenue swing between packing the house and having a poor gate just isn't that great.
Most teams go into the season knowing they will sell about 90 percent of their seats no matter how they perform; a few know every seat will sell regardless of performance. In 2010, even given a slack economy, the league average was 94 percent of seats sold, and every team except Oakland and City of Tampa sold at least 80 percent of its home seats. Winning can help sell tickets, but even a clunker season will fill most of the house.
According to a financial officer for an NFL team, after ticket price, concessions and parking are added up, and then the visitor's share, overhead and taxes are deducted, each sold home seat represents around $30 in profit. This jibes with the numbers reported by Green Bay, the sole NFL club that discloses financial data. For 2010, the Packers sold 566,362 tickets and reported an operating profit of $10 million -- about $18 per occupied seat. The Packers' expenses were high in 2010, as they appeared in four road playoff games. Had they not, the profit per seat would have risen to $25 or $30.
The $30 estimate is a simplified number, but suppose it's roughly accurate. That suggests the 2010 attendance leader, Dallas, had a $21 million profit on seat sales, while 2010's worst-drawing team, Oakland, had a ticket profit of $11 million. That's a $10 million swing between the best case and the worst case for filling the stadium. Because most teams are in the middle of that calculation, going all-out to win with player and coaching salaries will add considerably less than $10 million in profit on packing the stadium. Contrast that with not spending up to the cap, which can add $20 million to $30 million to the bottom line. If your first goal is financial results, losing cheap can look a lot sweeter than winning expensive.
When this is taken into account, seeming nonsense suddenly makes sense. The Bengals, a low-spending team, are refusing to trade Carson Palmer, who says he retired but actually wants out of the Queen City. What's the point of getting nothing for Palmer? The point is to shed Palmer's large salary while creating an excuse for another bad season. When in this situation, teams with winning mindsets shrug and trade the unhappy star for whatever they can get -- think Green Bay with Brett Favre or Philadelphia with Donovan McNabb. Cincinnati management does not make winning its first priority. Losing cheap is fine, and getting nothing for Palmer generates a nifty excuse for a weak 2011 season.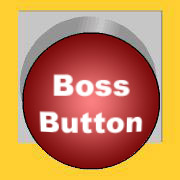 Buffalo, 11 consecutive years out of the playoffs, just traded one of its few established performers, Lee Evans, to the Ravens for a middling draft pick. Unloading Evans and replacing him with a minimum-salary young player cuts the Bills' costs by about $3 million this season, which is more than profits would rise if every seat were sold. Trading Evans makes a winning season less likely, but the odds of a profitable season go up -- and a built-in excuse is created. How long until a Buffalo team official says, "We knew we'd have an off year when we lost Lee Evans," as if he had been swept from the practice field by helicopter-borne commandos, rather than deliberately traded away.
For Buffalo, this is a recent pattern. Just before the 2009 season began, the Bills waived their starting left tackle, Langston Walker, and the team's highest-paid offensive player. Two games into the 2010 season, the Bills waived their starting quarterback, Trent Edwards, their second-highest-paid offensive player. Both actions increased profits while setting up an excuse for a losing season.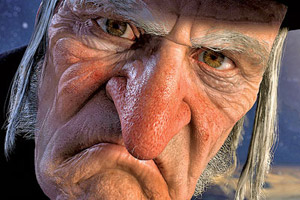 Walt Disney Pictures Scrooge would be right at home with salary cap decisions for the 2011 season.
There is a way most NFL teams could enhance the bottom line while also spending freely on players: reduce front-office costs. But some teams are loath to do that, as the front office is populated by family members and cronies with senior titles, hefty salaries and few if any duties.
For example: The Bears, who are $19 million below the salary cap, have four senior managers with the last name McCaskey. Chicago has a chairman of the board, a secretary, a president and CEO, a general manager, seven senior directors and numerous people with the title director or manager. The team masthead lists 38 people in the front office, and that's not including clerical and sales personnel. If Apple had the same ratio of senior titles to revenue as the Chicago Bears, it would have 244 presidents and 1,708 senior directors.
The story repeats at other NFL clubs. Revenue will be about the same whether the team wins or loses; profit will be a lot higher if salary-cap money isn't spent; family members would rather the team lose with them in cushy front-office roles than win with streamlined management. Some NFL owners go all-out to win anyway. But until 2013, there's considerable incentive to lose cheap.
Now, Tuesday Morning Quarterback's AFC preview:
Baltimore: Can the Ravens beat the Steelers or what? During the regular season, the Ravens have lost six in a row to Pittsburgh when Ben Roethlisberger starts. Two of Baltimore's past three seasons have concluded with a playoff wheeze-out against Pittsburgh. Baltimore was outscored 34-10 in the second half in those losses, while gaining 321 yards of offense -- that's the total for both games. In franchise annals, the Ravens are 0-3 in the postseason against Pittsburgh and 9-3 against all other teams.
Maybe the explanation is simple: The Steelers are better than the Ravens. But the Hypocycloids also seem to be in the Nevermores' heads, which is vexing, owing to Baltimore's rep as a tough-guy team.
A recurrent problem in Baltimore's three-year string of playoff losses is the postseason disappearance of the Ravens' offense. Baltimore bracketed its 2008 and 2010 poor-offense Pittsburgh defeats around a 2009 loss to the Colts, 20-3. For those three years, the Ravens' offensive coordinator has been the canny, crafty, cagey Cam "Cam" Cameron, and he just hasn't put together good game plans. Last season in the playoffs, Baltimore led Pittsburgh 21-7 and had possession of the ball in the third quarter. The Ravens' next seven offensive snaps were a lost fumble, two sacks, an incompletion, 1 net yard rushing and a punt, swinging the momentum to the Steelers. It was as if Pittsburgh knew the Ravens' calls; TMQ blames a predictable game plan.
[+] Enlarge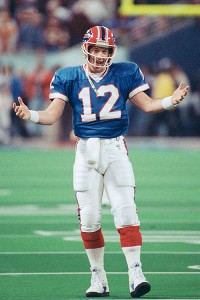 AP Photo/Bill SikesIn Buffalo if you can't succeed on the field, you might as well look good.
Harbaugh-East note: Baltimore led 24-13 with 1:18 remaining in its preseason game Friday against Kansas City. Baltimore head coach John Harbaugh had the Ravens' third-string quarterback Hunter Cantwell play-fake and throw deep. Having reached the Kansas City 1 with 8 seconds remaining, Harbaugh-East called timeout to allow a final play, running up the score to 31-13. Not only was this bad sportsmanship, but it was classless considering that in their previous meeting, at Kansas City in the playoffs, Baltimore had won big. Lack of class always comes back to haunt you -- and now the Ravens enter the 2011 season as bad sports.
Buffalo: At last the Bills ditched their atrocious uniforms, dominated by a hue TMQ dubbed Rusting Russian Dreadnaught Aft Bulkhead Cyanic. From 1987 to 2002, the Bills wore one of sports' best looks, a uniform of red, white and American-flag blue. Wearing America's colors, the Bills reached the Super Bowl four times and the playoffs six other times -- 10 of 16 seasons in that uniform were playoff years. So Buffalo got rid of the uniform associated with success; it violated the Bills' marketing plan!
This season the Bills go to a retro-1970s uniform, which is better than the Rusting Russian Dreadnaught look. But why did the Bills return to a uniform style they wore when making the postseason three times in 17 years? They could have gone back to a gloried Super Bowl look based on red, white and American-flag blue -- not to put too fine a point on it, but the single most successful color scheme in world history.
During the offseason, coach Chan Gailey and general manager Buddy Nix repeatedly criticized defensive end Aaron Maybin, the 11th overall choice of the 2009 draft. Then this summer, they tried to trade him. The public criticism meant other teams knew Maybin would be waived, so no one made a trade offer, leaving the Bills with nothing when they released Maybin last week. So was the public criticism nonsensical? Not if the goal is to lose cheaply.
[+] Enlarge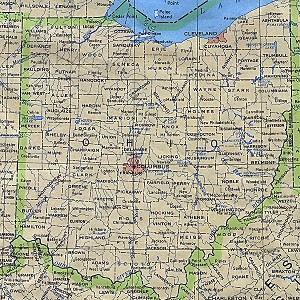 U.S. Geological Survey Once upon a time, this was a map for some of the best football talent.
Making a great show of discussing how bad the previous regime's high draft pick was creates an excuse for Gailey and Nix to present a losing team in 2011 -- "What did you expect, when the guys who came before us blew the team's 2009 first-round pick?" Since arriving a year ago, Nix has waived, traded or let go four recent first-round draft choices (Maybin, Evans, Marshawn Lynch and Donte Whitner), cutting costs while shifting blame backward to the previous coach and general manager.
Cincinnati: New offensive coordinator Jay Gruden on QB Andy Dalton's first preseason start: "The game wasn't a total debacle." Thanks for the vote of confidence!
Didn't Ohio used to be a hotbed of football culture? The Bengals' last winning coach was Sam Wyche, who left in 1991. The Browns' last winning coach was Marty Schottenheimer, who left in 1988. Since these two gentlemen departed, the state of Ohio is 226-364-2 in the NFL. And Ohio's record will not improve opening weekend, because the Browns and Bengals meet.
[+] Enlarge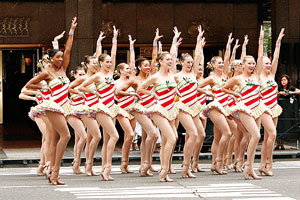 John Lamparski/Getty ImagesBe sure to see the Radio City Christmas show before Thanksgiving!
Christmas Creep: Reader Al Caniglia of Belmopan, Belize, reports double creep: "On April 11, 2011, The New York Times ran an ad for the Radio City Music Hall Christmas spectacular. Not only was a Christmas show being advertised before Easter, the show opens before Thanksgiving."
Cleveland: The net of the Browns' spectacular draft-day deals is that Cleveland traded Julio Jones and Justin Houston for Phil Taylor, Greg Little, Owen Marecic, and Atlanta's first- and fourth-round selections in 2012. Since Little is, like Jones, a wide receiver, should Little prove to be the better player, these deals will be seen as steals. Even if not, Cleveland might on balance come out ahead. The trouble is Cleveland can't come out ahead for at least a year, after the 2012 draft, while the long-suffering Dawg Pound must endure another season now.
Last season, in consecutive weeks, the Browns defeated the defending champion Saints, then the juggernaut Patriots, who finished 2010 with the NFL's best regular-season record. Few franchises have posted such memorable back-to-back performances. The trouble is, the rest of the Browns' games were ones you would go to a hypnotist to forget, including a season-finale 41-9 home defeat to Pittsburgh's practice-squad players. In the pair of memorable wins, they showed moxie. Leading the Patriots 10-0 in the first half, facing fourth-and-1 in their own territory, they went for it. So what if on the next snap, the Browns lost a fumble? The football gods smile on boldness. They might not smile on Peyton Hillis, who is the "Madden NFL 2012" cover boy.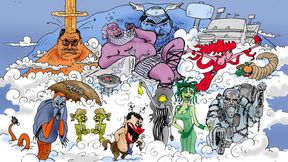 Kurt SnibbeThere are three contexts in life: Death, taxes and the football gods.
Denver: Will Sports Authority Field have a kickoff return this season? Already a lack of kick returns is common there; last season at Denver, 54 percent of kickoffs were touchbacks, owing to the thin air. This season the kickoff spot moves from the 30 to the 35, part of an NFL initiative to reduce kicking-play injuries. The policy might be wise but will lead to dullsville kickoffs at Broncos home games, at least until winter weather sets in. (Kicked footballs don't fly as far when it's cold.) In Denver, kickoffs might seem like high school plays. Most states follow the National Federation of State High School Associations football rulebook, which specifies that kicks reaching the end zone are dead balls under all circumstances.
Denver gave up the most points in the NFL in 2010, and its defenses have struggled in recent seasons -- no small feat, considering that playing at 5,280 feet gives the Denver defense an advantage in half its games. One reason for the weak Denver defenses is draft decisions. Before 2011, seven of the Broncos' previous 10 first-round choices were offensive players. Of the three defenders chosen high, one (Jarvis Moss) was a bust, one (D.J. Williams) has played well but often has been in trouble and one (Robert Ayers) has yet to distinguish himself.
[+] Enlarge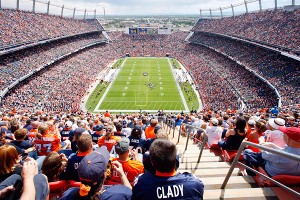 AP Photo/Jack DempseyThe end zone at Sports Authority Field, where a lot of kickoffs will land this season.
But the real issue is instability at defensive coordinator. Dennis Allen, the new guy, is Denver's sixth defensive coordinator in as many seasons. Former Denver head coach Mike Shanahan made an annual ritual of firing defensive coordinators, for blame-shifting reasons; Josh McDaniels followed the pattern. Unless somebody settles into the job and holds it for several seasons, the Broncs' defense will stay bad.
Sitting at second-string quarterback on the depth chart is Brady Quinn, former Notre Dame star and first-round draft selection. Quinn has 12 starts in four seasons and a lame 66.8 passer rating. He's an incredible athlete, very muscular for a quarterback -- your columnist stood next to Quinn a couple of years ago when the QB was wearing a sleeveless workout top, and the gentleman is ripped. Rolling these considerations together, why doesn't Quinn give up on quarterbacking and become a tight end or H-back?
Sometimes when athletically gifted black quarterbacks arrive in the NFL and struggle under center, there's debate, with possible racial undertones, about whether they should switch to another position. This happened with Dennis Dixon and Nate Davis. When gifted black quarterbacks struggle, touts might say, "This is nothing personal; just give up on being a quarterback and switch to some other position." In this case, an athletically gifted white quarterback is struggling under center. Quinn should give up on being a quarterback -- it's nothing personal. The man is a player and belongs on the field.
Note: In a year, these arguments might also apply to Tim Tebow.
[+] Enlarge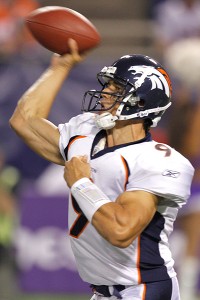 AP Photo/Andy KingShould Brady Quinn switch to tight end?
Houston: The Texans have a chairman and CEO, two vice chairmen, a general manager, a president, three senior vice presidents, three senior directors and 14 directors -- resulting in a franchise lifetime record of 55-89. Maybe if this organization wasn't so top-heavy, it could get things done. Such as making the playoffs, which the Moo Cows -- check their lovely cow-inspired logo -- never have accomplished.
The 2010 Houston defense finished last in passing yards allowed and 29th in points allowed -- ouch. Newly arrived defensive backs Jonathan Joseph and Danieal Manning should help the passing defense, as should new defensive coordinator Wade Phillips, who has a mixed record as a head coach but always has been an effective defensive coordinator. Plus "Wade Phillips" is a fabulous Texas football name, almost as good as "Colt McCoy," who is no longer in Texas.
Houston's weak 2010 defensive performance was compounded by the Texans recovering just five fumbles, tied for the league low. While making interceptions involves skill and tactics, luck is the central element in fumble recoveries, and Houston's fumble luck was bad in 2010.
This season's Texans cheerleader squad offers not one but two sets of twins, which could be male fantasy overload. Bored with your workout routine? Let a Texans cheer-babe be your instructor.
See You on the Flip Side, FNL: "Friday Night Lights" has ended. It's not only the best-ever sports series on television, but it's one of the top TV series in any category. After five seasons, FNL finally got an Emmy nomination for best drama -- the snobs who run the Emmys just didn't seem to care about the ordinary lives of Texans obsessed with football. The nomination came too late to help the show.
In the series finale, SuperCoach Eric Taylor must choose between football and his marriage. Awaiting Taylor's signature is a five-year guaranteed contract to return in triumph to the Dillon Panthers, which once fired him. But SuperWife Tami Taylor has an offer to become a dean at an elite college in Philadelphia. SuperWife gets her turn. The family moves to Philly, with Eric Taylor giving up on Texas football. The series ends with Coach Taylor once again taking the reins of a downtrodden high school program that, surely, soon will win the state championship on a 99-yard touchdown as time expires.
There is a symbolic element to the series concluding with the Taylors, the anchor characters, departing Dillon, which was based on the actual Odessa, Texas. Although at one level a celebration of ordinary life, "Friday Night Lights" often suggested small-town Texas is a stifling place suitable for only yahoos and rubes. All the smart characters -- the Taylors, Matt Saracen, Landry, Lyla, Jason, Smash, Tyra, Luke, Jess -- leave Dillon during the course of the series. Only "loser" characters like the Riggins brothers, Buddy Garrity and the Landing Strip dancers stay behind. (We're left to wonder whether Vince and Becky, who at the conclusion are entering their senior years of high school, will be smart and get out or stay in Dillon and become losers.) Television shows are made by the kind of people who broke away from their backgrounds and went to New York City or Los Angeles, which makes them think that getting out of small-town America proves you have what it takes. Anyway, one message of the series was that "Texas forever" is for those too dumb to leave.
[+] Enlarge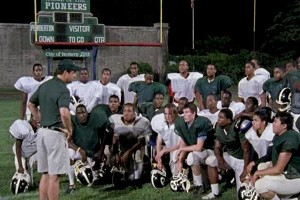 NBC Universal The final scene, in Philly: Clear eyes, full hearts and see you in syndication.
Now TMQ's last FNL point. The Taylors move to Philadelphia -- among the few places in the United States where most high school football is not played under Friday night lights. Many Philadelphia public schools play their football on Friday afternoon. The Philly high school whose teens appeared in the show's last scene doesn't usually play on Friday nights, because its field lacks lights. The concluding scene was filmed at Franklin Memorial Stadium, an old venue where high school teams sometimes perform and that has lights. Of course the lights were switched off as the series faded to black.
The Philadelphia angle is a small detail unrelated to viewers' enjoyment of a fine series. But a 20-year project that began with the Buzz Bissinger book "Friday Night Lights," then advanced to a theatrical movie called "Friday Night Lights," then moved on to a television series called "Friday Night Lights," staged its concluding scene at one of the few places that doesn't have Friday night lights.
FNL Question for Readers: In the finale, a high school junior who became an assistant coach on Taylor's staff is shown, in flash-forward, as an assistant football coach at a Dallas high school as a senior. This is presented as remarkable because she's a girl. It's remarkable because she's a high school student! Surely some six-man teams of farm-country schools have students as assistant coaches. Has a student ever been a full-fledged coach -- not a manager, a coach -- at a Texas 5A high school? If you know of an example, flag me with specifics at TMQ_ESPN@yahoo.com.
Indianapolis: Peyton Manning is now signed with the Colts through 2015, when he will be 39 years old. But Manning hasn't taken many hits, and seeking to keep it that way, Indianapolis used its first two choices in the 2011 draft on offensive tackles. Indianapolis is 150-77 with one Lombardi trophy since Manning arrived, and if the Colts reach the 2011 postseason, they will become the first NFL team to make the playoffs for 10 consecutive years. That would be awesome.
One reason for the success streak is that Manning is good. Another reason is that Bill Polian has run the front office the entire time. A third reason is that the Colts don't panic and change their coaches and systems whenever they play a couple of bad games. Panic is a major element in NFL management, and the Indianapolis franchise avoids it. Although, since Jim Caldwell took the reins in 2009, there has been some turmoil. Defensive coordinator Ron Meeks and offensive coordinator Tom Moore have departed, as has offensive line coach Howard Mudd. Meeks was fired; Moore and Mudd supposedly retired but now are working for the Jets and Eagles, respectively. This is more change than the mild-mannered Colts' model calls for.
The Colts threw 679 times in 2010, an awful lot, averaging 41 passes and 25 rushes per game. Is this because, as everyone says, passing in the NFL is way up? In 2010, four NFL teams threw at least 600 times. One decade ago, four NFL teams threw at least 600 times.
Stats note: Wes Welker, Andre Johnson and the Colts' Reggie Wayne enter the season with a chance to become the third receiver all time to post four 100-catch seasons.
Rookies note: Expect big things from someone on this list: Travis Baltz, David Bedford, Chris Colasanti, Darren Evans, David Gilreath, Mike Hartline, Joe Horn, Jake Kirkpatrick, Joe Lefeged, Mike McNeill, Adrian Moten, Kerry Neal, Ollie Ogbu and Chad Spann. They are the undrafted free agents signed by the Colts. Indianapolis gets more from undrafted free agents than any other team except perhaps New England -- a reason the Patriots and Colts are Nos. 1 and 2 for most wins over the past decade.
Jacksonville: In recent years, supposedly everyone wants to trade out of the top of the NFL draft. Jacksonville hasn't gotten that memo. In 2008 and again in 2011, the Jaguars staged major trade-ups. In 2008, they shipped a first-round choice, a second-rounder, two third-round selections, and fourth-, fifth- and seventh-round picks for Derrick Harvey and Quentin Groves. In 2011, Jacksonville traded first- and second-round choices to move up for Blaine Gabbert. Harvey, a bust, has been waived, and Groves was shipped to Oakland for a fourth-round selection. The net of these transactions: two ones, two twos, two threes, a five and a seven for a rookie quarterback.
[+] Enlarge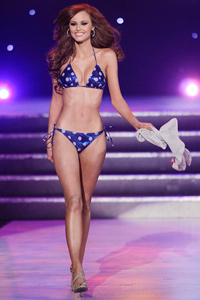 AP Photo/Julie JacobsonObviously, the Miss USA item exists to justify this photo.
TMQ loves players from below the testosterone-pumped level of Division I, and so lauds the Jaguars for investing third- and fourth-round draft choices in gentlemen from Lehigh and Mount Union.
This Item Exists to Justify a Swimsuit Photo: Congratulations to Miss USA, Alyssa Campanella of California. For her current-events question, Campanella was asked about marijuana legalization. She replied, "I mean, it's abused today, unfortunately, so that's the only reason why I would kind of be a little bit against it. But medically it's OK."
Answers at beauty pageants are a barometer of mainstream opinion. In the 1950s and '60s, beauty pageant contestants would have been disqualified for any answer even remotely supportive of sex, civil rights or freedom of speech. By 2009, it was the other way around. That year, Carrie Prejean, the front-runner -- and also Miss California (I wish they all could be California girls) -- failed to take the title because she declared her opposition to gay marriage.
As TMQ noted at the time, "Once no woman who favored gay marriage could have won Miss USA; now you can't win if you're opposed. This sociological indicator means gay marriage is being accepted as a norm."
Thus for a Miss USA winner to call marijuana "OK" suggests public acceptance of marijuana legalization might be in the cards. There's no doubt that if marijuana were legal, some people would abuse it, just as some abuse alcohol. But if marijuana were legal, I believe street crime in the United States would decline as drug gangs lost their most popular product. Mexico's drug-mafia plague also could drop sharply; the Mexican cartels derive more than 60 percent of their revenue from marijuana (according to the White House Office of National Drug Control Policy). One shouldn't be a Pollyanna about marijuana legalization -- problems would be caused. But there is a likelihood more problems would be solved. These kinds of arguments apply only to marijuana, whose public-health significance is similar to alcohol's. Cocaine and other highly addictive drugs are illegal for good reason.
Jersey/B: Traditionalists believe the run is the key to NFL success, despite nine of the past 10 Super Bowls being won by teams with pass-oriented offenses. (Only Pittsburgh against Seattle for the 2005 championship had more rushing yards than passing yards; even Tampa over Oakland for the 2002 title involved much more passing than running.) So what to make of the Jets? This team is committed to the run -- fourth in the league in rushing in 2010, most rushing yards total since 2007. Rush emphasis has gotten Jersey/B to consecutive conference championship games. But each time, the season has ended there.
Despite a strong running game, the Jets have struggled to throw the ball. Low quarterback ratings, average yards per attempt -- although a team with a strong running game ought to be able to drive defenses crazy with play fakes. The No. 2 rushing club of the past four seasons is Minnesota -- which also has been doorlined at the conference title game and has struggled in passing stats despite a play-fake advantage. A premium quarterback seems to be a prerequisite to contemporary NFL success.
So is Mark Sanchez a premium quarterback? TMQ thinks we'd have a better chance of finding out if some stability came to his receiving corps. Two of his top four pass-catchers from last season are gone, as Rex Ryan keeps chasing whatever name is trendy on the free-agency market. This season's trendy guy is Plaxico Burress. It's great to see him back. But he's yet another target whose moves Sanchez does not know.
Cut by the Jets, DE Shaun Ellis signed with archrival New England, causing Ryan to say, "There's no way I am going to wish him well." But New England made Ellis the best offer. If Ryan had been fired by the Jets and gone to New England because that's where the best offer was, no one would bat an eyelash. This seems to be yet another example of a pro sports double standard: If a player does what's in his best interest, he is condemned as a mercenary. If a coach does what's in his best interest, he's viewed as just taking care of business.
[+] Enlarge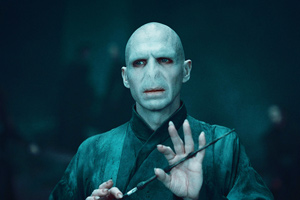 Warner Bros. PicturesUndated file photo of Rupert Murdoch, a citizen of what nation?
Creepazoid Watch: Last week I said Rupert Murdoch had "replaced Lord Voldemort as the No. 1 British creepazoid." Colin Murphy of Royal Oak, Mich., writes, "Murdoch is now the No. 1 Australian creepazoid, overtaking Mel Gibson." Sarah David of Eugene, Ore., writes, "Murdoch became a U.S. citizen in 1985. He is now the No. 1 American creepazoid." Replacing -- you supply the answer.
Kansas City: Kansas City's last playoff victory came in 1994, when the opponent was the Houston Oilers, a team that no longer exists. The Chiefs are on a 0-7 run in the postseason and are 3-12 in the playoffs since winning Super Bowl IV in 1970. After finishing 10-6 in the 2010 regular season and winning a home playoffs berth, Kansas City barely put up a fight against the Ravens, wheezing out by 30-7 and recording only eight first downs in the process.
A weak 2010 regular-season schedule might have made the Chiefs seem better than they were; Kansas City faced only two teams that made the playoffs, and one was Seattle, which backed in with a losing record. This season the Chiefs face both Super Bowl teams from last season, plus the Bears, Colts, Jets and Patriots. So we'll find out whether Kansas City is for real.
The Chiefs said goodbye to guard Brian Waters, who should at least be a finalist for the Hall of Fame. Waters had a swell career and is TMQ's kinda guy -- an undrafted free agent whose play surpassed that of first-round glory boys. The Chiefs have several former players awaiting Canton consideration, including Will Shields, Priest Holmes and perhaps Waters. None ever played in a Super Bowl. Two -- Holmes and Waters -- excelled despite being undrafted.
Miami: The South Florida Dolphins have been carpet-bombing their quarterback position with draft choices, using second-round selections to choose or trade for Chad Henne, Pat White, Daunte Culpepper, A.J. Feeley and John Beck. Yet the Miami quarterback position is far from settled. After selecting White, who's now OOF -- Out Of Football -- Miami simply released Beck, not even trying to trade him. If Beck has a good season as the Redskins' starter, the Dolphins will be embarrassed.
[+] Enlarge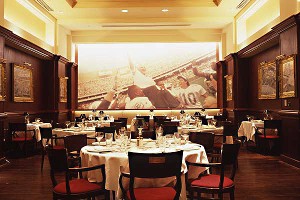 Shula's Steak HouseShula's steakhouse, where even the creamed spinach has an excellent win-loss record.
Miami's worst quarterback mistake was passing on Drew Brees when he wanted to signed with the Dolphins in 2006 -- a mistake that not only harmed the franchise dearly but sent Nick Saban scurrying back to the college ranks. Constant turnover has left Miami with 15 starters at quarterback since 2000, versus Indianapolis with one quarterback starter in the same period and New England with two. Meanwhile, in the 2011 draft, Miami twice passed on Ryan Mallett, who's now in their division at New England and likely to torment the quarterback-hungry Dolphins and Bills for years to come.
The Dolphins' recent struggles have caused them to cede their place as first overall in victories since the merger -- that is now Pittsburgh. At least the Dolphins still own Bill Belichick, who is 5-6 in his career at Miami.
Fun fact: Steakhouse impresario Don Shula not only has more victories than all other Miami Dolphins head coaches combined, but he has nearly twice as many victories (274) as all other Dolphins head coaches combined (140).
Tony Reali Should Fact-Check Doom Predictions: Research released recently showed sperm count decline, a prominent scare story of the 1990s, isn't happening. Human sterility caused by corporate evil was essential to the thesis of the 1996 book "Our Stolen Future," which garnered substantial media attention and an endorsement from Al Gore, then vice president. Now it seems the book was wrong. Why are sperm counts fine? Possibly because exposure to artificial toxins peaked roughly a generation ago and has since been declining, owing to tighter regulation of chemicals.
[+] Enlarge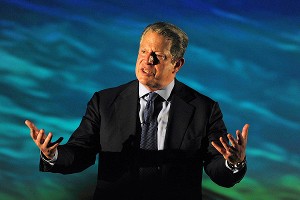 Yuri Cortez/AFP/Getty ImagesThat's the sea level rising behind Al Gore.
"Our Stolen Future" is an example of Easterbrook's Law of Doomsaying, announced in 1991, which holds: Predict terrible events 10 years in the future. That is near enough to cause worry, far enough off that when it actually rolls around, everyone will have forgotten what you predicted. Books predicting impending environmental catastrophe have a habit of not being supported by subsequent events. Yet people forget what was predicted. The authors bask in a glow of fashionable negativism even as what they forecast does not happen.
Paul Ehrlich's 1968 best-seller "The Population Bomb" predicted hundreds of millions of people would die in a global mass starvation to occur in the 1970s or 1980s -- about 10 years later. Today the world's population is double what it was when the prediction was made, and malnutrition has steadily declined. Despite being spectacularly wrong about population, the author remains a chaired professor of population studies at Stanford.
A similar example is "The Coming Plague," a 1995 best-seller also praised from the White House by Gore. This book predicted huge numbers of people, perhaps hundreds of millions, would die of an unstoppable super-disease that would soon sweep the globe. Sixteen years later, disease rates continue their steady decline, while life expectancy continues its steady rise, in nearly every nation. Here are the latest World Health Organization tables.
Fast-spreading super-diseases are found only on Hollywood celluloid. The real world is full of antibodies that evolve to oppose disease -- animal life would not have existed for somewhere around 550 million years if biology was not good at fighting disease. Now antibiotics and vaccines also oppose disease, while improved public health makes the human family more resistant. That's no guarantee, of course. But natural history does not contain any examples of runaway super-diseases. Despite being wildly wrong, Laurie Garrett, author of "The Coming Plague," remains a fellow at the Council on Foreign Relations. Everyone has forgotten what she predicted -- luckily for her.
These are not isolated examples. None of Gore's doomsday predictions about global warming have come true, although they might someday -- surely he's hoping! James Hansen of NASA, who has issued many warnings of impeding global warming calamity, just published a book titled "Storms of My Grandchildren: The Truth About the Coming Climate Catastrophe and Our Last Chance to Save Humanity." How one can know "the truth" about something that hasn't happened yet is anyone's guess. Will Hansen's predictions ever be reality-checked? Your columnist thinks greenhouse gases should be regulated -- and this would be more likely to happen if doomsayers stopped making nutty predictions.
New England: In 2010, the Flying Elvii had the league's top regular-season record. They hung 152 points in the second quarter, best quarter by any team -- the Pats were putting opponents away by halftime. They were the only NFL team to score at least 100 points in every quarter. New England had nine return touchdowns, a fantastic number. Most importantly, New England's plus-28 for turnovers was the second-best turnover number ever posted by an NFL team.
But then the Patriots wheezed out at home in their first and only game of the playoffs. It was the second consecutive year New England had been fabulous in the regular season, then looked awful at home in the postseason. The year before that, the Patriots finished 11-5 but didn't make the postseason owing to a standings quirk. Here's the deal: The New England Patriots have not won a playoff game since Spygate broke. Bill Belichick continues to refuse to say, "I cheated and I apologize." Until he does, the football gods will torment this team by allowing the Patriots to play very well during the regular season, then denying them in money time.
[+] Enlarge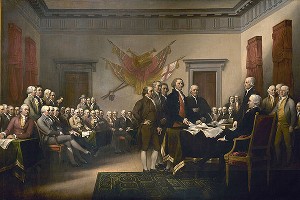 Library of Congress The Oakland Raiders coaches debate whether they have a quorum to view film.
Oakland: Good luck to the Raiders, who open at Denver, where the Broncos are on a 24-3 run in home openers. That game is a "Monday Night Football" event. After opening on the road in Denver on Monday, the Raiders play their second contest on the road in Buffalo on Sunday. Two road dates in six days, one a thousand miles from home in high altitude, the other 2 thousand miles distant. Oakland could end up spending the season trying to rebound from an 0-2 initial deficit.
Fun fact: The new CBA was approved by NFL franchises 31-0 when Oakland abstained. Abstained! Next will the Raiders plead nolo contendere at halftime?
Pittsburgh: This is the sole franchise to win six Super Bowls and in February came awfully close to making it seven. The Steelers have replaced Miami as the winningest NFL team since the merger. They've supplanted Denver as the post-merger team with the best home record. Want to see the home team win? Buy tickets to a game at the Condiment Coliseum. And Pittsburgh has allowed the fewest total points during the past four seasons.
If the Steelers have a weakness, it's the fourth quarter. In their two recent Super Bowl appearances, they allowed 28 points in the first three quarters and 26 in the fourth, losing a tight Super Bowl to Green Bay and barely escaping an Arizona comeback. During the 2010 regular season, Pittsburgh allowed almost as many points in the fourth quarter (102) as in the other three combined (130). The Steelers tend to play aggressive, pressing defense early and switch to a backed-off shell late. This is fine if protecting a 20-point lead. But switching to a backed-off shell in the fourth quarter nearly cost them the Super Bowl XLIII and could cost them a game this season.
[+] Enlarge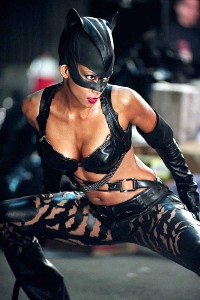 Courtesy Warner Bros. Catwoman's superpower was the ability to get into the catsuit.
Fun fact: A bunch of Steelers were extras in a scene from the latest Batman movie. The flick will feature Anne Hathaway as Catwoman, perhaps providing comic relief. Hathaway joins Julie Newmar, Julie Rose, Lee Meriwether, Michelle Pfeiffer and Halle Berry as actresses who have sprayed on the Catwoman catsuit.
A Boom or Bust Round: With the Steelers' decision to waive Limas Sweed, the 2008 second round of the draft continues to be a tumultuous one for the wide receiver profession. Picks were either terrific or terrible. The 2008 second round produced DeSean Jackson and Eddie Royal, both stars; Jordy Nelson, who was terrific in the Packers' Super Bowl win; and Donnie Avery and Jerome Simpson, both of whom have shown flashes. The 2008 second round also produced several wide receiver busts, all since waived by at least one team -- Sweed, Devin Thomas, Dexter Jackson and James Hardy. Malcolm Kelly, another 2008 second-round receiver, is a long shot to make a 2011 NFL roster. There must have been something in the water in 2008.
San Diego: Who can explain the Chargers? In 2010, they did the impossible -- finishing first in offense and first in defense, yet missing the playoffs. San Diego special teams were terrible, but that alone can't account for this historical meltdown. The always-on-target Football Outsiders believe special teams rarely account for football outcomes. The Chargers were careless with the ball, losing 16 fumbles. But even bad special teams and fumble-itis can't account for the meltdown. When your columnist looks at the team's 2010 stats, he zeros in on the 3-5 road record. The Bolts seemed spoiled by their city's ideal conditions, foundering elsewhere.
Who can explain Norv Turner? He is the sole double-digits NFL head coach --13 seasons running the Redskins, Raiders and Chargers -- with a career losing record. Turner's longevity is quite puzzling. Considering Marty Schottenheimer (205-139-1 career) and Jeff Fisher (147-126) are without NFL jobs, that Turner is firmly entrenched though 103-109-1 is hard to explain.
Then again -- the Chargers had great stats in 2010 yet missed the playoffs. The Chargers are coached by Norv Turner. Maybe two plus two equals four.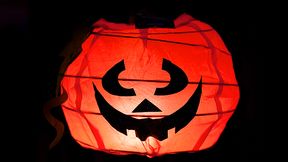 Marco Secchi/Getty ImagesHappy 4th of July! Now it's time for Halloween.
Unified Field Theory of Creep: Fadi Esmail of Boca Raton, Fla., notes his local Bath & Body Works had a Halloween display in July. Bryan Allison of Dallas reports Samuel Adams Octoberfest beer was for sale at his local grocer on Aug. 4. Corey Mirman of New York City reports that on Aug. 16, "I asked for a Sam Adams Summer Ale at a bar, only to be told they were only serving Sam Adams Octoberfest."
Rule-a-Rama: Here is the league's video showing rule changes for 2011. As someone who's all for cracking down on helmet-to-helmet hits and on hits to defenseless receivers, TMQ thinks there's a lot of good here. But ye gods, check what's shown as newly illegal contact with the quarterback's chest. Several examples bannered ILLEGAL by the league look clean to me, as does a block that comes from a defender's blind side but results in a hit to the chest, not the back.
The video also reports an interesting new point of officiating emphasis for 2011 -- face mask fouls by the runner. Now, on a stiff-arm, any "forcible blow" to the defender's face mask will cause yellow to flutter.
Tennessee: Bearing in mind that the Flaming Thumbtacks were once the Houston Oilers, this team now has two coaches who made the Hall of Fame as players in its colors. New head coach Mike Munchak was a Hall of Fame offensive lineman for the Oilers; new offensive line coach Bruce Matthews was a Hall of Fame offensive lineman for the Oilers/Titans. If nothing else, that is good vibes.
The Titans began the 2010 season 5-2, then closed out 1-8, the losing string coinciding pretty much with the second Randy Moss arrived. His negative energy field was so vast, it dragged down an entire franchise.
The Tennessee masthead would make the Pentagon blush. Owner Bud Adams has awarded himself the title founder/owner/chairman of the board/CEO. His assistant Steve Underwood has this amazing title. The Titans also boast two executive vice presidents, eight regular vice presidents and 19 people with "director" or "coordinator" or "manager" in their titles. Tennessee's front office includes a man with the title "mascot coordinator" -- for one mascot.
[+] Enlarge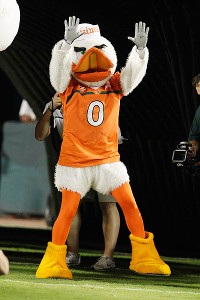 AP Photo/Lynne SladkyNews reports now allege the Miami mascot was taking payola from the Muppets.
Pay Stipends: Last fall, TMQ proposed that paying stipends of a few thousand dollars per school year to Division I football and men's basketball players would end much of the temptation for them to cheat on NCAA rules. Now the Big Ten is considering a similar idea, while Steve Spurrier has offered to pay stipends out of his own mammoth contract.
Big-college football and men's basketball players shouldn't be paid like NFL or NBA players -- the only way to do that would be to pay stars exclusively, while eliminating scholarships for average players. But providing a stipend is feasible and in sync with existing college customs. Typically, theater stage crew members, college newspaper editors and other students receive modest stipends for their contributions to the overall atmosphere of university life.
Why not athletes, too? Many college athletes hail from disadvantaged backgrounds and lack walking-around money, making taking cash or gifts from boosters tempting. If walking-around money were not a problem, temptation might be easier to resist.
Next Week: The Eagles become the Philadelphia Heat, plus the rest of TMQ's NFC preview.
In addition to writing Tuesday Morning Quarterback for Page 2, Gregg Easterbrook is the author of the new book "Sonic Boom" and six other books. He writes a politics column for Reuters, and is a contributing editor for The New Republic, The Atlantic Monthly and The Washington Monthly. His website can be found here, and you can follow TMQ on Twitter.