Commentary
Cal Bears head coach Jeff Tedford: Q&A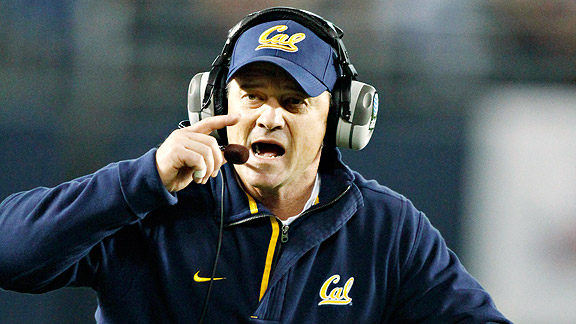 AP Photo/Denis PoroyThere's a good chance Jeff Tedford will become the winningest coach in Cal history in the next month.
Jeff Tedford is presiding over an unprecedented era of success for Cal football.
Prior to Tedford's arrival as head coach in December 2001, the Golden Bears had earned consecutive bowl berths exactly once in the previous half century. Under Tedford, Cal went 5-2 in seven consecutive bowl appearances from 2003-09. He is three victories from becoming the winningest coach in school history. In Tedford's previous nine seasons, the Bears have recorded two 10-win seasons and posted just one losing season.
Unfortunately for Cal fans, that losing season came in 2010 as the Bears went 5-7.
If Cal is to rebound this season, it will have to do so under unusual circumstances. Memorial Stadium is undergoing renovations, meaning the Bears will play their 2011 home games at Candlestick Park and AT&T Park in San Francisco.
Against that backdrop, Page 2 landed an interview with Tedford during his recent visit to ESPN headquarters. Here's what transpired:
Page 2: You played in the CFL for Oregon State coach Mike Riley and his father, Bud Riley. You're one of three coaches in the conference to play under Jim Sweeney. Dennis Erickson and Rick Neuheisel have been the head coach at three schools in the league. Does all that familiarity make for a more brotherly type of competition?
PAC-12 COACHES QUESTIONNAIRE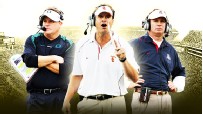 Which Pac-12 school has the most attractive cheerleaders? Best mascot? Most dapper coach? Page 2 quizzed the coaches themselves to get answers. Page 2's Pac-12 coaches questionnaire »
Tedford: I think it does. It's a pretty close-knit group for most of the conference. When I was [an assistant coach], I recruited [Washington's Steve] Sarkisian. Lane [Kiffin] played under me and was my graduate assistant [at Fresno State]. Dennis Erickson played and coached for Coach Sweeney [at Montana State]. I played and coached for Coach Sweeney [at Fresno State]. Mike Riley, as you mentioned, is a guy that I played for as well. There's a lot of [shared] background with everybody. When we get on these tours and we get together, we all have a great time.
What coach has influenced you the most?
Coach Sweeney. ... I think the discipline and the toughness. The attention to detail. The perfection that he always expected out of his coaches and his players -- not to mention, he had a very good football mind as well. So I would say my high school coach and my junior college coach, but ultimately Coach Sweeney in the end.
If you could take a mulligan on any coaching decision you've ever made, what would it be?
The shovel pass we called against SC in 2004. The tackle didn't [block] deep enough. The [defender] got up underneath the pitch, and Aaron [Rodgers] had to pull it down and we had to take a sack. (Cal subsequently threw two incompletions with just over a minute left from the USC 14-yard line before turning the ball over on downs in a 23-17 loss.)
How much did your first coaching job pay?
Fifty thousand a year with Calgary in the Canadian Football League, but I was [previously] a volunteer assistant at Fresno State for zero. It was $50,000 Canadian, though. [Laughs.] Back in those days, it was about 25 percent less [than U.S. dollars].
Did the wide-open style of play in the CFL help shape your coaching philosophy?
Different formations. Being able to flood sides. That was my first introduction to empty backfield packages, and because the field is so big there's a lot of pocket movement by the quarterbacks. Those are generally the kinds of quarterbacks they have -- athletic quarterbacks who move. Different protections schemes to exchange and move the pocket.
THE PAGE 2 INTERVIEWS

Page 2 interviewed each of the Pac-12's head football coaches during their recent pilgrimage to ESPN headquarters. What did your coach have to say?

Colorado: Jon Embree


Arizona State: Dennis Erickson


Oregon: Chip Kelly


USC: Lane Kiffin


UCLA: Rick Neuheisel


Oregon State: Mike Riley


Washington: Steve Sarkisian


Stanford: David Shaw


Arizona: Mike Stoops


Cal: Jeff Tedford


Utah: Kyle Whittingham


Washington State: Paul Wulff

Also see:
• Miller: ESPN.com's Pac-12 blog
• Gallo's preseason Top 25 breakdown
Which opposing player are you most glad you no longer have to face and why?
Jacquizz Rodgers, because he's such a talented guy. He can hurt you in so many ways. He's very difficult to tackle, tough and durable. He made a lot of big plays, so I'm glad to see him gone.
Who was your favorite athlete growing up?
I would have to say Magic Johnson. ... Just because he was such a dynamic person and dynamic player. I was such a Laker fan. Then when Kareem [Abdul-Jabbar] got hurt [in the 1980 NBA Finals], and he scored [42 points], it was amazing to me how he could put the team on his back and carry it. I thought he was a very unselfish player. He got a lot of assists. He could score. Always had a smile on his face.
What song or performer is on your iPod that might surprise people?
I don't know that it will surprise them. I like all kinds of music. Some of my favorites are Bob Seger, Phil Collins, Kenny Chesney.
Not counting your school, which Pac-12 university has the most attractive cheerleaders?
I only see them on TV. ... I'm guessing ASU. My sons tell me they're all hot at ASU, so that would be my guess.
Not counting your school, which Pac-12 university has the best mascot?
Probably the Duck.
Not counting yourself, who's the best dressed coach in the conference?
Kiffin.
What's your favorite restaurant anywhere?
The Peasant & The Pear in Danville, Calif. ... Pork chops.
What's a hobby or recreational passion of yours that might surprise people?
I like working in the yard when I'm at [Lake Almanor, Calif.] . ... It's relaxing. To me, it's therapy. Get out and cut things down and move things around and work hard and sweat. I don't have an opportunity to do that very often these days, because I'm too busy. So when I go to the lake, I like to work. It's kind of like therapy.
What was it like having protestors living in trees for 21 months right outside your workplace?
It was definitely a circus, because there was so much attention on them. You never knew the time of day that they were gonna pull something crazy. I'd be talking to recruits in my office, and all of the sudden they'd start beating the drums behind me. It was entertaining at times, and at times very scary.
What is the wackiest thing you saw any of the protestors do?
I can't tell you that. Put it this way -- they were up there a year and a half.
After the renovations of Memorial Stadium are completed, will spectators still be able to see inside the stadium from Tightwad Hill?
Oh yeah. The east side is not changing whatsoever -- just the west side.
What's your favorite place to vacation?
Hawaii. Maui. ... I just love the air. I love the weather. It's relaxing. I can play golf. There's things to do there for my wife and my whole family. It's just the place I can relax the most.
Cap or visor?
Cap. Because I don't wanna burn my bald head.
Thomas Neumann is an editor for Page 2.