Commentary
Top 10 tips it's a miserable sports town
Updated:
August 25, 2011, 10:50 AM ET
By
Jerry Greene
| Special to Page 2
Hello, Cleveland!
When we suggested that this week's reader-generated list be "Top 10 Tips It's a Miserable Sports Town," we were not thinking specifically about Cleveland.
Well, not much, anyway.
But about a third of your total entries were about Cleveland. As Rick of Syracuse, N.Y., wrote: "Your miserable town's name starts with a 'C' and ends with a 'leveland.'"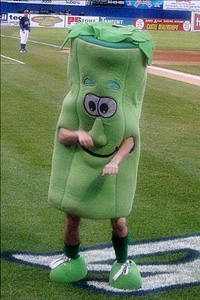 Courtesy of Wilmington Blue Rocks If you have Mr. Celery as a team mascot, how good of a sports town are you?
And Ben R. of Akron, Ohio, added: "Your misery even has names that sound like 'Seinfeld' episodes: 'The Drive,' 'The Fumble,' 'The Soup Nazi.'"
Wait a second. Cleveland was beaten by a Soup Nazi? Who knew?
We were moved by Aaron O. of Akron, who wrote about Cleveland in part: "What makes us miserable is that we always believe. We need to believe that next year is the year. Next year we can finally exhale, have a parade and bring our broken and broke city together. We are the Charlie Brown of America -- always believing that the next time is when Lucy will hold the ball and we will make the winning kick."
Three tears, Aaron. And because of that, we have decided to disqualify Cleveland. That's right, Cleveland will not be mentioned on this list. We won't kick Cleveland again while it's down. So not a word about LeBron James.
As for the other cities, fair game:
Top 10 Tips It's a Miserable Sports Town
10. "Boston because we haven't had a parade for more than two months," said Tom W. of Cambridge, Mass. (Very clever, Tom, but the real miserable cities are not amused.)
9. "You know it's a pathetic sports town if Frank McCourt lives there," said Matthew G. of Los Angeles.
8. "Habitat for Humanity won the bid to build the city's new stadium," said Lisa H. of Hamilton, Mont.
7. "You envy Cubs fans," said Janice H. of Palo Alto, Calif.
6. "Your best known mascot is a lumberjack, your sports fans wear scarves and you passed on Michael Jordan," said Jon W. of (you guessed it) Portland, Ore.
5. "Your fans think it's cooler to watch your NFL team on illegal Swedish websites than see a game in person," said Brian C. from Tampa. (The Bucs are on illegal Swedish websites? Who knew?)
4. "You're miserable because your city council won't build a new stadium but will waste money on education and health care," said Mike M. of Wilmington, Del., "where the Single-A team has a celery stalk for a mascot." (That's not miserable -- that's stupid.)
3. "You are miserable in Tulsa because having an WNBA team as your only pro franchise is like getting an empty box for Christmas," said Eric H. of Chambery, France. (No word from Eric on how folks are feeling in France.)
2. "Your Redskins are delusional, your Nationals are disgusting and your Capitols are heartbreaking, so be thankful at least that politics isn't a sport," said R. Smith of Washington, D.C. (Politics isn't a sport? Who knew?)
1. "You threw snowballs at Santa Claus," said Kyle B. of Philadelphia. ('Nuff said.)
How about that, Miami? You weren't mentioned at all. Looks like things are picking up. And remember, Cleveland, we love you around here.