Commentary
College rankings with a musical mix
Updated:
August 29, 2011, 4:40 PM ET
By
Patrick Dorsey
| Special to Page 2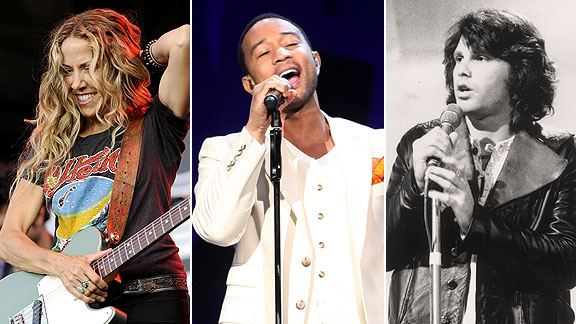 Getty ImagesSheryl Crow, John Legend and Jim Morrison made Page 2's musical preseason Top 25.
Oklahoma is No. 1, Alabama No. 2 and Oregon No. 3.
According to the coaches.
But Page 2 has a different way of ranking 2011's best football teams: Music. That's right. Inspired by Pop Evil's recent pro-Michigan song, we're re-ranking the Top 25 based on the most noteworthy acts associated with those schools.
Now for some rules: 1) The band/musician must have a real connection to the school; 2) We're picking only one act per college; 3) These rankings are based on cultural significance, not personal opinion (otherwise we'd blow up the whole list and put Weird Al Yankovic's Cal Poly-San Luis Obispo at the top); and 4) It's restricted to the USA Today Top 25, so Snoop Dogg and unranked USC must wait 'til next year.
Finally, we'll say this: Like coaches voting in preseason, we might have made some controversial decisions. But we're doing the best we can. And, hey -- at least these choices won't be determining any sort of musical BCS Championship concert.
Now let's get to it:
25. TCU -- Gary Patterson
The late Johnny Duncan might have been a country sensation from the 1970s, but did he sing and turn the Horned Frogs into a powerhouse program? Nope. Head coach Gary Patterson did the latter, and is at least dabbling in the former.
[+] Enlarge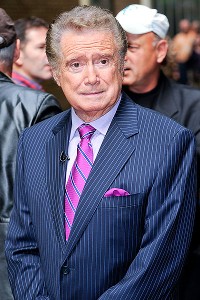 Ray Tamarra/Getty ImagesWhen a Fighting Irish superfan is smiling, the whole world smiles with Regis Philbin.
24. Boise State -- Danita Hartz
Not much for producing big-name musicians, Boise State's alumni base does include violinist Hartz, a three-time Grand Master Fiddle Champion, the first woman to win Weiser's National Oldtime Fiddler's Contest and a recording artist with husband Matt.
23. Virginia Tech -- Charlie Byrd
When you think Blacksburg, you think … jazz? That's what made onetime VT student Charlie Byrd noteworthy. He turned his guitar prowess into a five-decade career and, thanks to a fascination with Brazilian style, a knighthood from the Amazon nation shortly before his 1999 death.
22. Notre Dame -- Regis Philbin
Although Ted Leo of Ted Leo and the Pharmacists might be a little more musically accomplished, he can't quite match the popularity of uber-talk show host Philbin, who qualifies for this list thanks to his second career as a crooner.
21. Stanford -- Young the Giant
With acts such as The Airborne Toxic Event and The Donnas having Stanford connections, the Cardinal might just be the most "now" of all the colleges. But Young the Giant -- which in late 2010-early 2011 released its first studio album and is set to perform at Sunday's MTV Video Music Awards -- takes the spot thanks to its on-campus formation (as "The Jakes").
20. Alabama -- Jim Nabors
Hank Williams Jr. is a big fan and Travis Tritt shot a video on Alabama's campus, but Gomer Pyle -- who, ironically, still made a name singing "Back Home Again in Indiana" before every Indy 500 -- actually graduated from Bama. Roll Tide, right Andy? (Kids, that's an "Andy Griffith Show" reference.)
19. Arkansas -- Bill Clinton
Sure, the ex-Prez isn't really a recording artist. But the former Arkansas professor and Clinton School of Public Service namesake sure saxed it up on "Arsenio" back in the day.
18. Penn State -- Gene Kelly
Outland Trophy-winning defensive end Mike Reid went on to win Grammys as a country singer-songwriter, but did he ever sing in the rain? Not as far as we know. But the iconic singer-dancer (and briefly a Penn State student) Kelly sure did. Note to the PA staff at Beaver Stadium: You know what song to play next time it starts pouring.
[+] Enlarge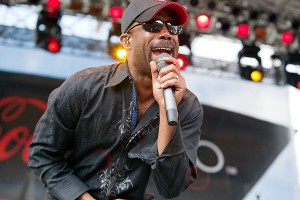 Joey Foley/Getty ImagesDarius Rucker and Hootie & The Blowfish are practically synonymous with the University of South Carolina.
17. South Carolina -- Hootie & the Blowfish
This band met on campus in the 1980s, blew up briefly in the 1990s, then saw frontman Darius Rucker have a strong (and continuing) solo career. And they're also famously in favor of the Gamecocks. In other words, USC, they only wanna be with you.
16. Mississippi State -- Blind Melon
This alt rock band, recently reunited after the unfortunate death of high-pitched frontman Shannon Hoon in 1995, features former Mississippi State student Glen Graham on drums and brought us the unforgettable song "No Rain" (plus a wonderful "Schoolhouse Rock" cover, "Three is a Magic Number," which could be used to celebrate this the third year under head coach Dan Mullen).
15. Michigan State -- Peter, Paul and Mary
Puff, the Magic Spartan? Not sure if that was the original version, but it might have been pushed by onetime Michigan State student Noel Paul Stookey (who is the "Paul" in this legendary folk group).
14. Texas A&M -- Lyle Lovett
An A&M graduate, Lovett went on to become an all-around star through country music, acting and the tabloids (with a marriage to Julia Roberts). He also was good buddies with fellow Aggie and prolific singer-songwriter Robert Earl Keen. Wonder if either is a big fan of SEC football …
13. Auburn -- Lionel Richie
An Auburn grad student for just a short time, Richie still gets the nod here over former students Jimmy Buffett and Taylor Hicks for many reasons -- not the least of which is the Commodores' classic sports(ish) tune, "Brick House."
[+] Enlarge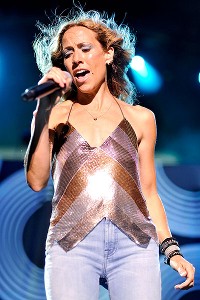 Jerod Harris/FilmMagicMissouri hasn't won a Big 12 football title, but it has produced Sheryl Crow.
12. Oregon -- The Decemberists
Something about the West Coast breeds newer acts (imagine if Cal and UCLA had made the Top 25), and that goes for this Portland-based indie folk giant whose lead singer, Colin Meloy, spent some time on the Ducks' campus.
11. Wisconsin -- Steve Miller Band
The classic rock legend went to school in Madison, but left just six hours short of graduating. The Badger simply had to fly. "Like An Eagle".
10. Nebraska -- Maroon 5
The band might have formed in Los Angeles, but guitarist James Valentine is a Lincoln native who studied advertising at UNL. In related news, we offer a prediction for the Cornhuskers in the Big Ten: They will be loved.
9. Oklahoma -- Toby Keith
Toby didn't go to OU, but he sold soda on campus as a kid and can't stay away from the Sooners now that he's famous. Bonus points go to the country star's tribute to Wayman Tisdale, the late Oklahoma basketball star who became a strong jazz bassist.
8. Missouri -- Sheryl Crow
Huge across decades and famously the ex-fiancée of Lance Armstrong, Crow graduated from Mizzou and also received an honorary doctorate from the school. She still celebrates her college, which is nice for a team that -- having never won a Big 12 title despite coming close -- makes every season a winding road.
7. Ohio State -- John Legend
Not a student -- he went to Penn -- but the multiple-Grammy-winning R&B artist did grow up in nearby Springfield, Ohio, watched his share of Scarlet and Gray scrimmages and had some relatives on the team. And let's just say he still loves his Buckeyes. Even if "Everybody Knows" about their recent scandal.
[+] Enlarge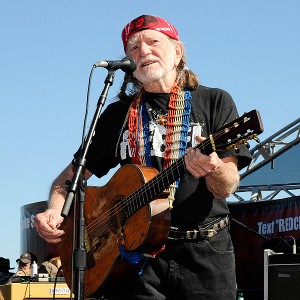 AP Photo/Larry PapkeLegendary country singer-songwriter Willie Nelson has given the world "Crazy," "Always on my Mind" and the Willie Nelson Center Students for Peace and Conflict Resolution.
6. Georgia -- R.E.M.
Just edging out the UGA-based B-52s, Michael Stipe & Co. all went to school in Athens and didn't stop rocking until they were driving the American alternative revolution. What's the frequency, Mark Richt?
5. Texas -- Willie Nelson
He went to Baylor and sang "Georgia on My Mind," so how can Nelson represent the University of Texas and not, say, Janis Joplin? Because the Willie Nelson Center Students for Peace and Conflict Resolution resides at UT-Austin. Plus, he did sing one called "Mamas Don't Let Your Babies Grow Up to Be Cowboys." Wonder if that's a reference to the next team on this list …
4. Oklahoma State -- Garth Brooks
Not only did Brooks go to OSU and graduate (twice), he also threw the javelin (competitively, not just for fun) before launching his country career. Now for a football question: Will the Cowboys see several big, um, Gaines this year?
3. Florida -- Tom Petty
Never a student at UF, Petty grew up in Gainesville and planted trees on campus before becoming, well, Tom Petty. This is great news for Gators when they're runnin' down a national championship dream, but not so wonderful when a losing streak has people singing "Free Fallin'."
[+] Enlarge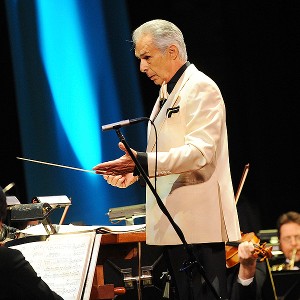 Bobby Bank/WireImageThough he created the "Rocky" theme, Bill Conti was not involved in any recent fighting incidents linked to LSU.
2. Florida State -- The Doors
Jim Morrison was a rebel, a poet, a visionary and … a Seminole? Yep, before transferring to UCLA and hooking up with fellow Doors co-founder Ray Manzarek, Morrison attended class in Tallahassee. Now the late Morrison's Noles are hoping to break on through to national championship contention. Note: We promise that's the last song-based pun.
1. LSU -- Bill Conti
Dah-dah-da-da-dah-da-da-dah-dah-dah! Dah-dah-da-da-dah-da-da-dah-dah-dah! Wait, what's that? It's not from Better than Ezra, nor rapper/alumnus Dee-1. The "Rocky" theme (formally titled "Gonna Fly Now"), written by the Oscar-winning LSU graduate Conti and influencing every montage, sporting event and fake montage and fake sporting event from 1976 until the end of time. You might not own Conti's albums, but two things are almost certain: 1) You've got his iconic song in your head right now, and 2) You'll be hearing it again at some point this football season.
Patrick Dorsey is a writer based in South Florida and a regular contributor to Page 2. He can be reached at bypatrickdorsey@gmail.com.
Page 2 editor Dave Wilson contributed to this piece.