Commentary
Time to focus on excesses of practice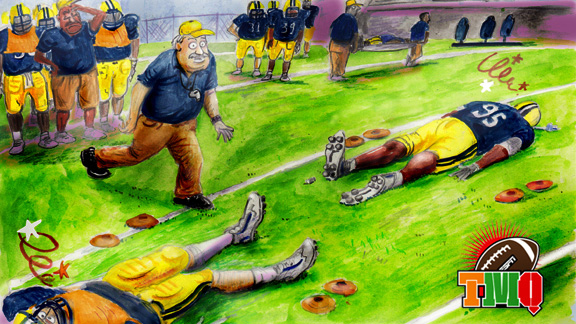 Kurt Snibbe/ESPN.com
From the standpoint of most spectators, football is all about the game. From the standpoint of most players, football is all about practice. What players go through at practice, particularly two-a-days, can be more grueling than what they go through during games. When coaches tell players, "Compared to practice, the game will be fun," they aren't kidding.
Though spectators and viewers think of games as the dangerous part of football, because it's during games that injuries are widely seen -- coaches whom I have interviewed think players are more likely to be injured at a practice than during a game. Partly this is simply because players spend so much more time practicing than performing, meaning more hours of risk.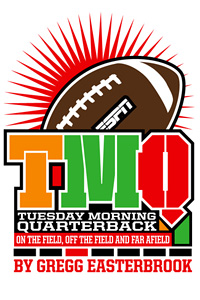 But there's another, darker reason: Games are observed by the public and supervised by officials. At practice, there are no rules. Some coaches are conscientious about practice safety. Others are not. The Oklahoma Drill -- two players confined to a small area, instructed to run and smash into each other repeatedly until one yields -- probably has caused more injuries than the kickoff returns the NFL is concerned about. The Nutcracker Drill -- a version of the Oklahoma, in which two players repeatedly bash helmet-to-helmet -- not only is sadistic, it is all but designed to cause concussions and head and neck injuries.
If two players repeatedly bashed each other in the helmet during a game, flags would fly. But if this happens during practice, no one knows except the players and coaches present. There's often no penalty for the coach who orders a dangerous drill -- he knows he can abuse his players all he pleases, and will probably never be sanctioned in any way.
This can be worst at the high school level, where most players are, legally, children under an adult's care. Coaches may scream at a child with obvious heatstroke symptoms to get up and keep running. Coaches may form a gantlet in which JV players run a line through older players, who pound on the JV players until one collapses injured. High school coaches who order such drills are thugs who don't belong in any position of responsibility. But they are often unsupervised, and know that during practice, they can get away with many things they'd never dream of trying with the public present.
The good news is that the sports world is finally waking up to the excesses of football practice and the need to regulate practice with players' health in mind.
The National Football League sets the tone for football, and its new collective bargaining agreement sets a positive tone. The CBA states that during two-a-days, only one of the two practice sessions can be in pads. Practices are limited to three hours each. Once the season begins (to simplify a complicated new rule), teams can stage only one full-contact practice per week. During the offseason, contact practices are tightly restricted.
These new rules don't go far enough -- medically unsafe drills need to be banned. But the new NFL initiative is a huge step in the right direction, both reducing risk to players and recognizing the principle that like games, practices must be regulated.
Though the NFL has the highest profile, the NCAA was ahead in this case. In 2003, the NCAA mandated a maximum three hours for practice, a maximum of five two-a-days and a standard of no contact for the first five days of summer practice -- allowing players' bodies time to acclimate to exertion in extreme heat. Conferences can go farther. The Ivy League, whose schools are NCAA members, just limited football programs to two full-contact practices per week.
In 2008, the National Athletic Trainers Association echoed this sentiment, releasing guidelines that called for the first five days of summer practice being without contact; that once two-a-days begin, only one full-pads practice be allowed per day; that no practice be longer than three hours; that each two-a-day be followed by a day with just one practice.
Some states have adopted NCAA or NATA-inspired standards for high school football practice. For example, North Carolina now requires seven summer practices before contact, and mandated that during two-a-days, only one of the two practices can be in pads. The Virginia High School League, which regulates public high schools in the state, "strongly recommends" six practices without pads before contact, and no back-to-back contact in two-a-days. Other states are making similar progressive changes.
Some states are not. The Georgia High School Association, rule-making body for Georgia high school sports, leaves practically everything to the coaches' discretion. Two Georgia high school players have died this summer. Read this horrifying account of the death of 16-year-old D.J. Searcy. He weighed 330 pounds -- heavy players are much more prone to heatstroke than lean players. The superintendent of the school district involved told the Atlanta Journal-Constitution, "Our coach is a man of integrity and abides by the GHSA rules." The GHSA doesn't have any rules about practices! The organization says in the last paragraph here, "The GHSA only sets the beginning date that practices may occur in every sport. The decisions about when to begin those practices and how to schedule those practices are left to the professional judgment of coaches and administrators."
Besides reducing heatstroke dangers, orthopedic injuries and concussions, reforming football practice can have another benefit. Increasingly, research shows there are two kinds of head harm in football: immediate concussions in which the player drops to the ground woozy, and long-term cumulative harm from lots of routine blows to the head. The important forthcoming book "The Concussion Crisis," by Linda Carroll and David Rosner -- a book everyone involved with football or concerned about the sport must read -- details the evolving evidence that cumulative neurological damage from lots of routine hits does more total harm to football players than single events diagnosed as concussions. Considering the vast majority of football players are high school students who will never receive a dime from the NFL, doing everything possible to protect their brains is essential.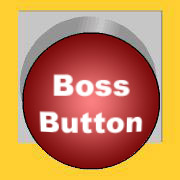 Regulating football practice, including the reduction of hitting, will not make football a wimpy sport. The NCAA has been regulating practice for player safety for eight years, and major Division I games are played with brutal intensity. Football will always be a collision sport and always be dangerous. But regulating practice to reduce risk makes a great deal of sense. Now that the NFL is on board with this concept, it is time for the states to toughen regulation of practice.
In other football news, everybody's complaining about the NFL's decision to move the kickoff spot from the 30 to the 35, in order to increase touchbacks -- which should translate to fewer kicking-play injuries. Kicks soaring into the end zone are dullsville. But bear in mind -- this is the preseason. Regular-season tactics have not begun yet.
Moving the kickoff spot to the 35 makes a surprise onside kick somewhat less risky. Now, a failed onside will give the opponent possession at about midfield, rather than in your own territory, as with a failed onside from the 30. The surprise onside kickoff is among football's most exciting plays -- remember New Orleans in Super Bowl XLIV? If onside kicks increase as a result of the new spot, complaints about touchbacks will be forgotten. See more on the new kicking rules below.
Next week -- as a season-start treat, there will be a TMQ-Mel Kiper collaboration. ESPN will do anything to catch your eye! Note: Natalie Portman/Ryan Reynolds nude "SportsCenter" concept is in focus-group testing.
And now, Tuesday Morning Quarterback's NFC preview.
Arizona: Maybe the fact that a pass-wacky team with no quarterback still managed to win five games in 2010 means hope is not lost for the Cardinals. They've been pass wacky since Ken Whisenhunt arrived, which was fine with Kurt Warner at the controls, but Warner now wears a color-coordinated jacket on television broadcasts. Last season, Arizona had a poor passing attack coupled with only 20 rushing attempts per game -- the lowest number in the league -- and the team finished last in yards gained on the ground. With Ryan Williams, drafted to invigorate the running attack, already out for the season injured, the Cardinals are likely to be pass wacky again.
Arizona has a lot invested in the notion that Kevin Kolb is the team's quarterback solution. To get him, the Cardinals gave up Dominique Rodgers-Cromartie, a young Pro Bowler; a second-round choice; and about $22 million in contract guarantees. The buzz on Kolb has always been good. Here's the reality check. This gentleman has just seven starts in the past four seasons, adding up to a ho-hum 3-4 record. He has thrown more interceptions (14) than touchdown passes (11), and compiled a prosaic 73.2 passer rating. Kolb takes a sack once every 17 times he drops back, versus, say, once every 27 dropbacks for Drew Brees. Kolb looked sweet going 23-for-29 with three touchdown passes in Philadelphia's 2010 victory over Atlanta, a strong team. But he looked terrible throwing three interceptions and taking five sacks in a 2010 loss to Dallas. Is Kolb the next Matt Cassel or the next Rob Johnson? The latter drew a similar king's ransom (first- and fourth-round draft choices) for a similar short résumé as a backup, and was a bust as a starter.
Exiled Eagles quarterbacks A.J. Feeley and Donovan McNabb fared poorly once they left Andy Reid's system. The Eagles have a thriving business in trading quarterbacks they don't want, netting three second-round draft choices, a fourth-round choice and Rodgers-Cromartie for Feeley, McNabb and Kolb. The Dolphins and Redskins now wish they hadn't made those deals. Will Arizona wish the same about the Kolb deal? At least Kolb is going from a pass-wacky system to a pass-wacky system, which was a factor in Arizona's calculation.
Atlanta: Oh, how they want to forget Jan. 15, 2011, in Atlanta. The Falcons cruised to a 13-3 regular-season record and home-field advantage throughout the postseason, then that day were pounded on their own field in their playoff opener, losing 48-21 to Green Bay. The Falcons owned the fourth quarter in the 2010 regular season, outscoring opponents 111-69. But their home playoff game was over long before the fourth quarter. The Packers had twice as many points, twice as many offensive yards, twice as many first downs -- it was an old-fashioned butt-kicking.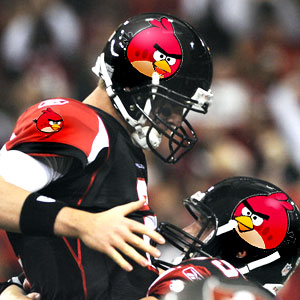 Kurt Snibbe/ESPN.com photo illustrationForget the Dirty Birds, these Falcons are Angry.
Because of this, the Falcons should come into the new season angry. In fact, they should come in as Angry Birds. Atlanta is missing an obvious promotional tie-in by not planning to play one Sunday in an Angry Birds alternate uniform. In fact there could be two Falcons alternate looks -- a black look based on the exploding bird (perhaps with exploding helmets) and a red look based on the basic bird.
Atlanta does many things well, especially rushing and controlling the clock. Quarterback Matt Ryan would make Don Coryell proud. Coryell preached that anytime a quarterback sees an open man, even if only for a short gain, he should just throw the ball, then worry about a long gain on the next play. Ryan seems to play by this simple rule, which a surprising number of quarterbacks never learn.
Michael Turner has been a fine tailback for the Falcons, but has averaged 21 rushes per start in his career. At age 29, he will need a lighter workload; rare is the tailback who can carry an offense past age 30. Rare is the spectator who cares about the punter, but by midseason, Falcons fans may wish their team had tried harder to retain Mike Koenen, who left for City of Tampa in free agency. Koenen was both skilled at downing punts inside the 20, and as a kickoff man, finished third in the NFL last season for touchbacks. With the kickoff line moved up 5 yards this year, the strong-legged kickoff man rises in value, and teams like Atlanta, that score a lot, benefit most from lots of touchbacks.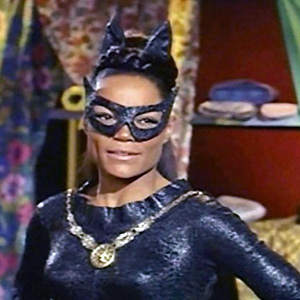 20th Century Fox Home EntertainmentEartha Kitt was puurrrrrrfectly cast.
Will Catwoman Wear Prada? Last week, an item listed the many actresses to spray on the catsuit of Catwoman. Many readers, including Bruce Townshend of Lowell, Mass., noted, "You forgot one Catwoman, Eartha Kitt from 1967 and 1968. She was the best of them, as her feline 'purrrrrrfect' purr was better even than Julie Newmar." Since Anne Hathaway is the next Catwoman, TMQ supposes she will say to Batman, "Then I was, like, 'purrrrrrfect,' you know?"
Carolina: After using their second pick in 2010 on quarterback Jimmy Clausen, the Cats used the first overall choice of 2011 on Cam Newton. NFL Network analyst Mike Mayock called this "admitting a mistake." But Newton wasn't available in the prior draft. If a better player becomes available based on unknowable turns of events, why not choose him? Economic theory says that acting on the information available at the time is, on average, more efficient than attempting to guess the future. Based on what was known then, Carolina's 2010 pick made sense.
Newton was fabulous at Auburn, but he started only 14 games there. Newton has started only 14 games against top competition in the past four years. He sat for two seasons at Florida, then had a juco escapade, then went to Auburn. Newton has taken the field surprisingly little for someone chosen first in the NFL draft. In college and junior college, Newton always was on stacked teams that were all but certain to win much of the time. The situation is somewhat different in Carolina.
Roughly a year ago, the Panthers told defensive end Julius Peppers to hit the road. Peppers had a great year for the Bears, who hosted the NFC Championship Game, while Carolina went 2-14. This offseason, the Panthers gave defensive end Charles Johnson, who had one pretty good year with the league's worst team, a $30 million bonus to stay. Now that was admitting a mistake -- the Peppers mistake.
Carolina was the worst team in 2010, but even so, its stats are not for the faint of heart. The Panthers were outscored 408-196. They allowed 328 first downs while making only 225. Yikes.
[+] Enlarge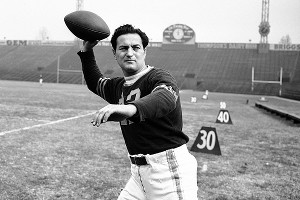 AP Photo/Herbert K. WhiteMike Martz can only dream of when the Bears were really pass-wacky.
Chicago: With Jay Cutler at quarterback and Mike Martz at offensive coordinator, the Monsters of the Midway are a pitch-and-catch team. Counting sacks and scrambles, in 2010, Martz called 567 passes versus 369 rushes -- or 61 percent called passes. But if you assume going pass wacky is a 21st century phenomenon for the Bears, think again. The franchise's all-time passing yards and touchdowns leader, Sid Luckman, played when Franklin Roosevelt was president. Luckman threw seven touchdown passes in a game -- a total Peyton Manning can only dream about -- in 1943. The best passing day in Chicago Bears annals, 468 yards by Johnny Lujack, came in 1949.
Chicago had the NFL's top fourth-quarter defense in 2010, allowing 53 points. This season, owing to a calendar quirk, the NFL plays six games after Thanksgiving -- which ought to be a plus for the bad-weather Bears. But only two of Chicago's final six games are at home, and at any rate, Chicago was 1-3 in cold-weather games last season, so the Bears may be losing their outdoor edge.
Dallas: Last week, TMQ noted that Ohio, which is closely associated with football culture -- birthplace of pro football, state of many renowned prep programs -- is on a string of terrible seasons for both its NFL teams. Now TMQ asks, what's up with Texas?
[+] Enlarge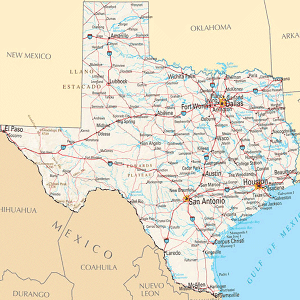 U.S. Department of the Interior Wasn't football once played here?
This state, too, is important to football culture. High school football is a civic religion in Texas, the state's college teams long have been tops, and the Cowboys have had two dynasty eras. But the state of Texas has not seen both its NFL franchises make the playoffs in the same season since 1993. Last season, the Texas teams were a combined 12-20. Both played cover-your-eyes defense, the Cowboys finishing 31st in points allowed, the Texans finishing 29th.
For the Cowboys, reputation seems to matter more than performance. Despite going 6-10 in 2010, the Boys will appear in five prime-time games in 2011, plus their annual Thanksgiving game, which is for intents and purposes a prime-time event.
Will new coach Jason Garrett right this franchise? He's got a hill to climb: Tom Landry has more career victories than all other Cowboys head coaches combined. In their first preseason game, the Boys showed a flex defense, reminding fans of Landry.
How Long 'Til There Are Trailers at the Fronts of Books? Some books now have "trailers" -- brief videos designed to entice you to buy. Most examples of this new form are pretty ridiculous. But here's a book trailer that is absolutely fascinating, for the forthcoming volume "Grand Pursuit" by Sylvia Nasar. Her book is about the great ideas of economics. The trailer's presentation of core economic ideas as a fast-moving cartoon is a real attention-grabber, and could be the basis of a high school or college classroom day. Teachers, take note! Plus the final fact presented will stun you.
Detroit: Let's put it this way -- Bill Clinton was president the last time the Lions had a winning season.
Perennially a basket case in December, Detroit won its final four contests in 2010, including a close victory over eventual champion Green Bay, so maybe that's a reason to hope. For the second consecutive summer, perfectly serious people think the Lions can have a big year. And Jim Schwartz is the NFL's smartest coach.
TMQ is not yet sold. All touts think highly of Matt Stafford, but he's constantly out hurt, and 3-10 as a starter. The Lions have invested recent first- and second-round draft choices in the tailback position, but still look shaky there owing to injuries. Ndamukong Suh is a tremendous football player but also a dirty player -- he deliberately body-slams quarterbacks, and it's time the zebras ejected him from the next game in which he does this. The body-slam move is illegal; being very strong is not a license to violate the game's rules. The Lions close the regular season at Green Bay on New Year's Day. An ideal scenario for Detroit fans is that on that day, the Packers will be resting starters for their playoff bye, while the Lions go all out for a win to reach the postseason for the first time since 1999.
My most favorite fact in all of football remains true: Wayne Fontes is both the winningest and losingest coach in Lions history.
The Real Problem with More Touchbacks: This year the kickoff spot moves from the 30 to the 35, in order to increase touchbacks -- kickoff return plays are twice as likely to cause injuries as plays from scrimmage. This is a positive reform for NFL players' health, but will lead to really tedious television.
Already the worst sequence in every NFL broadcast is: Team A scores; break for commercial; Team A kicks off; break for commercial. The result is four to six commercials wrapped around one play. If that one play usually is a touchback, any touchdown or field goal will become a signal to get up and leave the room, since action will not resume for several minutes.
So why not carry the idea to its logical conclusion and eliminate the kickoff, simply giving the receivers possession on their 20? Maybe allow the kickoff in the final two minutes of each half, and then from the 30, so there's a chance of excitement. If the NFL wants touchbacks in order to reduce injuries -- and this is a fair choice -- let's get rid of the annoying snap-commercials-kickoff-commercials sequence.
Onside Stats from 2010: For years the maxim in football has been that only 10 percent of expected onside kickoffs succeed, but 60 percent of surprise onside kicks do. That's why Tuesday Morning Quarterback long has touted the surprise onside. There's a 60 percent chance of creating a turnover, versus a 40 percent chance of surrendering about 30 yards of field position. TMQ likes those odds.
But as noted by Football Outsiders, in the 2010 NFL season, only 20 percent of surprise onside kickoffs were successful. Why? The New Orleans surprise onside to start the second half of the 2010 Super Bowl -- that game's signature play -- was etched on everyone's minds. Special-teams coaches and players were keenly worried about the surprise onside. This season -- will complacency return? That's another reason to hope that more onside kicks will counterbalance the dullness of touchbacks.
Green Bay: The Packers won the Super Bowl and did so in style, reaching the playoffs as a wild card and winning four consecutive do-or-die road games. All told, the Pack prevailed in six consecutive do-or-die contests, since had Green Bay lost either of its final two regular-season games, there would have been no postseason bid. Because Green Bay took the Lombardi, already the sports world seems to have forgotten that the Packers barely squeaked into the postseason, needing a fourth-quarter touchdown to secure a 10-3 win over Chicago in the regular-season finale to qualify.
Aaron Rodgers not only has the best playoff rating of current NFL quarterbacks, at 112.6, his is the best playoff rating -- ever. For comparison, Peyton Manning's playoff rating is 88.4, Tom Brady's is 85.7. Rodgers also not only has the lowest interception percentage of current NFL starters, at 1.99, his is the lowest interception percentage -- ever. Though with 13 postseason touchdown passes, Rodgers has a way to go to catch Joe Montana, who threw 45 postseason touchdown passes.
Ahman Green, who was with the UFL's Omaha Nighthawks in 2010, retires from the sport as the Packers' all-time leading rusher. Green eked past Jim Taylor, while compiling twice as many rushing yards as Paul Hornung. Taylor and Hornung are in the Hall of Fame, while Green is unlikely even to be a finalist. Stats alone don't necessarily mean donning the garish yellow jacket, considering today's longer seasons, while that year with the Nighthawks will not sit well with Canton voters.
A minor mystery is why Green Bay, which came into the 2011 draft with five choices in the sixth and seventh rounds, used them all, rather than bank a couple by trading for 2012 picks. Typically it's hard for late-round draft choices to make the roster of a winning team, and the Packers just won the Super Bowl.
[+] Enlarge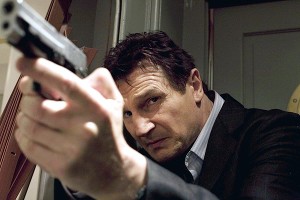 Twentieth Century Fox Film Corporation Former actor Liam Neeson.
Wasn't Liam Neeson Once a Real Actor? TMQ continues to be driven crazy by television and movie action scenes in which lots of weapons are fired without attracting attention. Twenty years ago in the "Miami Vice" series finale, Crockett and Tubbs shot to death a dozen bad guys along the Miami causeway, then blew up a seaplane within view of Miami Beach -- and no police came to investigate. In the Liam Neeson movie "Taken," our hero attacks a Paris construction site; hundreds of rounds are fired and Neeson triggers a huge explosion, yet no police arrive. Later Neeson shoots a dozen bad guys at a mansion in Paris, then shoots more on a yacht cruising the Seine, and no police respond. In the climactic battle along the Los Angeles docks in the atrocious "The A Team" movie, also starring Neeson, hundreds of rounds are fired, two antitank missiles are launched and a gigantic container ship capsizes -- yet the police don't arrive until the following morning.
In the "Nikita" remake-of-a-remake-of-a-remake on CW network, there are regular scenes of machine gun battles between secret agents on New York or Paris streets, yet no police respond. In its recent season, "Nikita" offered four separate depictions of gun battles at diplomatic receptions. Not only did no police respond, has there ever been a gun battle at a diplomatic reception? "Nikita" sports other enduring spy-action clichés:
• An Agency Far, Far More Secret Than The CIA. The agency is totally above the law. Not even the president can touch it.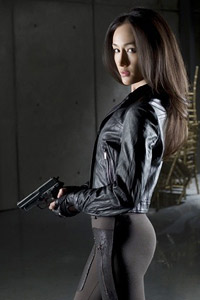 The CWPage 2 staff would gladly crawl through an air shaft with Maggie Q.
• A secret council of military leaders and industrialists runs the U.S. government. Though, they're not doing much of a job.
• A hacker requires mere seconds to take control of all computers and security systems at CIA headquarters in Langley.
• Nikita escapes from CIA headquarters by crawling out an air shaft.
My favorite "Nikita" scene involves, however, simple car travel. You're familiar with the film chestnut in which two characters are talking in a car that is obviously a stage set, as passing landscape is projected onto the windows. Scenery projected onto the windows moves continuously, as if the car never stops for a traffic light. A recent "Nikita" scene depicted the heroine and a companion driving through the center of London. Not only did the car never come to a stop; the projected cityscape went by in a blur, as if the car was moving 75 mph. Streets of contemporary London are so congested that traffic rarely exceeds 15 mph (or 24.14 kph), and if you advance one block without slamming on the brakes, you've done well. But in the TV show, London city center streets are smoothly flowing superhighways.
Jersey/A: The G-Persons seemed awfully blasé about letting Steve Smith and Kevin Boss depart in free agency. Both had monster plays in Jersey/A's Super Bowl win over the Patriots. Smith's 12-yard sideline catch on third-and-11 with 48 seconds remaining was the Hidden Play of that contest, setting up the winning touchdown on the next snap. For those new to Tuesday Morning Quarterback, Hidden Plays are ones that never make highlight reels, but stop or sustain drives.
Because Eli Manning makes the occasional goofy turnover, perhaps you assume Jersey/A struggled on offense last season. Check the Giants' offensive stats: fifth in the league, better yardage numbers than New Orleans, New England or Green Bay. Everyone knows the Chargers performed the seemingly impossible feat of finishing first in offense, first in defense yet missing the postseason. The Giants weren't far behind -- fifth in offense, seventh in defense and also out of the postseason.
Check the team's masthead, which makes the United Nations seem lean and streamlined. A president/CEO; a chairman/executive vice president; a treasurer; a comptroller; four senior vice presidents; eight regular vice presidents; 14 directors; and seven assistant directors. The Giants' front office has everything except a parliamentarian.
[+] Enlarge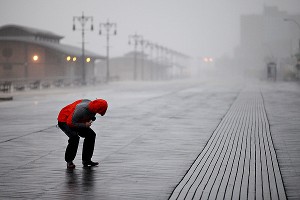 AP Photo/Craig RuttleNBC weather reporter Peter Alexander doing his part to make Hurricane Irene seem worse.
Goodnight, Irene: Fortunately, Hurricane Irene did less harm than feared, mainly because the cyclone was notably less powerful than predicted.
On Friday, the day before the storm came ashore in North Carolina, The New York Times predicted Irene would be a Category 4 hurricane when it reached New York City: This would have been cataclysmic. The Washington Post predicted Irene would be Category 3 at Manhattan. At the moment these forecasts were posted, the National Weather Service's National Hurricane Center was predicting Irene would reach New York as a Category 2. What was it the newspapers thought they knew that the National Weather Service didn't know? Actual: Irene was a tropical storm, no longer a hurricane, when it reached New York.
On Friday, The Weather Channel predicted Irene would be "unlike any storm residents from North Carolina to New England have ever seen." The storm ended up substantially less potent than Hurricane Gloria, which hit those places in 1985. Friday, Weather.com had a red bar running on its screen saying, "EXTREME THREAT LEVEL."
TMQ's favorite weatherman, Joe Bastardi, who presents himself to the world as a genius weather forecaster -- this column has made sport of him before -- declared, "I am predicting 90 mph winds reaching Long Island and billions in damages there." On Long Island the highest recorded gust was 67 mph; the area suffered power failures but not much damage. Bastardi once was lead forecaster for AccuWeather. Now he's at a boutique site called WeatherBell, which charges $160 a year for these kinds of canny forecasts. Bastardi also declared last week that the East Coast earthquake was caused by the sunspot cycle, a view that is, let's just say, not standard among scientists.
The New York Times blog Five Thirty Eight, a veritable fountain of decimal-point predictions, forecast that 65 mph winds in Manhattan would cause a hyper-specific $1.384 million in damages. As it happened, 65 mph was the highest gust in Manhattan. Will this forecast come close? The Times veered into the daffy by estimating that 165 mph winds, far more than any ever recorded in New York, would do precisely $16,183,125,000,000 worth of harm.
For some readers, including Rebecca Carlson of High Wycombe, United Kingdom, bad predictions about Hurricane Irene brought to mind this BBC Radio 4 feature on the absurdity of predictions. (The segment starts about 20 minutes in.) The show, mainly an interview with Dan Gardner, author of the fascinating new book "Future Babble," maintained that not only are most predictions no more likely to be correct than coin flips, but confidently stated predictions are the most likely to be wrong.
Concussion Watch: Readers including David Smith of Indianapolis note several Colts have been working with race car equipment designer Bill Simpson on a new helmet that would be notably lighter than existing models. How heavy to make a helmet is a longstanding quandary in football, bicycling and other fields. Heavy helmets can provide more protection against blows to the wearer's head, but also can make collisions more harmful, by increasing the force felt inside the helmet. If someone hits you on the head with a hammer, you're best off in a heavy helmet; if you hurl yourself against a wall, a heavy helmet increases the force felt within your head.
In football, helmets both protect the head and cause injuries to other players -- the lighter the helmet, the less likely it is to harm someone else. Modern polycarbonate helmets can feel like a weapon when placed on the head, encouraging players to launch themselves into opponents. A lighter helmet would feel less like a weapon. Let's hope Simpson's research succeeds.
Minnesota: Teams coming off a disappointing season often give their quarterback ye olde heave-ho. The Vikings gave the heave-ho to two quarterbacks, Brett Favre retiring and Tarvaris Jackson traded. Now Donovan McNabb, Christian Ponder and Joe Webb are the signal-callers. Assuming both new arrivals see some time, this will mean that Daunte Culpepper, Todd Bouman, Spergon Wynn, Gus Frerotte, Brad Johnson, Tarvaris Jackson, Kelly Holcomb, Brooks Bollinger, Favre, Webb, McNabb and Ponder have been under center for Minnesota just in the last decade. That's way too many.
In the last two seasons, the Vikings went 13-4 at home and 6-11 on the road. They were 17-6 in daylight and 2-9 at night. They were 15-7 on turf and 4-8 on grass. Many teams show imbalance in such indicators, but the Vikes' imbalances are extreme. In recent seasons, you've been able to predict Minnesota outcomes just by checking where, when and on what surface the game will be played. The Vikings need to learn to perform with consistency.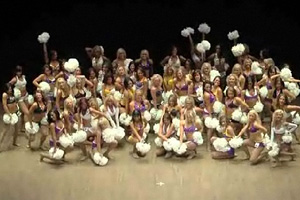 vikings.comThe Vikings' cheerleaders swimsuit event -- there are nowhere near enough pretty women here.
Bored at work? Spend 45 minutes watching the Vikings' stadium roof be inflated. The Miss America pageant has nothing on the Vikings cheerleaders' swimsuit event.
Philadelphia: Previously known in TMQ as the Nesharim -- "Eagles" in Hebrew, which is read right to left, Philadelphia having the sole NFL logo that faces left -- this year to this column they'll be the Philadelphia Heat. New acquisitions Nnamdi Asomugha, Vince Young, Jason Babin, Steve Smith, Dominique Rodgers-Cromartie, Cullen Jenkins, Ronnie Brown -- how long until the locked-out LeBron James decides to suit up?
TMQ has always liked Young, whose 30-17 NFL record as a starting quarterback is a better win percentage than those posted by Aaron Rodgers, Drew Brees, Eli Manning -- and Michael Vick. Andy Reid needs to step up his postseason game. Reid is fourth in total wins by active coaches, but only 10-9 in the postseason. TMQ's rule is that when the playoffs begin, game plans and psyche-up become more important than in the regular season. Reid seems to treat playoff contests like any other games, which they are not.
The Heat's new defensive coordinator, Juan Castillo, has coached offense in his entire college and professional career. The last time Castillo ran a defense was at Kingsville High School in Texas in 1989. Castillo replaces Sean McDermott, who was scapegoated by Reid and by the Philadelphia sports press as a flop, though his defense held the eventual champion Packers to 21 points in the 2010 playoffs. In the same playoffs, the Steelers' defense allowed the Packers 31 points and the Falcons' defense allowed them 48 points -- without defensive coordinators for either team losing their jobs.
The Fad for Exaggerating How Much We Work: The Washington Post credulously asserted that when the fast-forward NFL free agency began, Skins executive Eric Schaffer was at the office for "a work shift that lasted more than 90 hours" during which "Schaffer didn't sleep." This is transparent hokum. Research finds symptoms similar to drunkenness after 24 hours of sleep deprivation; after about 48 hours without sleep, hallucinations begin. Anyone who actually stayed awake 90 consecutive hours, even with monitored medication, would need a hospital. Schaffer may have claimed he went 90 hours without sleep, but that's the sort of nonsense reporters are supposed to see through.
In contemporary life, many people claim to spend extreme lengths of time at the office, such assertions being a form of self-flattery. In her engaging 2010 book "168 Hours: You Have More Time Than You Think," Laura Vanderkam reports that white-collar Americans dramatically overestimate how much they work: "Research shows that almost no one claiming to work a 70-hour week actually is doing so." Work, she muses, "has become a competitive sport," in which people boast of long hours in the way that fishermen boast of larger fish than they actually caught. Vanderkam's book brings home an important point: Stop making excuses based on time. If there's something you need to accomplish, there are enough hours in the day -- get organized and use your time wisely.
[+] Enlarge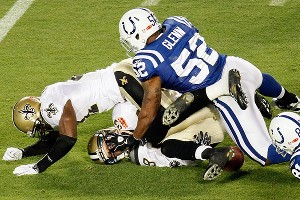 Doug Benc/Getty ImagesThe Saints' surprise onside in the Super Bowl. Will surprise onsides still surprise anyone in 2011?
New Orleans: The defending champion Saints failed to get past the first round of last season's playoffs, losing to the 7-9 Seahawks. Because the defending champions stumbled to the NFL's first-ever losing-record playoff team, the football world tended to assume New Orleans never had a chance to repeat.
But think back to the regular-season finale week of 2010. New Orleans was alive for a playoff bye -- but only if the Saints won while the heavily favored Falcons lost to Carolina, the league's worst team. Sean Payton decided to play to win in what was likely to turn out to be a meaningless game for the Saints, rather than rest starters for the postseason. In what did indeed turn out to be a meaningless game for New Orleans, the Saints lost three starters to injury -- a mini-disaster that contributed to the outcome in Seattle. Had Payton played it safe that day, his charges might have made another deep postseason run. The team he brings into 2011 was a legit contender for a Super Bowl repeat before injuries, and is a legit contender this season.
Saints safety Roman Harper had "one of the worst games in modern memory" in the Saints' playoff loss at Seattle, yet New Orleans gave Harper a new contract with a $16 million guarantee. In the offseason the Saints signed defensive tackle Shaun Rogers, who in 10 NFL seasons has never played for a winning team.
Reggie Bush is gone to the South Florida Dolphins. Since his Heisman was revoked, Bush has acquired a negative energy field, and Payton wanted none of it. Bush has been replaced by Mark Ingram, a power back, and Darren Sproles, a speed back. Show me the football coach who doesn't dream of having both a power back and a speed back.
Most Ridiculous Comment Heard During a Long Summer Drive: Last week, an earthquake rattled the East Coast, doing only minor damage and harming no one. This occurred while President Obama was on vacation -- he is such a bad president he didn't know an earthquake was coming! Neither did my yellow lab, who not only didn't bark or howl before the tremors, but rather, slept. Two hours after the quake, when it was known that no one had been harmed, Karl Rove said on the Sean Hannity radio show, "Why is Obama on Martha's Vineyard playing golf, why isn't he in Washington to survey the devastation?"
Critics had been griping about Obama taking a vacation as if having him in the White House for an extra week staring at charts of leading indicators would solve the economy's problems. Just like anyone else, the president needs time off to clear his head. People complained when George W. Bush took a week in Texas, and they complained when Dwight Eisenhower went to Camp David. TMQ thinks the country would be in better shape if presidents took more time off to relax and get away from the synthetic Washington sense that everything is a crisis and the only possible response is to launch yet another "dramatic" program.
[+] Enlarge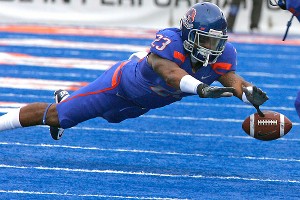 AP Photo/Matt CilleyCan you find the Boise State player in this photo?
I'd Rather Be Blue: TMQ noted the NFL, fearing an outbreak of Boise State-inspired theme-colored turf, prohibited any field color other than green. Theme colors would be fun -- can't have that! Reader Jon Marsh of Bountiful, Utah, notes that as part of its agreement to enter the Mountain West Conference, Boise State accepted a strange condition -- that it will not wear blue jerseys when playing at home against Mountain West schools. The Broncos remain free to don blue when playing host to nonconference teams.
An Associated Press account of the decision suggested other conference coaches were merely jealous of Boise State's spectacular 77-2 home streak. The real reason other coaches don't appreciate Boise State wearing blue duds on blue turf is that it's practically camouflage. Boise State even has a camouflage trick play -- on a kickoff, a player lies on the ground before the kick, hoping to be forgotten as his blue fades into blue, then the guy leaps up and takes a lateral.
If I had to coach a visiting team against Boise State, I wouldn't want the home team wearing blue either. But no one cries foul when Notre Dame wears its alternate green on green turf, or when Colorado State does this for every home date.
San Francisco: Welcome to the NFL, Jim Harbaugh. TMQ is betting that in two years, you wish you had stayed at Stanford. The Stanford situation: idyllic campus, respectful young men, worshipful student body and alums, fantastic Orange Bowl victory. The 49ers situation: nine years since the last playoff win, unsettled stadium situation, chance of becoming the Santa Clara Forty Niners, and perpetual whiners led by Michael Crabtree. Bear in mind, Coach Harbaugh/West, that your predecessor, Mike Singletary, was 10-17 when Crabtree played and 8-5 when he didn't. Crabtree has become Chico Marx in this exchange, from "Animal Crackers," in which Groucho is looking to hire a band, whose leader is Chico: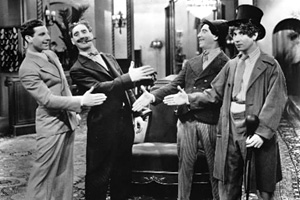 ParamountMichael Crabtree (second from right) meets Jim Harbaugh.
Groucho: What do you fellows get an hour?
Chico: For playing, we get $10 an hour.
Groucho: What do you get for not playing?
Chico: We get $12 an hour.
Groucho: What do you get for rehearsing?
Chico: You can't afford it.
Working in favor of Harbaugh/West is that he's coaching in the NFC West, the league's weakest division. Last season, San Francisco went 4-2 against the NFC West, 2-8 against everybody else. Had the Niners not been in the NFC West, they would have been in the running for worst team of 2010.
[+] Enlarge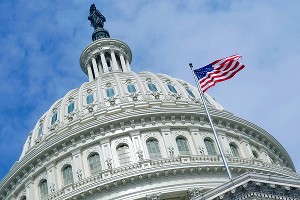 AP Photo/J. Scott ApplewhiteThirteen percent of Americans actually approve of what's going on here!
Approval Rating for Congress Should Be Zero Point Zero: A new Gallup poll shows a record-low 13 percent of Americans believe Congress is doing a good job. My question -- the 13 percent, who are these crackpots?
St. Louis: The Rams used their first draft choice on Robert Quinn, one of nine University of North Carolina players chosen in the draft, tied for most of any school. Four Tar Heels went in the draft's first two rounds alone; nine USC players also were drafted, though most not so high. Yet North Carolina and USC both were 8-5 in 2010, unexceptional by the standards of football factories.
Why were so many North Carolina and USC players chosen? Perhaps NFL general managers assumed that because North Carolina and USC are coming off NCAA scandals involving agents who were raining cash, therefore these schools must have premium athletes. If this theory is correct, the University of Miami will produce multiple choices in next year's draft.
[+] Enlarge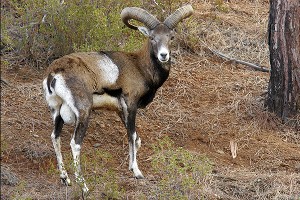 AP Photo/Petros Karadjias)Un mouflon.
Say what you will about quirky Mike "What The!" Martz, St. Louis has not had a winning season since showing him the door. Les Mouflons were 60-43 under WTM, and are 21-59 since. The mouflon is a European sheep whose males have curved horns; when the "Rams" went on a hardly ramlike 6-42 streak, they became Les Mouflons to TMQ.
Seattle: Executive vice president of football operations and head coach Pete Carroll -- that's his actual title -- picked the right time to jump from college to the pro ranks. Not only did Carroll leave Southern California a smoldering wreckage, much of the big-time NCAA football landscape is aflame. We could save space by listing the football-factory programs that aren't enmeshed in embarrassing scandals. Carroll got out of Dodge one step ahead of the posse.
At USC, Carroll was accustomed to having blue-chippers three deep at every position. It's a lot easier to coach when your team is stacked with talent. Now, with the Seahawks, he has Tarvaris Jackson and Charlie Whitehurst. Can Seattle accomplish anything this season with either at quarterback?
After becoming the first NFL team ever to reach the playoffs with a losing record last season, the Seahawks' goal for 2011 should be to become the first NFL team to reach the playoffs with losing records in consecutive seasons. Before the 2010 draft, the Jets traded tailback Leon Washington to Seattle for a fifth-round choice, then used a fourth-round choice on tailback Joe McKnight, in effect surrendering Washington to get McKnight. Washington responded with three kickoff return touchdowns at Seattle, while McKnight was invisible at Jersey/B.
Front-office note: The Seahawks have a chairman, a CEO, the aforementioned executive vice president of football operations, a general manager and a chief operating officer -- five people who sound like they are in charge. Probably that means no one is in charge.
Unified Field Theory of Creep: So many reports of Halloween candy aisles already on display have come in that even though it's August, TMQ can no longer call Halloween candy a harbinger of creep. You always stock up two months in advance, don't you? But entire stores still qualify. Daniel Bell of Rome, Ga., reports a Halloween City store has been open in his town since early August.
Ohio Headed for .382155 Lamenting (or possibly ruing) that the state of Ohio, birthplace of professional football, is on a 226-364-2 run in the NFL, TMQ declared, "Ohio's record will not improve opening weekend, since the Browns and Bengals meet." Many readers including Michael Grossman of Overland Park, Kan., noted a 1-1 outcome will improve a record that is below .500: "Current: 226 wins in 592 total games yields a winning percentage of .381757 (last digit rounded). If one team wins on opening day: 227 wins in 594 games yields a winning percentage of .382155. If it's a tie: 226 wins in 594 games yields a winning percentage of .380471."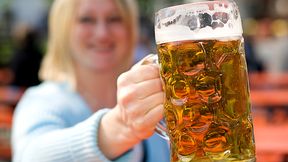 ThinkstockOrder more, it's good for the GDP.
In Praise of the Six-Pack: Charles Kenny, a fellow of the New America Foundation, argues that drinking beer is good for economic growth. Kenny's new book, "Getting Better," about the positive trends in nearly all indicators of global well-being -- this was also a theme of your columnist's 2009 book, "Sonic Boom" -- is quite good and well worth reading.
Tampa: Last season was a disaster for the NFL's playoff format, which TMQ has long maintained should be replaced with a seeded tournament. Two teams finished 10-6 and missed the postseason, while the Seahawks finished 7-9 and hosted a playoff game. That the playoff format wasn't even discussed by the owners in the offseason -- admittedly a busy one with labor negotiations -- was another example that many things in football happen for the following reason: "We do it this way because this is the way we do it."
One of the teams to win 10 games but stay home was the Buccaneers. The Bucs played surprisingly well for pairing the league's youngest quarterback (Josh Freeman was 22 last season) and youngest head coach (Raheem Morris was 34). Close games are common in the NFL -- last season, one game in four was decided by a field goal or less. The Bucs were a league-best 5-1 in such games, which means they played with poise for a callow squad. But they've got to learn to beat the Atlanta Falcons, the big dog in their division. The Buccaneers have dropped five in a row to Atlanta.
Financial note: When the free-agency period began, there was a slight difference between the Bucs and the defending champion Packers -- City of Tampa had $59 million in salary cap space, Green Bay had $63,000.
Washington: When the regular season opens, John Beck is likely to be the 17th starting quarterback since the Redskins last won the division. Constant quarterback changes have been a hallmark of the Chainsaw Dan Snyder misrule in Washington. Constant quarterback changes couldn't possibly have anything to do with the playoff drought, could they? The Redskins are 91-107 in their 12 seasons under Chainsaw Dan, and were 106-92 in the prior 12 seasons. I'm just sayin'.
Things should be calmer this season with the Donovan McNabb and Albert Haynesworth melodramas concluded. Netting the arrivals and departures of those gentlemen, Chainsaw Dan gave up second- and fourth-round draft choices and about $50 million, receiving in return a year of complaints and turmoil plus fifth- and sixth-round picks. Chainsaw Dan's business decisions regarding Redskins player transactions are so consistently daffy, it makes one wonder how this chap became rich in the first place. Many NFL contracts have fictional face values, but McNabb may take the cake in this regard -- the "five-year, $88 million" contract he signed in November 2010 lasted nine months and paid a little under $2 million.
Last season the Skins fielded nine first-round draft choices on defense -- many aging big names signed as free agents by Snyder -- and finished second to last in defensive stats. The Redskins also finished 30th in rushing in 2010, so they traded for a running back. He's Tim Hightower of the Arizona Cardinals, the team that finished 32nd in rushing.
This Week's Teutonic Titles Item: Last week's column made fun of the German obsession with titles, including Mister Professor Doctor as a term of address. Neil Easterbrook, an Official Brother of TMQ and a professor at the seriously purple Texas Christian University, notes that because two types of doctorates are awarded in Germany -- one by universities, one by states -- Mister Doctor Doctor Professor is a possible term of address.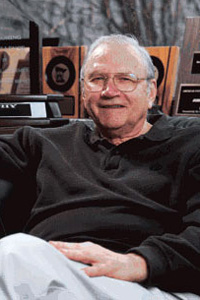 Saint John's UniversityJohn Gagliardi has coached 476 football victories. That's adequate.
Maybe, Just Maybe, Gagliardi Found His Calling: Apropos the series-finale plot of "Friday Night Lights," I asked readers if there had ever been an instance of a student as a football coach -- not a manager, a coach -- at a Texas 5A high school. Jason Willis, an assistant football coach at Stratford High in Houston, reports, "The athletic governing body which covers 5A all the way down to 6-man requires all coaches be employees of the school district, while head coaches must be certified educators. That doesn't preclude a maintenance man from being an assistant coach. But a student? Would never happen."
Reader Kyle Hoffman of St. Cloud, Minn., notes that John Gagliardi, winningest college football coach ever, was a player-coach when a senior in high school in Colorado. Gagliardi continued as a high school coach during his four years as a student at Colorado College (my much-loved alma mater) and then went into college coaching immediately after graduation. Gagliardi has been head coach of St. John's of Minnesota since 1953, and at 85, enters this season with a spectacular 476 wins. (Like the similarly aged Joe Paterno at Penn State, today Gagliardi mainly supervises his assistants.) TMQ has always liked Gagliardi for being true to his school, and for adherence to "positive coaching" -- he never screams at players, only challenges them to improve. This approach has won a lot more games than the malicious tactics used by screamer coaches.
Christmas Creep: A huge number of readers including Erin Jepson of Brooklyn, N.Y., noted Pepsi began airing the season's first Christmas-themed television ad, depicting Santa with elves, on Aug. 20. Craig Clements of Melbourne, Australia, writes, "Yesterday, a major Melbourne newspaper ran an advertisement for the annual Christmas Polo event. I don't know which was worse -- that the ad ran in August or that the 'Christmas' event will occur in November."
When Did Spygate Begin? I wrote, "The New England Patriots have not won a playoff game since Spygate." Many readers including Melissa Foster of Weymouth, Mass., protested that Spygate began in September 2007; the Patriots won their first two games of that postseason; then, at 18-0, faltered to the Giants in the Super Bowl, setting in motion the current string of playoff losses.
My wording left much to be desired. In my view, the serious part of Spygate commenced two days before the Patriots-Giants Super Bowl, when The New York Times ran the allegations that Bill Belichick cheated in his Super Bowl victory against the Rams. Since that story rolled off the presses, the Patriots have not won a playoff game. I don't think this was caused by The Times story, or the next day's more damning account -- since retracted -- in the Boston Herald. I think the reason is the football gods will continue to punish Belichick until such time as he may admit he was wrong to set up an illegal taping system. (Belichick has said he believed the videotaping was legal -- if so, then why wasn't it done openly?) Future historians can study The Boston Globe's Spygate archive here.
Next Week Still America's original all-haiku NFL season forecasts.
In addition to writing Tuesday Morning Quarterback for Page 2, Gregg Easterbrook is the author of the new book "Sonic Boom" and six other books. He writes a politics column for Reuters, and is a contributing editor for The New Republic, The Atlantic Monthly and The Washington Monthly. His website can be found here, and you can follow TMQ on Twitter.