Commentary
Tennis' illustrated fists of fury
Originally Published:
August 30, 2011
By
Mickey Duzyj
| Special to Page 2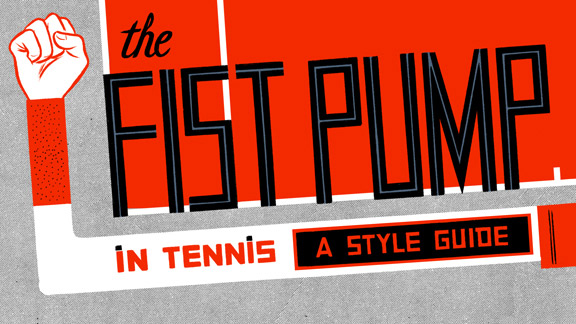 It's no surprise that tennis is seen as one of the world's most stylish sports. Between the catsuits, headbands, shrieks and frequent racket-smashings, modern tennis is well-stocked with lovable eccentrics, many of whom seem hell-bent to let it all hang out.
Most discussions about tennis style focus on things like "skill" or "fashion" or "personality" but tend to overlook another tradition that puts tennis in a league of its own. This tradition, in case you haven't read the banner, is fist pumping.
To celebrate the beginning of this year's U.S. Open -- the site of so many iconic pumps -- let's take a look back at some of the most memorable fist pumps in tennis history, starting with the icons:

The past decade has been great for fist pumping enthusiasts -- more players are fist pumping than ever before, and the variety of celebrations is hilarious. Somewhere along the way, players realized that a signature fist pump could help land publicity and endorsement deals, which seems to have led to our current golden era. If you watch closely, you'll notice players experiment with new styles from time to time, either borrowing from a classic style or doing something totally out of the ordinary. If it gets a good reaction and feels good, maybe you'll see it again. If not, though, you should just feel lucky to have spotted one of the duds.
Here are some of the latest additions to the Fist Pump Style Guide:

Mickey Duzyj is a new contributor to ESPN.com. He enjoys reading NYC tabloids back to front, playing pingpong and making strange little drawings about sports. Follow him on Twitter and Facebook or email him directly here.