Commentary
America's first professional tailgater
Updated:
August 30, 2011, 2:51 PM ET
By
Mark Chalifoux
| Special to Page 2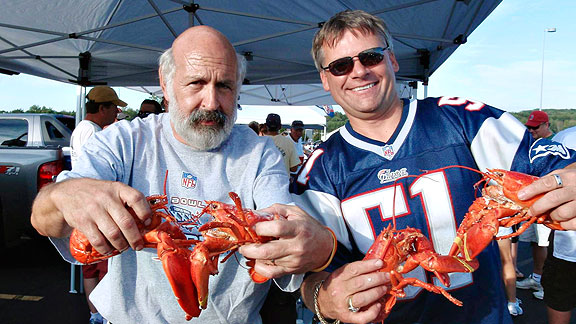 Joe Cahn From Boston to Seattle, the Commissioner of Tailgating has seen (and eaten) it all.
Joe Cahn claims to have the best job in the world, and it's tough to argue with him. Cahn, the self-proclaimed "Commissioner of Tailgating," has spent the past 15 years in the parking lots of America as the country's only professional tailgater.
"Even if I won the lottery, I'd be doing the exact same thing I am now," Cahn said. "Nobody is unhappy at a tailgate, although that can change after kickoff. It's not a job that makes you a lot of money, but you'll never go hungry."
Cahn travels the country in his RV, attending tailgate parties for 40-45 football games a year. He's been supported by a host of sponsors over the years, including Coca-Cola, Campbell's, Fritos, Kraft BBQ sauce and Pepsid AC.
Cahn's lifestyle has its origins in the mid-'90s, when he sold his cooking school and endeavored to tailgate at all 30 NFL stadiums before Super Bowl XXXI in his native New Orleans. A stranger to tailgating culture, his first season on the road left him a changed man.
"The parking lot is the last great American neighborhood. It's like walking through thousands of backyards with no privacy fences," Cahn said. "The difference between a friend and an acquaintance is that the friend always comes into the kitchen while the acquaintance stays in the living room. You break bread to become friends and for a tailgate, the kitchens come into the parking lot."
It didn't take Cahn long to perfect his tailgating formula. He spent his first season cooking jambalaya for anyone who wandered by his spot before realizing he could experience more by walking around the parking lot and visiting other tailgaters. He stopped cooking his own food in Season 2. He arrives at the parking lot as early as he can and then makes his rounds of other parties, usually sporting the home team's jersey. As most fans head into the stadium, Cahn stays behind -- he rarely attends the actual game.
Even after attending an estimated 800 tailgates, he said he's still surprised by something every time he hits a new town. He's seen fans tailgate in dump trucks and hot tubs and almost everything in between.
"There was a guy in Oakland who had a metal table with rings cut in it and Webber grills right in the table," he said. "I've seen a guy convert an ambulance into a tailgating vehicle and the grill is on a gurney. At Purdue, I saw someone tailgate in a hearse and the casket was half grill and half cooler. I'm always seeing new inventions and new recipes because tailgating is an innovative sport with no written rules."
Despite spending every game day in a different parking lot, Cahn has made a host of lifelong friends over the years, which makes holidays spent in parking lots more enjoyable.
"I look at my collection of jerseys, and I see the different groups of friends I can look forward to seeing when I'm in each town," Cahn said. "I look at a Patriots jersey, and it makes me think of my fishermen friends from Maine I tailgate with there. I'm in Detroit for Thanksgiving this year so I know I'll be with a friend and his mother and grandmother, and we'll celebrate Thanksgiving the day after we celebrate it in the lot. I spent Christmas in San Diego a few years ago with an old Bolt Pride member, who celebrated the holiday by making tamales and having a toast of tequila in Spanish. It's those things, with children and grandparents, those friendships I make I see in my jerseys."
His job as the "Commissioner of Tailgating" has left him with a few memorable moments as a sports fan. "I went to the Patriots versus Jets game after 9/11 and the emotion during the national anthem was incredible," Cahn said. "Then after the first play the Jets were booed, and I knew we were back to football."
[+] Enlarge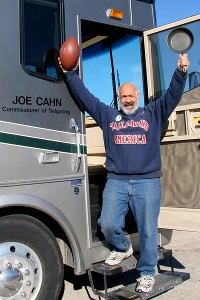 Joe Cahn "The parking lot is the last great American neighborhood. It's like walking through thousands of backyards with no privacy fences," Cahn said.
He was also in the parking lot during the infamous "tuck rule" game. "The snow was falling and I was standing in my wet tennis shoes, but just to hear the roar and the wind go out with the fumble and then to see the energy come back, that was just amazing," he said.
As the tailgating commissioner, Cahn isn't short on advice to pull off a successful party. His first piece of advice is to keep it simple and have a checklist. He's seen countless tailgates where people remember the hamburger patties but forget the buns. He prefers food that can be eaten with one hand so people can eat and walk around, rather than sitting down to cut something up. He also said it's important to have a designated driver and a designated griller. And the most important thing is to have fun and be a good neighbor.
"Don't blast music too loud, clean up your trash, and don't over-drink. One of my biggest pet peeves is people who don't recycle," said Cahn, who is a spokesman for the Aluminum Association this year. "Another pet peeve is people who couldn't throw a ball in grammar school throwing one around the parking lot and having it land in a bowl of dip or breaking through someone's car window."
Cahn's dedication to tailgating runs deep. Deep enough that he celebrated his honeymoon at an LSU-Ole Miss tailgate four years ago. Cahn's wife, Karen, is a registered nurse, so she usually doesn't join Joe in the parking lot. She does occasionally fly to wherever he is on a Monday to ride to the next city with him.
"Joe is not the kind of person who is meant to sit behind a desk from 9 to 5," said Karen, who owned the New Orleans School of Cooking with Joe. "He's not good at sitting still. He's too creative and has too much energy. He's eight years older than me and has always made me feel old. As long as he still loves what he's doing and can get sponsorships, I don't see him slowing down."
If he did slow down, there would be plenty of people who would like to step into his lifestyle, including some from his current sponsor. Steve Gardner, the vice president of communications for the Aluminum Association, said his first thought when he met Joe was that he was a "genius."
"He basically invented the perfect job," he said. "We loved his idea because he's a real character and not some programmed spokesperson. I want to be his vice president so I could take over when he's done."
As he prepares to embark on his 16th tour, there's no end in sight for Cahn.
"No one is having more fun than me, for three reasons. I get to see this country from sea to shining sea and all the soybean fields, cotton fields and corn fields in between," said Cahn, who has logged nearly half a million miles behind the wheel during his "career."
"I get to listen and speak with more types of people than anyone else in this country. Doctors, lawyers, cops, garbagemen, they're all in the parking lot. And then there's the food. Road warriors know the greatest honor you can get is being invited into someone's home and I get that every week. I get to sample everyone's home cooking and it's that social aspect that keeps me on the road. I'm going as far as I can until my tires go flat."
Mark Chalifoux is a writer based in New York. He can be reached at mark.chalifoux@gmail.com.