Commentary
Uni Watch: 2011 college football preview
Originally Published:
August 31, 2011
By
Paul Lukas
| Page 2
Keeping track of college football helmets used to be simple. Every team had one helmet design, except for Washington State, which had separate designs for home and road games, and that was that.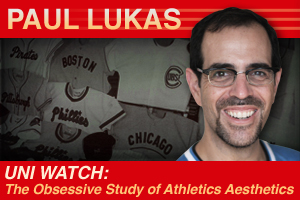 Those days are gone. With more and more schools taking their cues from Oregon, the idea of having multiple helmet looks is catching on. And even if the helmet's basic shell color stays the same, you can swap in a new face mask color, a new logo decal, a new center-stripe pattern. The possibilities are limited only by your imagination (or maybe your equipment manager's sanity threshold).
Uni Watch refers to this headwear explosion as the Hydra Effect, after the many-headed beast of Greek mythology. Of course, most schools don't yet have enough helmet designs for each of the Hydra's heads, but some programs are definitely moving in that direction. A different helmet for every game on the schedule? Uni Watch is willing to bet right now that some school will try that in 2012 or '13.
The Hydra Effect is one of the most intriguing uni-related storylines of the new college football season, which kicks off Thursday, but it's far from the only one, as about half of the 120 FBS teams have made some sort of uniform change this season. As usual, Uni Watch is set to deliver the goods, so let's get started with our annual conference-by-conference breakdown (with the usual proviso that a few changes have probably flown under Uni Watch's radar and will therefore be covered in subsequent columns):
ACC
• Can you spot all of Boston College's tweaks? The numbers are no longer in that annoying italic font, the pants piping has been streamlined, the sleeve patch has been removed, there's a new sock design and the helmet has a new stripe pattern. A close-up of the helmet reveals that it has a stained-glass pattern -- nice.
• Florida State has added a little "FSU" chest insignia.
• Georgia Tech will once again have two white jerseys -- one with gold uni numbers, to be worn at home, and one with navy numbers, for road games. The new template is similar to what the Yellow Jackets wore in 2009, which is a polite way of saying it looks miserable, but whaddaya gonna do? Additional photos here.
• Over at Maryland, things have gotten a bit complicated. Also a bit silly, but hey, that's where college football uni design is these days. Lots of additional photos here and here.
• NC State is rebranding with an emphasis on "State." Additional info here, and there's a video segment here.
• Virginia Tech has added a new set of orange pants.
Big East
• This photo of a black-on-black Bearcats helmet has been circulating lately, but a Cincinnati spokesman tells Uni Watch, "It's a prototype. I'm unaware of any plans to use it in a game this season."
• Louisville, which seems to change its look every season, now has shoulder/sleeve striping that matches its helmet striping. Here's how it looks in an adidas ad.
• Will the Scarlet Knights become the Ebony Knights? That's what Rutgers fans started asking when photos of a solid-black uni surfaced a few months back. A school spokesman says, "It has not been determined if the black uniforms will be worn this year." Sounds to Uni Watch like code for "It's gonna happen, but we're not ready to announce it yet."
• Probably lots of happy players at UConn, because player names have been added to the jerseys.
• USF is now a three-helmeted Hydra, and does that new green helmet look great or what? As you can also see, the collarbone horns have been tweaked and the TV numbers have moved from the sleeves to the shoulders. Coach Skip Holtz plans to let the players decide which combo will be worn for each game. Help yourself to some additional info and photos.
Big Ten
• Welcome news out of Indiana, where the Hoosiers are getting back to basics. Plus, the helmet has lost the stripes and gained a white face mask. Further info here.
• Michigan will be wearing a retro design for the Sept. 10 game against Notre Dame. Further info here, and you can find a detailed analysis here.
• Michigan State will wear a special uniform against Michigan on Oct. 15. Unveiling in mid-September.
• Minnesota has added a memorial decal for former head coach Murray Warmath, who died earlier this year.
• Now that Nebraska is in the Big Ten, the Cornhuskers are wearing a jersey patch to commemorate that fact. They're also jumping on the glove-palm salute bandwagon, but they'd better be careful about that, because other teams were penalized for glove gestures last season.
• Another school with a one-off Nike design that will be unveiled in mid-September: Ohio State, which will wear the special duds against Wisconsin on Oct. 29.
• How do you make a really simple uniform even simpler? If you're Penn State, you eliminate the white trim (and the corresponding navy trim on the road jersey).
• A much more streamlined look for Purdue. Additional info and a video clip here.
Big 12
• Is there a rule stating that every team called the Bears has to wear lame-o "bear claw" stripes at some point in its history? Apparently so. That's Baylor, natch -- what a mistake. Additional photos here.
• Small change for Kansas, where the little Jayhawk collar logo and the chest wordmark have both gotten a bit bigger. Additional photos here.
• Interesting situation at Oklahoma, where defensive players will take turns wearing uniform No. 12, as a tribute to linebacker Austin Box, who died in May. No word yet regarding which players will wear the number for which games. In addition, the team will memorialize Box with a helmet decal.
• These photos just scratch the surface of all the changes afoot at Oklahoma State. The Cowboys are now a three-helmeted Hydra, plus they have four jerseys and four sets of pants to choose from. Lots of additional photos here, and you can play mix-and-match with this uni-builder page.
• Texas Tech's old look was nothing special, but it suddenly looks like a masterpiece compared to its new set. And sure, let's add a tramp stamp, why not? Additional photos here.
Conference USA
• Houston has a throwback design featuring something you don't often see on a football jersey: an arched chest insignia. It'll be worn for the homecoming game against Marshall on Oct. 22. Additional info and photos here.
• Marshall is going with a snazzier chest wordmark.
• Southern Miss will be a three-headed Hydra this season, using three different helmet designs -- each one for a four-game stretch. The first one features numbers on one side and a matte finish. No word yet on what the other two designs will be.
• Tulsa has made two helmet adjustments. As you can see two white stripes have been added (this is so the stripe pattern more closely matches the trim around the "Tulsa" script), plus they've added a memorial decal for former player Wilson Holloway, who died of cancer in February. It has his uni number and the motto "Just Keep Smiling."
• UTEP has toned down all the gewgaws, especially on the pants. Here's the road version.
Independents
• Army and Navy will both be wearing special uniforms when they face each other on Dec. 8. The designs will be unveiled in mid-September.
• Notre Dame will be wearing a special retro design for the game against Michigan on Sept. 10 (further info here). Other tidbits: Fighting Irish coaches will now be wearing an official sideline belt buckle. … The Irish will be helping the cause of concussion research by wearing "smart" mouth guards. … And you can add Notre Dame to the list of schools whose players will be doing the glove-palm salute.
MAC
• You know what Bowling Green really needed? If you answered, "a crazy number font and some stripes on the back of the pant legs," then you're in luck. Meanwhile, the helmet now has a new logo, a brown face mask, and a tapered stripe. You can see how all of this looks on the field in this video clip.
• Buffalo is going with a simpler look this year. Seems like an improvement, except for those armpit stains panels.
• No photo, but Ohio is slated to wear a helmet decal in memory of former player Marcellis Williamson, who died in April.
• Temple is going back to the outline "T" helmet logo, same as the one the Owls wore from 1989-95 and 2004-06.
• Western Michigan's helmet now has a big "W."
Mountain West
• The conference has a new logo, and it's a big improvement. Further info here.
• As you've probably heard by now, Boise State's habit of wearing solid-blue uniforms at home will no longer be allowed, which will no doubt hurt the school's recruiting efforts with certain key players. Meanwhile, the Broncos will dress like snowmen for the season-opening game against Georgia on Sept. 3 (which should be fine as long as the field isn't white).
• If you can keep up with TCU's uni combos, you're way ahead of Uni Watch. In the spring, the Horned Frogs unveiled a new design and then quickly announced that they'd keep using last year's set as well. According to a note issued April 6 by AD Christopher M. Del Conte, "The new set of uniforms and helmet simply provide us with another option on what to wear each game. We now have four sets of uniforms and four different helmets, including our traditional helmet with the Frog, our new one and the two from the Pro Combat series." They'll probably have added another design or two by the time you read this.
• Wyoming is another school going for the Hydra Effect. As for the rest of the uni, the jerseys are unchanged, but they now have more pants options.
Pac-12
• Big changes over at Arizona State, which has gotten the full-on Nike makeover and is now a four-helmeted Hydra (although the new pitchfork logo is causing some unfortunate comparisons). Additional photos here. Can't keep track of all the mix-and-match uni combinations? Explore the possibilities with this ASU uni builder.
• For years the problem at Colorado has been that the gold helmet and gold pants haven't matched. This season that problem has reportedly been solved.
• Oregon will dress up as a chocolate blackout cake for the season-opening game against LSU on Sept. 3. Pretty sedate by Ducks standards -- maybe it's supposed to look like ducks that have been stuck in an oil spill? Anyway, there are no other new designs officially slated for Oregon this season, although they'll probably spring something on us along the way.
• Stanford is another team with a special Nike uniform under wraps until mid-September. It'll be worn for the Nov. 27 game against Notre Dame.
• Small tweaks for Utah, but nothing major. One cool detail, though: The pant leg is imprinted with the Salt Lake City topographic pattern.
• In a small but unfortunate move, USC is changing its socks from white to black. No visuals yet, but rumors are flying about a black helmet -- yikes. (As an aside, players who have a top-10 GPA on the team or a cumulative 3.0 or better now get to wear this patch on their practice jerseys.)
• Serious downgrade for Washington State. Between all the gray, the gimmicky number font and the Hydra Effect, it's definitely a case of more is less. Additional photos and info here.
SEC
• You know how soccer teams wear little stars on their jerseys to signify the number of World Cup titles they've won? Auburn is now doing that too, but it's on a part of the jersey that will be tucked in. In addition, the national champs have added a "War Eagle" tramp stamp and have tinkered with their pants striping. There are also rumors of navy pants being added to the mix, although for now that's just a video game option.
• Georgia will wear a crazy red superhero costume -- which features what may be history's first-ever striped face mask -- for the season-opening game against Boise State on Sept. 3. Lots of additional photos here.
• Kentucky, continuing to draw upon the Bluegrass State's thoroughbred racing heritage, has added checkerboard shoulder patterns, plus the Wildcats are now a two-helmeted Hydra. Additional info here.
• Special Nike uni in the works for LSU, for the Tigers' Oct. 2 game against Auburn. Expect a mid-September unveiling (and maybe an early-September leak).
• Although it isn't the best photo, Mississippi State appears to have added some trim around the collar area.
• South Carolina has switched from one hot mess to another (more photos here, if you really feel the need, and additional info here). Also, the Gamecocks have been test-driving a new Under Armour shoe that combines the cleat and ankle brace in one piece. The idea is to eliminate the need for tape spatting -- in part because spatting is a hassle, and in part because the tape can cover up the footwear logo.
• Footwear switcheroo at Tennessee, where the shoes and socks have changed from black to white. Uni Watch counts this as a big plus.
Sun Belt
• Could Arkansas State be ditching the black pants? Hope so.
• Florida International has lost the shoulder stripes, which feels like addition by subtraction.
• Why does Louisiana-Lafayette always look like a D-II team? Seriously, that uni number font is just a disaster. If you like subtle details, though, you'll enjoy the fleur-de-lis pattern on the shoulders. Additional photos here.
• Small adjustment for Troy, where the chest wordmark is now a bit punchier.
• Western Kentucky is going with three new jerseys and three new sets of pants, making for a mix-and-match-o-rama (additional photos here). And yes, that's a new helmet.
• North Texas is keeping things simple -- maybe too simple.
WAC
• Major downgrade for Fresno State, especially when you factor in the new blue helmet stripe and the tramp stamp. Additional photos here.
• At first glance, Hawaii has just made a little tweak to the shoulder trim. But check out the rear view -- yowza. Additional photos here.
• Nevada has traded one set of unnecessary piping for another. Additional photos here.
Odds and ends
• Oregon running back LaMichael James showcased a new helmet design -- the Riddell 360 -- in the BCS title game in January. Expect to see more players wearing it this fall.
• You may have noticed that some of those new gloves aren't gray. That's because the old rules restricting gloves to gray has been scrapped. Gloves can now be any color or combination of colors, so expect a free-for-all out there.
• You know those black slacks NFL officiating crews wear for cold-weather games? Expect to see them in the college ranks this season (and not just in frigid conditions), along with wider zebra stripes.
• In addition, all officials will wear a "DP" cap patch in memory of former officiating coordinator Dave Parry, who died earlier this year.
• And last but not least, the teams playing in this season's BCS title game will wear this patch.
---
Phew! Know of any FBS uni changes that Uni Watch missed? Send them here (FBS only, please) and they'll be covered in next week's column.
Paul Lukas will cover this season's NFL uniform changes next week. If you liked this column, you'll probably like his daily Uni Watch web site, plus you can follow him on Twitter and Facebook. Want to learn about his Uni Watch Membership Program, be added to his mailing list so you'll always know when a new column has been posted, or just ask him a question? Contact him here.