Commentary
College football gets statistical, satirical
Originally Published:
September 2, 2011
By
Sarah Phillips
| Special to Page 2
Welcome to "Lies, Damned Lies and Statistics."
I'm Sarah Phillips, a sportswriter with a West Coast bias.
Like many of you, I had childhood aspirations of becoming a sports star one day. Some people continue reaching for their dreams clear into adulthood. Not me. My parents shattered those hopes while I was in elementary school when they handed me a calculator and a notepad and convinced me that becoming a sportswriter was my ticket into the industry.
In a nutshell, I'm obsessed with sports from a statistical and point-spread perspective -- for entertainment purposes, of course. Here are some examples: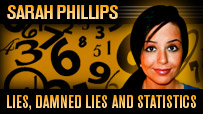 • You know Auburn went 13-0 to win the national title, but did you know the Tigers went 1-2 against the spread against non-BCS schools last season?
• Oregon fans have reason to be worried this season. Since Florida State lost the inaugural BCS championship in the 1998 season, the runner-up has only averaged 8.4 wins the next season. That's well short of the height required to climb aboard the BCS national championship ride.
• Stanford quarterback Andrew Luck could be headed for a hangover, too. Only four times has a Heisman runner-up gone on to hoist the trophy the following season. So if history is any indication, don't plan on watching Luck strike the pose at the end of this season.
Each Friday on behalf of Page 2, I'll provide a semi-serious statistical cheat sheet for the weekend's games.
Hopefully, you'll laugh. You might cry if you actually wager on my picks. Regardless, you'll learn something new to impress your friends.
And away we go …
Matchup of the week
It was obviously a bad sign when TMZ became a prominent source of news for the Oregon-LSU game.
Unflattering headlines began appearing after prep talent scout Willie Lyles accused Oregon of paying $25,000 to influence five-star recruit Lache Seastrunk to attend the U of O. The Ducks have since let Seastrunk walk away from the program and transfer to Baylor, leaving us to wonder whether Oregon will get its money back or whether the refund period has expired. Hope the Ducks kept the receipt.
NO. 3 OREGON VS. NO. 4 LSU


Site: Cowboys Stadium, Arlington, TX
Time: Saturday, 8 p.m. ET TV: ABC
Spread: Oregon by 3
• Click here for Ducks-Tigers preview
• Blog debate: Chris Low, Ted Miller
If that wasn't bad enough, Oregon cornerback Cliff Harris was suspended indefinitely after an arrest for driving 118 mph on a suspended license and owing more than $8,500 in traffic tickets. This probably wasn't what Ducks coach Chip Kelly had in mind in terms of increasing team speed. When asked by an officer about the odor of marijuana in the car during the stop, Harris responded, "We smoked it all." Clearly, Onterrio Smith remains a significant influence on the Ducks' program.
Meantime, LSU quarterback Jordan Jefferson allegedly kicked a Marine in the head during a bar fight in Baton Rouge. Jefferson is also suspended indefinitely and appears to be on the fast track to UFL stardom. But with the soap-opera drama hopefully behind us, it's almost game time.
Very simply, this showdown presents an opportunity for Kelly to exorcise the demons of being 0-3 against teams that have 30-plus days to prepare for his vaunted warp-speed offense. Oregon lost at Boise State in the 2009 opener, lost to Ohio State later that season in the Rose Bowl and lost last season's BCS National Championship Game to Auburn.
But all streaks must come to an end.
Lone Star State residents claim everything is bigger in Texas. But the Ducks are about to prove everything is faster in Oregon.
Ducks quarterback Darron Thomas and star running back LaMichael James are native Texans looking to make an impression in their first collegiate appearances in their home state. Behind that duo, the Ducks will use tempo to beat LSU, leaving Les Miles to nibble in disappointment on the artificial surface of Cowboys Stadium.
Pick: Oregon (-3)
All games are Saturday unless otherwise noted.


Kent State at No. 2 Alabama, 12:20 p.m. ET, ESPN3.com

Twice in 2010, Alabama was set as a 38-point favorite or higher. The Tide beat Georgia State 63-7 and San Jose State 48-3. Will Kent State fare any better? It's a pretty sweet payday if you ask me: Sign up for a road game that nobody expects you to win, and leave with a fat paycheck just for showing up. The Golden Flashes narrowly beat out Paris Hilton and Kim Kardashian for this gig.
Pick: Alabama (-38)


No. 5 Boise State vs. No. 19 Georgia (in Atlanta), 8 p.m. ET, ESPN

Everyone remembers Kyle Brotzman missing crucial field goals last season at Nevada, ending the Broncos' hopes for a BCS bowl berth. Boise State fans didn't know how to cope after the stunning loss, but Georgia will offer Broncos fans a chance to handle defeat with more maturity when the Bulldogs derail Boise State's 2011 season in Week 1. Easy on the death threats this time. Boise State last ventured into SEC territory in 2005, when the Broncos were blasted by the Bulldogs 48-13 in Athens.
Pick: Georgia (+3.5)

&nbsp

SMU at No. 8 Texas A&M, Sunday, 7:30 p.m. ET
Texas A&M has announced its separation from the Big 12, even though the conference tried to sweet-talk the Aggies into staying with roses and chocolates at the last minute. Texas A&M should win outright, but it's difficult to lay the points after such an emotional breakup. The Mustangs don't win a lot as heavy underdogs, but they sure do find ways to cover the spread. SMU is 5-1 in its past six road games set as a 10½-point underdog or greater.
Pick: SMU (+16.5)


No. 14 TCU at Baylor, Friday, 8 p.m. ET, ESPN

Andy Dalton set a Horned Frogs single-game record by completing 91.3 percent of his passes against Baylor last season, but Casey Pachall won't be repeating that performance this year. Although revenge is typically a dish best served cold, TCU is going to find out what it tastes like in the heat and humidity of Waco, when the Bears avenge the 45-10 shellacking they received at the hands of the Horned Frogs in 2010.
Pick: Baylor (+6.5)


Akron at No. 18 Ohio State, noon ET, ESPN

The Buckeyes and Zips have played twice previously, and surprisingly enough, Akron covered the spread both times. The Zips even took a 2-0 lead over Ohio State deep into the second quarter in 2007. Sure, Akron was blanked the rest of the game, but carrying a lead against the Buckeyes for 22 minutes, 46 seconds had to be the highlight of the Zips' season. Akron shoots for an encore Saturday.
Pick: Akron (+34)


Utah State at No. 23 Auburn, noon ET, ESPN2

The Tigers don't have a $180,000 quarterback this year. They won't need one to cruise past the Aggies. During Utah State's eight losses in 2010, the Aggies' average margin of defeat was 23.3 points.
Pick: Auburn (-21)


Miami at Maryland, Monday, 8 p.m. ET, ESPN

Eight Hurricanes are suspended for this game. How badly was Miami stung by the fallout of the Nevin Shapiro benefits scandal? Rumor has it that the future children of those eight players will be suspended indefinitely at birth. Doesn't matter, though. North Carolina faced similar mass suspensions in 2010, and the Tar Heels still covered the spread in their opener against LSU. Expect Miami to do the same here.
Pick: Miami (+1.5)
Sarah Phillips is a West Coast-based writer specializing in sports data query language. You can follow her on Twitter @RealSarahPHI.