Commentary
Unicycles make mark in New York City
Originally Published:
September 6, 2011
By
Ken Derry
| Special to Page 2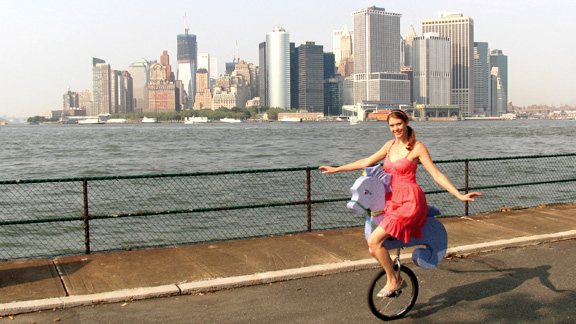 Ken Derry for ESPN.com Emily Season rides her seahorse-themed unicycle in the foreground of Manhattan's skyline.
NEW YORK -- Five years ago, Carl Watley had a hard time walking. The Hillside, N.J., man was suffering from a degenerative bone disease in his spine, and he spent a lot of time in bed on pain medication. With the help of a support group, Watley met another man with a similar condition, but this man reported less pain, in part because he rode a unicycle.
That was reason enough for Watley, who is now 59, to saddle up.
Flash forward to this past Saturday on Governors Island. Watley, a communications specialist for New Jersey Transit, was one of hundreds pedaling along at the New York City Unicycle Festival.
The festival also featured a ride from City Hall in Manhattan to Coney Island in Brooklyn. Almost 60 unicyclists crossed the Brooklyn Bridge, and approximately 30 of them completed the 13-mile trip.
[+] Enlarge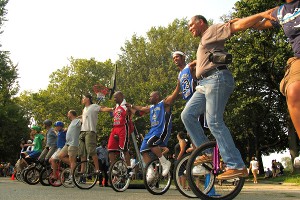 Ken Derry for ESPN.comCarl Watley, pictured in the foreground wearing jeans, credits unicycling with greatly reducing pain from a spinal condition.
On Governors Island, Watley purchased a 24-inch purple Nimbus unicycle with an extended seat post, and he walked it through the crowded tree-lined fairgrounds until he had more room to play.
"I won't say I don't have any pain," Watley said. "But I can say it's 500 percent less. My spine isn't going to heal, but I'm in better health. I feel the most important thing in life is to enjoy it. If you died, and you didn't enjoy your life, you lost."
Unicyclists of all skill levels gathered to test their mettle in an obstacle course, on a beginner's course and simply to ride with the beats pulsating from the DJ booth.
A street hockey rink was constructed in front of St. Cornelius Chapel, where a pickup game was under way. Score was loosely kept, but no one cared.
The spirit of the day was connecting, not competing.
"Most unicyclists don't know other unicyclists," said John Anello, 30, of Stamford, Conn. "I practice by holding on to my mailbox. So it's helpful to meet people who've done it longer and can show me what I'm doing wrong. Here, people are really nice, and I'm having a good time."
For all the camaraderie and high-fives at the festival, Logan Kerr, 17, from Chatham, N.Y., said unicycle culture is misunderstood.
"When you're alone riding a unicycle, people look at you like, 'I think that person is crazy,'" Kerr said. "It's just not getting the recognition it deserves because I think it's really cool."
Admittedly, Kerr tried to walk away from the unicycle at different points in her life. But she just cannot quit it.
"Going into high school, I was like, 'This is weird. Why am I still doing this?'" she said.
[+] Enlarge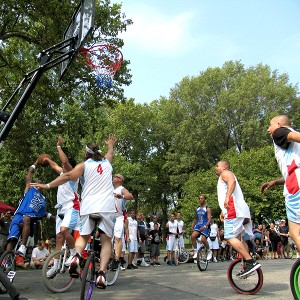 Ken Derry for ESPN.com Unicycle basketball can be wildly entertaining and intensely competitive.
For reasons she could not describe, Kerr, who graduated from Chatham High School and studies environmental science at Berkshire Community College in Pittsfield, Mass., got back on the unicycle and eventually joined the Bindlestiff Family Cirkus.
"They say not to run away with the circus," she said. "But I did."
If a dark underbelly exists within the unicycle culture, it might be found on the basketball court. There, in front of another chapel, Bronx-bred King Charles Troupe played the Puerto Rico All-Stars in a heated exhibition game.
It seemed as if the teams had prepared to play by different rules. The issue of contention was whether players could jump off their unicycles to dunk. The move was prohibited, but that did not stop athletes from trying. And, on occasion, catapulting from the unicycle to make a basket was allowed. The result was an elevated level of fire not typically seen among unicyclists.
"This is very serious," said Diane Stelma, 38, while she watched from the sideline. "I'm not used to this. They're really going at it."
In the end, the Puerto Rico All-Stars won 37-36.
"They were our inspiration," said Puerto Rico All-Star Larry Ramos, 33, regarding King Charles Troupe. "Our founder saw them on TV and taught us to play like them."
If the underbelly can be tamed, on this day, it seemed to be tamed by a sea horse.
Emily Season, 27, from New York, rode a unicycle with a large foam rubber sea horse attached to the stem. She built it herself for an under-the-sea themed show in Point Pleasant, N.J., where she performed earlier this summer.
[+] Enlarge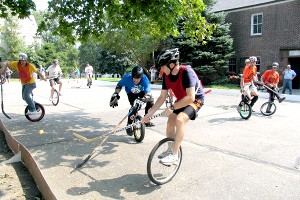 Ken Derry for ESPN.com Unicycle hockey? Yep, they play that, too.
"It's a wonderful feeling because as you ride by kids, they get really excited," Season said. "It goes to show you how much kids want to use their imaginations and play along with you. They point and laugh and have a good time, and that makes me have a good time."
Season, an entertainer, believes in magic. Not magic in the sense of making rabbits disappear, but in the sense of turning a spool of fabric into a sea horse and creating moments people will remember.
"It reminds everyone that you can do whatever you want," she said. "Anything is possible. As long as you want it to exist, you can create it."
By the end of the day, festival organizer Keith Nelson had one more thing to do. He wanted to break the world record for the longest human chain on unicycles. The record stood at 251 unicyclists, with a five-second hold.
After multiple attempts by 155 participants, only the New York state record was broken.
But the effort was not in vain.
As the sun went down and shadows grew long on Governors Island, a group of people -- once strangers looking to make connections and live healthier lives -- joined arms and balanced as one.
Ken Derry is a New York-based writer.