Commentary
Will Nike redesign NFL jerseys?
Originally Published:
September 7, 2011
By
Paul Lukas
| Page 2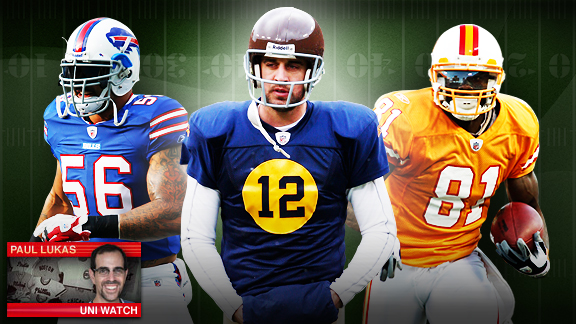 ESPN.com Illustration
The conventional wisdom around the uni-verse is that the 2011 NFL season represents the calm before the storm. That's because this is the last year of Reebok's deal with the league. Once this season is done, Nike takes over as the NFL's uniform outfitter. And then, according to this line of thought, all hell will break loose.
Uni Watch doesn't think it's going to play out that way, but we'll get to that later in this column. For now, with the 2011 season about to kick off, here's our annual roundup of uni-related news, listed alphabetically by team: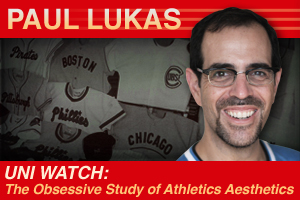 • The Bears will be playing the Bucs in London on Oct. 23, which means they'll be wearing the league's standard "International Series" patch (same as the one worn by the Broncos and Niners last year). Also, the Bears will be using a new kind of shoulder pad, designed to give trainers and medics easier access to a player who suffers a serious head, chest or spinal injury. Meanwhile, check out the shoes Devin Hester has been wearing in practice. Not sure if those will make it onto the field for any game action, though.
• Great news out of Buffalo, where the Bills have pulled off the upgrade of the year, or maybe the century. Yeah, the solid-white road uni is a little plain, but it's still better than the crazy-quilt design they'd been wearing before. Maybe next season they'll throw in a set of blue pants, which would jazz up the road look. (If you want a more detailed element-by-element assessment of the new uni set, look here.) Meanwhile, the Bills will once again be playing a "home" game in Toronto -- this year it'll be on Oct. 30, against the Skins -- which means they'll be dusting off their Toronto Series patch.
• The Browns have announced that they'll be wearing their white jerseys for all home games this season.
• The Buccaneers will once again revive their creamsicle throwbacks for one game, this time on Dec. 4 against the Panthers (that's also the day they'll be inducting former tight end Jimmie Giles into their ring of honor). Also, the Bucs will be the Bears' opponents in London on Oct. 23, so they'll be wearing the "International Series" patch.
• Five Colts players -- Dallas Clark, Austin Collie, Ryan Diem, Dwight Freeney and Jeff Saturday -- are testing a new helmet prototype that's designed to offer greater protection against concussions.
• Footwear switcheroo for the Dolphins, who've changed their shoe color from (mostly) black to (mostly) white.
• Two helmet memorials for the 49ers -- one for Joe Perry and one for John Henry Johnson. Interestingly, they didn't wear the decals during the preseason, so we'll have to wait until Sunday to see how they look on the helmet.
• Lots of fans noticed that the Giants wore their triple-striped road pants for home games during the preseason (instead of their usual home pants). That's just a preseason thing -- they'll be wearing the regular home pants now that the games count.
• The Packers will wear their 1929 throwbacks on Oct. 16, when they host the Rams at Lambeau. Further info here. (As an aside, the Packers have also had an effect on the uniforms of the Green Bay Police Department, which has been wearing Pack-branded badges.)
• The Panthers will be wearing their alternate blue jerseys for consecutive home games on Oct. 23 and 30. Their full jersey schedule for the season (something more NFL teams should publish, incidentally) is available here.
• The Patriots have added an "MHK" memorial patch for Myra Kraft, the wife of owner Robert Kraft, who died earlier this year. As you can see in that last link, the patch is being worn by the coaching staff as well as the players.
• The Ravens will wear their black alternate jerseys on Oct. 2 against the Jets and Nov. 24 against the Niners.
• Are the Redskins planning to wear a throwback white alternate jersey? No official word on that yet, but signs point to yes.
• An annual rite of August is that Uni Watch gets lots of e-mails saying, "The Steelers have removed the uni numbers from their helmets!" That's standard preseason protocol in Pittsburgh, where you have to earn your helmet numbers by making the final roster cut. The numbers will be back where they belong this Sunday, promise.
• The Texans will wear their red alternate jerseys on Oct. 30. They get the prize for keeping uni-minded fans informed, because their website includes a full breakdown of their uniforms for the upcoming season -- pants as well as jerseys.
• Other teams will presumably be wearing throwbacks and alternates at some point, but they'll be announcing those plans as the season moves along.
• The league is due for a new captain's patch design. The old design had four stars -- one for each year that the player had worn the patch -- but we're now on the fifth season, so there will presumably be a new patch format. No teams wore captaincy patches during the preseason, and Uni Watch's repeated inquiries with the NFL office have gotten nowhere, so we'll have to wait and see how this plays out once the regular season starts.
• All players, coaches and other sideline personnel will be wearing a 9/11 ribbon, patch or pin for the games played on Sept. 11.
• The league's annual "Think Pink!" promotion to raise breast cancer awareness will return in October, with teams breaking out the pink gear. There's a schedule of when each team will be focusing its efforts here. (As an aside, a few weeks ago Jets receiver Derrick Mason said he'd be wearing pink cleats all season long, as a tribute to his mother, who's battling breast cancer for the second time. But that idea didn't even make it onto the preseason field.)
Looking Ahead to Next Season
Many fans are taking it as a given -- some with dread, some with glee -- that Nike will give the NFL a wholesale makeover when it takes over the league's uniform contract in 2012. Speculations on what a Nike-fied NFL might look like, cooked up by some enterprising Photoshoppers, have been circulating for nearly a year now. Although the league and Nike confirmed that those designs are not legit, they still represent some people's worst fears (or fondest dreams, depending on whether you're an old-school or new-school kind of fan).
Uni Watch's position is that all this fretting and fantasizing is largely moot, because the NFL is likely to look pretty much the same next year as it does now. Here's why:
• It's a long way from the NCAA to the NFL. People's perceptions of Nike, whether positive or negative, are driven primarily by the company's college football uniform designs. But the NFL is very different from the NCAA. For one thing, colleges are using newfangled uni designs as recruiting tools to attract 17-year-olds and to sell merch to 20-year-olds. But the NFL doesn't need to recruit anyone (players play for the team that drafts them), and the league's consumer base is, on the whole, older and less trend-driven than the NCAA's. Also, many top colleges change their uniforms every season, while NFL teams aren't even allowed to change their uniforms more than once every five years, so there's a lot more design stability in the pro ranks.
• It's the dog, not the tail: Nike (or any uniform company) can't just walk in and change everything on a whim. Nike, like any vendor, can only do what its clients agree to. And in this case the clients are NFL team owners, a bunch of very conservative businessmen who have enormous investments in their successful brands and who, in many cases, have owned their respective franchises for generations. These are not the kinds of guys who are going to put their teams into the Nike design centrifuge. Can you really see the Rooneys letting Nike give the Steelers a major face-lift? Or the Maras? Or the Hunts? No way.
• Historical precedent. It's easy to forget this now, but Nike outfitted many NFL teams back in the 1990s, and the world kept right on spinning. Now, it's true that Nike came up with the Broncos' current look, which was revolutionary when it was introduced in 1997. But think about it: Nearly 15 years later, not a single other NFL team looks anything remotely like the Broncos, which just proves the point that most NFL franchises prefer to stick with tradition. Will a few teams come out with wacky designs next year? Yeah, probably. But there's nothing new about that. Most teams will still stick with what they've got.
• Hints have already leaked. Jaguars equipment manager Drew Hampton recently posted a series of tweets about the Jags' 2012 uniforms. The gist: No design changes, just a few tweaks in the tailoring. That's gonna be the story for most NFL teams.
• Potential new rules are a shot across the bow. Word came out over the summer that the NFL was considering new rules limiting alternate jerseys to non-prime games prior to Week 10, because the proliferation of alternate looks could "potentially compromise a club's national brand equity." Does that sound like a league that's planning to go bonkers with crazy uniform designs to you? If anything, it sounds like a pre-emptive move to ensure that Nike will have little effect on the league's look.
Add it all up and you have a league that you'll have no trouble recognizing as the NFL in 2012. A few teams will no doubt go for a face-lift, and we'll hear the usual claims about space-age fabrics that are lighter, faster and so on (seriously, can the anti-gravity jersey be far behind?). But a large-scale redesign? Ain't gonna happen.
And speaking of crazy designs ...
As you're probably aware, a certain university's football team wore some rather unusual uniforms over the weekend. And the uniforms were designed and made by a company owned by one of the university's most notable graduates.
That paragraph could have applied to Oregon, Nike and Phil Knight on practically any autumn weekday over the past seven years. But this time we're talking about Maryland, Under Armour and Kevin Plank.
Whether you found the Maryland design appealing or appalling, it had a serious design flaw. Now, the Maryland flag has four quadrants, which are staggered, like so:
The two sides of the Maryland helmet and the two shoulders of the jersey mimic these four quadrants -- but they're not staggered. The red and white sections are both on one side, with the yellow and black sections on the other. So despite all the chatter about the uniform "honoring the Maryland flag," it doesn't stay true to the flag's concept. And if two Terps were facing each other, they looked like they were on different teams.
Reader Tim E. O'Brien, who likes to tinker with uniform concepts, has done a bit of Photoshopping to show us how the Terps uni might have looked if it truly honored the Maryland flag design:
Still crazy, but better, right? More true to the concept, too. The moral of the story: If you're gonna do something way out there, have the guts and the vision to take it all the way.
(And here's a bonus moral: If you're coming up with a groundbreaking helmet concept, maybe check first to make sure it hasn't already been used by the local roller derby squad.)
NCAA Update
Last week's rundown of this year's college football uni changes missed a few items. Happens every year (with so many teams out there, it just isn't possible to keep track of everything), and Uni Watch is grateful to the readers who've helped fill in the following gaps:
• Alabama has added two memorial helmet decals. The houndstooth ribbon is for the victims of last April's tornados, and the 77 is for former player Aaron Douglas.
• Boston College had announced -- and Uni Watch had reported -- that the Eagles would be wearing a new helmet stripe pattern. But they stuck with their old single stripe for the first game of the season. No word yet on whether the new striping will be deployed later this year.
• BYU has added new slogans to its nose and neck bumpers.
• Although nobody will confirm anything on the record, Cal will supposedly be wearing this white helmet for one road game this season.
• Uni Watch had mentioned that Colorado's helmet and pants colors would finally match but neglected to include the bigger story, namely that the Buffs now have a throwback-style road uni to match the home design.
• Duke chose the opening game of the season to unveil a solid-black uniform.
• East Carolina has toned down the purple, at least on the road. And as you can see, the Pirates have also revived the Jolly Roger helmet logo that they previously wore for one game in the 2009 season.
• Georgia Tech is looking into changing the uni number design on its home jerseys, because the current numbers are difficult to read.
• Iowa State is another team with a white helmet lurking in the background. No word on whether it'll actually be worn in a game.
• Is this LSU's special Nike uniform for the Oct. 2 game against Auburn? Could be. Those photos were taken at a Nike store in Las Vegas.
• Maryland decided that the wacky designs that were unveiled two weeks ago weren't wacky enough.
• Memphis is using the old Miami template, and it doesn't work so well for the Tigers.
• Michigan has added a block "M" above the player names, and has also scrapped the extraneous piping on the road jersey (although the Wolverines don't play on the road until Oct. 8 -- their sixth game! -- so it'll be a while before you see the new road design).
• Michigan State has added a Bubba Smith memorial decal, but only for the first three games of the season.
• Teeny-tiny adjustment at Mississippi State, where the gray trim on the helmet logo has been replaced by maroon trim.
• Odd move for New Mexico, as the helmet design has gone old-school but the rest of the uni has gotten decidedly more newfangled.
• New Mexico State has added a "JK" decal in memory of local sportswriter John Keith.
• Uni Watch had mentioned that Ohio would be wearing a memorial decal for Marcellis Williamson, but we didn't have a visual. Now we do.
• It's a little hard to see, but Ohio State has added a helmet decal that says, "All In." It's under the American flag decal. It'll be even harder to see once the helmets are covered with buckeye stickers.
• Speaking of new slogans, it looks like new Pitt coach Todd Graham has added "Heart" to the team's nose bumpers.
• Rutgers has changed its shoe color from black to white -- or at least that's what the Scarlet Knights did for their first game. Turns out they have several shoe colors to choose from this season, as you can see in this video clip.
• San Jose State has added a lot of color to its road uniform.
• SMU is going with slightly altered sleeve striping and smaller TV numbers.
• Tennessee's TV numbers have moved from the sleeves to the shoulders.
• Texas A&M has ditched the hairline pants piping and changed shoe colors from black to white.
• Tulsa's new helmet stripe and Wilson Holloway memorial decal had been noted in last week's column, but it turns out that Tulsa also has new uniforms.
• After former USF athletic director Lee Roy Selmon suffered a stroke last Friday, the team showed support for him on Saturday by wearing a "63" helmet decal (it's hard to see, but it's the little circle next to the American flag). Selmon died the following day; no word yet on whether the Bulls will keep wearing the decal, remove it, or switch to a more formal memorial decal.
• Utah has added captaincy designations.
• Last week's column had stated that Wyoming hadn't changed any of its jerseys. But as several readers quickly pointed out, the team's white jersey design has been updated. Meanwhile, there's a new striping pattern on the pants, and the nose bumpers now say, "1 Team, 1 Goal."
• Last week's column noted that the officials would be wearing black slacks and wider zebra stripes this season, and that they'd be wearing "DP" cap patches in memory of former officiating coordinator Dave Parry. But there are several additional changes to the officiating crews: Their positions are now indicated on their front jersey pockets; in the Big 12 and Mountain West, the referee's white cap now has black eyelets and a black underbrim, and the black caps worn by the other members of the officiating crews now have thicker white piping and white edging on the brim; and many officials are switching to black-topped penalty flags (instead of solid yellow) and black bean bags (instead of blue), because they blend in better with the black slacks.
Do you know of still more FBS uni changes that we've missed?
Before you answer that, make sure the change you're thinking of wasn't already addressed in last week's column. If it wasn't covered there or in this week's follow-up rundown, send photos and info here.
Paul Lukas is looking forward to his annual ritual of devouring a big platter of ribs while watching the NFL's opening game of the season. If you liked this column, you'll probably like his daily Uni Watch web site, plus you can follow him on Twitter and Facebook. Want to learn about his Uni Watch Membership Program, be added to his mailing list so you'll always know when a new column has been posted, or just ask him a question? Contact him here.