Commentary
Why baseball is better than football
Originally Published:
September 7, 2011
By
Jim Caple
| Page 2
The NFL season begins this week amid so much unavoidable hype you'd think Will and Kate either were going to compete on "Dancing With the Stars" or had just signed as free agents with the Packers. With the NFL's overwhelming publicity machine turning the propaganda dial up to 11, it's time for my more-or-less annual column on why baseball still is at least a three-point favorite over football: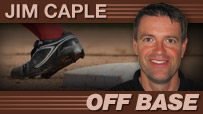 1. Employee relations: Thanks to the recent NFL lockout, baseball now has gone the longest of the four major sports without a work stoppage. The last baseball strike was settled 16 long years ago, before Derek Jeter made his major league debut or slept with his first Miss Universe or had a blogger insist that he is a terrible fielding shortstop. (I will, however, give the NFL owners credit for having the sense to hold their obscene lockout during the offseason, when no one really cared.)
2. The world's game: This week the Mariners called up Alex Liddi, the first major leaguer born and raised in Italy. He wasn't their first European this season, either -- that distinction went to Greg Halman, who grew up in the other Haarlem, in the Netherlands. So contrary to what the International Olympic Committee may think, baseball's popularity is growing around the world. In fact, there currently are major leaguers who grew up playing baseball on five continents -- North and South America, Australia, Asia and Europe -- plus, there are minor leaguers from Africa. And of course, Manny Ramirez was from another planet.
Meanwhile, the NFL closed its European league four years ago. But at least fans across the Atlantic no longer have to worry about the owners blacking out non-sellout games on Radio Free Europe.
3. Baseball caps: They are as quintessential, ubiquitous and indispensible an American apparel item as a pair of blue jeans, especially if you're losing your hair. They are the greatest U.S. export other than democracy, jazz and stifling consumer debt. Travel anywhere in the world and you will see people wearing baseball caps, though unfortunately they occasionally bear Yankees or Red Sox logos (what, do no Belgians root for the Brewers?). They are worn by everyone from rappers to astronauts, from President Obama to Pope Benedict. And what is the first thing football players do at the start of their NFL careers? That's right -- they don a baseball cap on draft day.
Meanwhile, I don't see anyone wearing football helmets, even on the absolute worst bad hair day imaginable.
4. Season integrity: With a nearly 40 percent admission policy, football's postseason is like Costco -- not just anyone is allowed in, but you can get a membership card without too much trouble -- even, sometimes, if you have a losing record. Baseball's postseason is more like an older but still popular nightclub. The velvet rope keeps almost three-quarters of the teams out as unworthy. As I said last year, increased playoffs slots don't equate with parity; it just means worse teams playing for a possible championship. (Unfortunately, I will not be able to use this argument next year if baseball screws up and adds that extra wild card.)
5. Fan relations: It never ceases to amaze me how shabbily the NFL treats its fans. Can't afford a ticket? You'd better hope the rest of your city can, or the league will black out television coverage of a game played in the stadium you helped fund with your tax money. Have enough money for a season ticket? Well, before the team will sell you one, you'll also probably have to buy equally priced tickets to meaningless exhibition games (and don't get me started on personal seat licenses). Imagine if baseball teams required their season-ticket holders to buy tickets to every Cactus and Grapefruit League game as well. NFL fans should consider themselves lucky the league doesn't require they attend two-a-days.
6. Healthy players: You hear people rip baseball players for all being out of shape. And you hear people rip baseball players for looking like they're all juiced up. And it's often the same blowhards voicing both complaints. It's aggravating and it's also dead wrong. Baseball players are in better shape than ever, discounting the occasional Prince Fielder.
Meanwhile, football is heading down the same disturbing road that boxing traveled. All these brain injuries and early deaths will eventually turn off fans, other than those who are really invested in their fantasy leagues. Worried parents also will keep their sons from playing the sport, watering down the quality of play and overall interest. Don't believe me? Just wait until the lawsuits and insurance rates start piling up.
And when that happens, who knows, people may even start watching the World Series again.
CSI: BOX SCORE
You know the rules. You get a fragment of an old box score and the challenge of determining what game it is from and why it is significant. I give this one a difficulty rating of 5.0. Hint: As we go into the season's final month, these fragments likewise will be from the final month.

Kurt Snibbe/ESPN.com
BOX-SCORE LINE OF THE WEEK
St. Louis starter Jake Westbrook gets nominated for his line as a hitter Wednesday (1 AB, 1 R, 1 H, 4 RBI), thanks to a grand slam. As colleague Doug Kern points out, that was the tenth grand slam by a Cardinals pitcher since 1950, most in the majors. Texas shortstop Elvis Andrus also had another interestingly productive line Friday with four runs in two at-bats (2 AB, 4 R, 2 H, 2 RBI) while New York's Brett Gardner scored two runs with one at-bat Sunday (1 AB, 2 R, 0 H, 0 RBI). And hours after Kern sent me an email saying that no one had hit for the cycle this season, Milwaukee's George Kottaras did it (5 AB, 2 R, 4 H, 2 RBIs, 1 2B, 1 3B, 1 HR)
Meanwhile, Boston reliever Andrew Miller allowed six runs in 1 1/3 innings (1 1/3 IP, 5 H, 6 R, 6 ER, 4 BB, 1 K) and White Sox reliever Shane Lindsay allowed seven runs in one inning Sunday (1 IP, 8 H, 7 R, 7 ER, 1 BB, 1 K) but they did it the old-fashioned way, by allowing a lot of hits. So this week's award goes to San Diego starter Tim Stauffer for his much more creative performance of allowing seven runs on just one hit. His award-winning line:
1 2/3 IP, 1 H, 7 R, 7 ER, 7 BB, 1 K
Stauffer is just the fourth pitcher in the live-ball era to allow seven runs on one hit. He also walked three batters with the bases loaded. Other than that, he was fine.
[+] Enlarge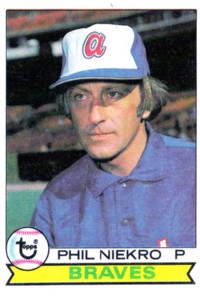 Topps
BASEBALL CARD OF THE WEEK
Here's the amazing thing about this card (1979 Topps No. 595): Even though Phil Niekro looks like Jamie Moyer's crazy grandfather, what with the long gray-and-white hair as well as the warm-up jacket buttoned up to his neck, he was still in his 30s when it was released. He pitched for another eight years!
BALLPARK RANKINGS
Citi Field (aka Debits Field), New York: The Wilpons seemed more eager to pay tribute to the Brooklyn Dodgers and Ebbets Field than to the Mets' own history here, but this is still a significant improvement over Shea Stadium. For instance, Shea never had an Alyssa Milano boutique down the right-field line. The stadium also is convenient to the subway and has a retro-park feel, with homages to the Polo Grounds and Tiger Stadium. Not only are there far more and far better concession items available (Belgian frites), they list the calorie count for each. That will come in handy if you're trying to squeeze into a size XXL replica jersey, not to mention a size 4 dress at the Alyssa Milano boutique.
Score: 81.
Current rankings:
1, PNC Park, Pittsburgh 98
2, AT&T Park, San Francisco 94.
3, Camden Yards, Baltimore 92
4, Target Field, Minnesota 91
5, Wrigley Field, Chicago 90
6, Dodger Stadium 88
7, Safeco Field, Seattle 87
7, Comerica Park, Detroit 87
7, Coors Field, Colorado 87
10, Kauffman Stadium, Kansas City 86
11, Comiskey Park, Chicago 83
12, Progressive Field, Cleveland 82
13, Citi Field, New York 81
14, Minute Maid Park, Houston 80
15, Yankee Stadium, New York 79
16, Busch Stadium, St. Louis 78
17, The Ballpark in Arlington 77
18, Miller Park, Milwaukee 77
19, Chase Field, Arizona 76.5
20, Nationals Park, DC 76
21, SkyDome, Toronto 75
22, The Oakland Coliseum 74
23, This Space For Rent, Florida 73
24, Tropicana Field, Tampa Bay 68
YEAH, WELL, THAT'S JUST LIKE YOUR OPINION, MAN
Wild Thoughts Looking Ahead: With growing support for the additional wild card, it's worth considering what an additional postseason team would add to this season's races. And the answer is: not much. Or at least, not enough to make it worth changing the current system. The Cardinals and Giants would be tied for the second National League wild-card slot, with no other possible contenders above .500. Over in the American League, you would simply replace the one legitimate race we have this season (Texas and Anaheim) with Anaheim and Tampa Bay (and the Rangers if they fall out of first) playing for the second wild-card spot. How exciting. Ah, but the point is supposed to make that AL East race meaningful, right? Well, as I pointed out a couple of weeks ago, you could make that race truly meaningful by dropping the wild card entirely so both Boston and New York would be playing for the only spot available. By adding a second wild card, you're simply going to have one team's fans griping that their season came down to a one-game playoff even though they barely lost the division yet finished with a far superior record than their wild-card opponent. The simple fact is, no matter what the system is, someone is going to be pissed. …
Meanwhile, Looking Back: With the tenth anniversary of 9/11 this Sunday, what if baseball had simply canceled all games that week rather than making them up at the end of the season? No one at that confusing time knew what the best solution was, but had the games not been made up, no division or wild-card race would have been affected. The teams that had the lead at the end of September had the lead after the makeup games. True, the Mariners would have finished with 111 victories, not the record-tying 116, but they also would not have to deal with the ignominy of having won more games than any team other than the 1906 Cubs but somehow not even reaching the World Series. The big difference would have been to Barry Bonds' home run record pursuit. Take away those six games from the schedule and you wipe away four of his home runs, leaving him with 69 home runs rather than a record 73. You can decide for yourself whether that would have been a good thing. …
I Mean No Disrespect But … If we absolutely must demonstrate proper, dignified respect for our nation by playing a patriotic song before "Cotton Eyed Joe" (Yankees and Rangers), "Louie Louie" (Mariners), "Thank God I'm a Country Boy" (Orioles) and "Build Me Up Buttercup" (Angels), then why not occasionally mix in a more pleasing tune than Kate Smith bellowing "God Bless America" again? There is no song that makes you feel better about being an American than Ray Charles singing "America the Beautiful." There is no more empowering and inclusive song than "This Land is Your Land." And it would be nice to hear them. …
And finally … Kottaras completed the cycle when he hit a ground-rule double that probably would have been a triple had the ball not bounced over the fence. Which reminds me of the great response a friend once gave me when I asked him what he would do if he needed a double for the cycle in his final at-bat of a blowout but hit a home run instead. Would he intentionally miss third base so he would get the double? "No," my friend replied. "Because if I finished my career with 755 home runs, I would kick myself." He said this, of course, when Hank Aaron still held the career home run mark at 756. …
CSI: BOX-SCORE ANSWER
The important clues are the hit total (0) for the visiting team and the absence of any pitcher other than Scott for the home team. That's all the information you needed to realize that this was a no-hitter. But did you also deduce that this was the game with which Houston clinched the 1986 AL West title, when Mike Scott no-hit the second-place Giants? It marked the only time a team clinched a title with a no-hitter.
Jim Caple is a senior writer for ESPN.com. You can follow him on Twitter at jimcaple.