Commentary
Top 10 tips your NFL team is doomed
Updated:
September 8, 2011, 11:55 AM ET
By
Jerry Greene
| Special to Page 2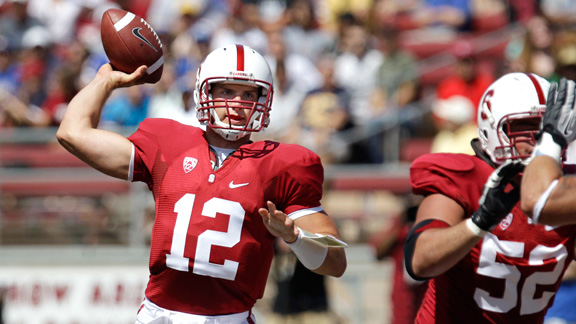 AP Photo/Paul SakumaDo you think NFL fans are already anticipating the arrival of Andrew Luck next year? Yep.
This is disturbing.
When we chose "Top 10 Tips Your NFL Team Has No Chance" as the subject for this week's reader-generated list, we did so in a lighthearted manner. After all, the season doesn't begin until Thursday night, so how gloomy could our enthusiastic readers be?
Wow, we didn't realize that hundreds of you have already accepted failure as the "can't miss" destiny of your favorite team. In fact, instead of using the phrase "Has No Chance," most of you changed it to "Top 10 Tips My Team Is Doomed."
Unfortunately for our list, many of you chose to name one person as all the evidence needed for a team being doomed. In fact, it appeared there was a write-in campaign aimed at Seattle quarterback Tarvaris Jackson. Others who were popular choices as the carriers of doom included Raiders owner Al Davis, Chargers coach Norv Turner and 49ers quarterback Alex Smith.
Not too positive on the West Coast, are you?
And then there was this entry from John M. of Morrisville, Pa.: "Two words -- Miami Heat."
What?
While we ponder how LeBron James can be blamed for ill fortune striking a football team, let's get to the list:
Top 10 Tips My NFL Team Is Doomed
10. "Your best quarterback would rather sit at home, reading either Ayn Rand or a 'Twilight' novel, instead of playing for you," said Matthew C. from Baltimore. (Hard to imagine Carson Palmer or anyone else being a fan of both Ayn Rand and the "Twilight" books.)
9. "Your team already is selling Andrew Luck jerseys in anticipation of next season," said Massawar A. of Queens, NYC.
8. "The best player on your team is the punter. Hail Moorman!" said Joel B. of Elmira, N.Y. (Brian Moorman is the Bills punter and has gone to the Pro Bowl twice. He has his own cult followers who call themselves "Moormanators." Best of all, Chris Berman calls him "Moorman Tabernacle Choir." Now name another Buffalo player.)
7. "Your team wants a new image and just hired the Maryland uniform designer," said Doug E. of Altamonte Springs, Fla. (Surely the commissioner would step in and stop that.)
6. "Your quarterback has Dr. James Andrews on speed dial," said Beverley B. of Indianapolis. (Who could you be thinking about, Bev?)
5. "Your payroll is less than that of the Miami Hurricanes," said Janice H. of Palo Alto, Calif.
4. "The offensive coordinator asks the head coach if he's working on the game plan. The head coach says, 'No, it's my resume,'" said Mark M. of Apopka, Fla.
3. "Harold Camping now says the world will end on the day your team wins the Super Bowl," said Lisa H. of Hamilton, Mont.
2. "Your team is so bad that Brett Favre won't come out of retirement to play for you," said Patrick K. of Covington, Ky. (Favre keeps his streak alive of being in all of our top 10 lists.)
1. "You threw snowballs at Santa Claus -- and Santa never forgets," said John A. of Andrews Air Force Base in Maryland.
Be warned, Eagles fans. John A. has a point -- and your dream could turn into a nightmare because doom plays no favorites (other than Carolina).
Jerry Greene is a regular contributor to ESPN.com and can be reached at osogreene@aol.com