Commentary
Boise's championship dream dies here
Originally Published:
September 8, 2011
By
Sarah Phillips
| Special to Page 2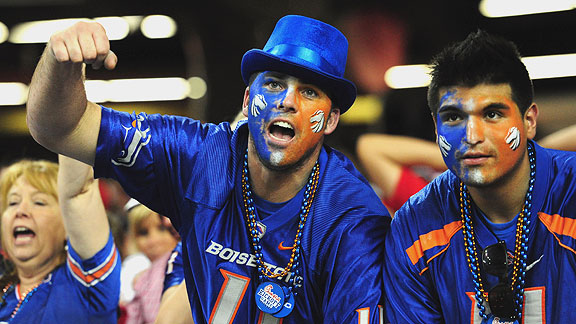 Scott Cunningham/Getty ImagesBoise State fans might not get a trip to the national championship even if the Broncos go undefeated.
It's a new season and Boise State is back to being a big tease.
Thanks to Georgia, the annual "Will Boise State qualify for the BCS National Championship Game?" conversation has returned. We will now be subjected to 13 weeks of heated debate -- ultimately lead to Boise feeling as blue as its fabled Smurf turf.
Before you create a "I Hate Sarah Phillips" group on Facebook, hear me out, Boise fans. The Broncos are talented, and will finish the season undefeated. Please take occasional breaks from reading below and return to this sentence to ease your anger if needed.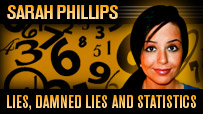 Here are the top 10 reasons why Boise State doesn't belong in the BCS National Championship Game: Toledo, Tulsa, Nevada, Fresno State, Colorado State, Air Force, UNLV, San Diego State, Wyoming, and New Mexico. Not only would much of the Top 25 run the table on that schedule, but the second string at Oklahoma, Alabama and LSU could probably do it, too.
The most glaring aspect of Boise State's schedule is the real possibility that all of its opponents could be unranked in the final BCS in-season poll. TCU has the best opportunity, but after giving up 50 points to Baylor, that glimmer of hope is fading. Plus, the Broncos' win over Georgia will be less significant when the Bulldogs finish the season hovering around .500. Let's face it -- if you want the computers to be attracted to you, you can't pull up in a RAV 4 to a parking lot full of Range Rovers.
On average, Boise State will likely be set as a four-touchdown favorite in its remaining games. The Broncos tried to correct this by realigning from the WAC to the Mountain West, a move that's akin to a guy dumping an ugly chick for her identical twin.
The Broncos make a great Cinderella, but the BCS National Championship Game is reserved for superheroes such as Superman and the Incredible Hulk. There's no room for glass slippers.
So quit hiking up your skirt, Boise. The BCS isn't interested.
On to this week!
After going 2-6 on last week's picks, I donated my debut column to Gamblers Anonymous as a public service to steer people away from betting.
As if last week's college slate wasn't difficult enough, we welcome the NFL to the mix beginning this week.
How difficult is it to beat NFL spreads? In 2010, 262 favorites covered, 262 underdogs covered and 10 games pushed. Advantage: Las Vegas.
I must be a masochist.
This week's NFL picks
All games are Sunday unless otherwise noted.


Eagles at Rams, 1 p.m. ET, Fox
I used to hate the first day of school after summer vacation. My body may have been sitting in Señor Engstrom's Spanish class deflecting verb conjugation lessons, but my mind was asleep at home. Something tells me the Rams can relate to this feeling. St. Louis is 1-9-1 against the spread in its past 11 openers. Week 1 of the regular season has essentially been Week 6 of the preseason for the Rams, and the schedule makers didn't have mercy on St. Louis this season when they arranged for the Eagles to travel to the Edward Jones Dome. Philadelphia is 7-1-1 against the spread in its previous nine meetings with the Rams. Two negatives don't make a positive in the NFL.
Pick: Eagles (-4½)


Lions at Buccaneers, 1 p.m. ET, Fox
When it comes to covering the number, the Lions remind me of Owen Wilson's character from "You, Me and Dupree" during their recent visits to Tampa Bay. The Bucs have welcomed Detroit with open arms to Raymond James Stadium, and the Lions have habitually overstayed their welcome by throwing impromptu parties, changing the voicemail to their own personal greeting and sleeping naked on the couch. Detroit is 4-0 against the spread during its last four visits to Tampa Bay. The Lions will continue to abuse the phrase "Mi casa es su casa" by extending this streak to 5-0 on Sunday.
Pick: Lions (+1½)


Panthers at Cardinals, 4:15 p.m. ET, Fox
There won't be many times in Cam Newton's career when being compared to Matt Stafford and Sam Bradford will be a negative. But like Newton, Stafford and Bradford are quarterbacks who were drafted No. 1 overall and started the season opener as rookies. They both lost outright, and neither covered the spread. The bad news gets worse for Cam, as the Panthers have exhibited symptoms of seasonal depression by going 0-6 against the numbers in their past six September games. "Cammy Cam Juice" won't save Newton this week.
Pick: Cardinals (-7)


Cowboys at Jets, 8:20 p.m. ET, NBC
The most interesting angle here isn't determining which team will be the bigger underachiever this year -- that will be the Cowboys ... again. I'm more interested in the relationship between Dallas, the total points line and the playing surface. The Cowboys are on a 6-0 streak going over the total when playing on FieldTurf. Dallas has averaged 28 points per game and also allowed 28 points per game during this stretch, so even a couple underwear models should be able to quarterback this one over the number. Expect a good ol' fashioned gunfight at the Meadowlands, and I'll try my best to resist cracking a Plaxico Burress joke.
Pick: Total points -- over 40


Bengals at Browns, 1 p.m. ET, CBS




Seahawks at 49ers, 4:15 p.m. ET, Fox



Raiders at Broncos, Monday, 10:15 p.m. ET, ESPN



Titans at Jaguars, 1 p.m. ET, CBS
It would be easy to group all the new coaches together and initiate them with the Tim Tebow monk cut and a Week 1 loss. But Mike Shanahan, Pete Carroll and Chan Gailey made coaching debuts with new teams and went 2-1 outright and against the spread in their openers last season. This year, there are six new NFL head coaches. I'm predicting Hue Jackson, Pat Shurmur, Jim Harbaugh and Mike Munchak will make it through pledge week, but Ron Rivera and John Fox will fall short. Hey, someone's gotta keep Chan Gailey company, right? Fox and Jackson are squaring off against each other, so I'm giving the nod to Oakland, which is 5-0 against the numbers in its past five meetings in Denver.
Picks: Browns (-6½); 49ers (-6); Raiders (+3); Titans (+3).
This week's college picks
All games are Saturday unless otherwise noted.


No. 12 South Carolina at Georgia, 4:30 p.m. ET, ESPN
South Carolina and Georgia entered this season as sleepers to make a national championship run. Sleeper, as in a team flying under the radar that could have a big year -- not a team getting put to sleep by Boise State. During the past seven meetings between South Carolina and Georgia, the Bulldogs and Gamecocks have defied one of the most basic life lessons my dad taught me. He''d say, "Sarah, there are three rules in life: Don't eat yellow snow, always wear clean underwear, and the team that wins the turnover battle wins the game." The Gamecocks have forced an average of 2.3 turnovers per game in their past seven games against Georgia, but are only 2-5 in that span. That changes this weekend.
Pick: South Carolina (-2½)


No. 16 Mississippi State at Auburn, 12:20 p.m. ET, ESPN3.com
Auburn fans should feel relieved that this game is still relevant after last week's scare against Utah State. Here's a text message chain from that game through the eyes of an irrational Auburn supporter:
Auburn down 21-7: YO, AUBURN! WE'RE PLAYING THE AGGIES! NOT ALABAMA!
Auburn ahead 28-24: Beastin'. Auburn rollllllzzzzzz.
Auburn down 31-28: Ain't no thang. We got this.
Auburn down 38-28: I swear I'm about to take the biggest leak on Toomer's Corner after the game.
Auburn cuts the lead to 35-38 and recovers onside kick: OOOO MMMM GGGG!!!!
Auburn takes 42-38 lead: REPEAT CHAMPIONS BABY!!!!
This week's game won't have a happy ending for Tigers fans. The previous two BCS national champions (Alabama and Florida) failed to cover the spread in Week 2 the following season. I have a feeling Auburn will go down two touchdowns again this week, and unlike Utah State, Mississippi State will seal the deal.
Pick: Mississippi State (-6)


No. 21 Missouri at Arizona State, Friday, 10:30 p.m. ET, ESPN
Social media has revolutionized communication. Now we can keep up with birthdays, job history, relationship status and even coordinate a stadium-wide blackout, whiteout, blueout or any other color-out. Arizona State fans jumped on Facebook this week, asking fans to wear black when the Sun Devils debut their new all-black alternate uniforms. During the last nationally televised blackout, Alabama traveled to Athens, Ga., to face the Bulldogs in 2008. One Alabama fan at the game referenced the gimmick by holding a sign that read, "Hey Georgia! Welcome to your funeral!" Alabama beat Georgia, 41-30. So ... Hey Arizona State! Welcome to your funeral!
Pick:
Missouri
(+7½)


Oregon State at No. 8 Wisconsin, Noon ET, ESPN



No. 6 Stanford at Duke, 3:30 p.m. ET, ESPNU
Instead of chomping their cupcake opponents last week, Oregon State and Duke were both embarrassed at home. BCS programs need to understand they have everything to lose when playing FCS teams. Notre Dame, UCLA, and USC understand this -- they are the only programs never to have played an FCS school. The silver lining to this week's games for the Beavers and Blue Devils is that Mike Riley and David Cutcliffe won't have to put their teams through hell week at practice. The Badgers and Cardinal will take care of that on Saturday. The only question is whether the Madden mercy rule will be in effect.
Picks: Wisconsin (-18); Stanford (-20½)
Sarah Phillips is a West Coast-based writer specializing in sports data query language. You can follow her on Twitter @RealSarahPHI.