Commentary
It's never too early to hit panic button!
Originally Published:
September 12, 2011
By
DJ Gallo
| Page 2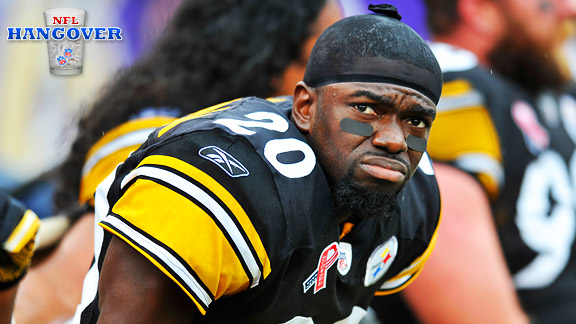 AP Images
Week 1 of the 2011 NFL season is almost in the books -- Monday night's games excluded. Half the NFL fan bases are sure that their team is going to the Super Bowl, while the other half are terrified their entire season is over before it even started.
Should your team hit the panic button if it lost in Week 1? Take a look.
New Orleans Saints

Lost 42-34 to the Packers.
NO -- The Saints had a chance to tie the game on the last play on the road against the defending Super Bowl champs. That's nothing to hit the panic button about. Although it might be smart for Sean Payton to ask his defense to hit the panic button, as it clearly needs some practice hitting things.
Cleveland Browns

Lost 27-17 to the Bengals.
YES -- Cleveland lost at home to a team expected to be one of the NFL's worst. And nothing horrible happened to Peyton Hillis, so the "Madden" jinx has yet to kick in. This could get ugly.
St. Louis Rams

Lost 31-13 to the Eagles.
YES -- Sam Bradford, Steven Jackson and several other players got hurt. Plus, the upcoming schedule doesn't get any easier. Worst of all for St. Louis fans: Albert Pujols remains unsigned! AAAAAHHHHH!! Panic. PANIC!!!
Tennessee Titans

Lost 16-14 to the Jaguars.
NO -- It stinks to lose to a divisional rival that just made a change at quarterback, but there was one big positive: Chris Johnson touched the ball only 15 times. Titans players now get to go forward with the peace of mind knowing that just because management pays you a lot of money, it doesn't necessarily expect you to perform.
Tampa Bay Buccaneers

Lost 27-20 to the Lions.
NO -- The Buccaneers lost on Sunday at home, but the game was blacked out locally because it didn't sell out. Why freak out about something no one else cares about? That's the sign of a mental illness.
Indianapolis Colts

Lost 34-7 to the Texans.
NO -- Nothing happened on Sunday that should cause the Colts to hit the panic button. They should have hit the panic button last Tuesday.
Pittsburgh Steelers

Lost 35-7 to the Ravens.
NO -- The Steelers are a talented team, and we'll likely look back at this loss at the end of the season as the worst game that they played all year. Even if not, the Steelers can't hit the panic button. Roger Goodell would fine and suspend them, and they would be worse because they'd play short-handed.
Seattle Seahawks

Lost 33-17 to the 49ers.
NO -- There's no reason the Seahawks should panic after one loss. They won the NFC West last year at 7-9. Unless they start the season 0-10, they should be fine. I don't even think NFC West teams are given panic buttons.
New York Giants

Lost 28-14 to the Redskins.
NO -- There's no reason to get upset about a loss. No one should have expected many wins from this team anyway. If you did, you should stop reading this column immediately and, for the first time in your life, take a trip outside of the New York metro region. You just might like it.
Dallas Cowboys

Lost 27-24 to the Jets.
NO -- A tough loss on the road to a good team is nothing to panic about. Plus, the Cowboys always know they're the best team anyway -- scoreboards and standings are just haters.
Atlanta Falcons

Lost 30-12 to the Bears.
NO -- Nothing is decided in Week 1. It's only September. Every team can have a bad game. Et cetera. Et cetera.
Kansas City Chiefs

Lost 41-7 to the Bills.
YES -- Nothing is decided in Week 1. It's only September. Every team can have a bad game. Et cetera. Et cetera. All that is true. Unless you lose 41-7 to the Bills at home.
Minnesota Vikings

Lost 24-17 to the Chargers.
YES -- The Vikings definitely should hit the panic button. In fact, the panic button was probably already hit by a Donovan McNabb pass intended for Percy Harvin.
Carolina Panthers

Lost 28-21 to the Cardinals.
NO -- The Panthers probably had the best outcome of any team in the NFL in Week 1, and it should be their blueprint going forward: lose while Cam Newton plays great. He proves that he's awesome, while the Panthers go 0-16 and get the No. 1 pick to add another elite weapon to the mix. I propose this motto for the 2011 Panthers: "Losing with Greatness for the Future."
Quote of the week
"It was like a jailbreak."
-- Solomon Wilcots, CBS analyst, on Cedric Benson's 39-yard touchdown run in the fourth quarter to clinch a victory for the Bengals.
"Like a jailbreak" is a figure of speech often used in football, but someone probably should call Texas jail officials just to double-check that Benson is supposed to be out.
Stat of the week
39 -- Vikings quarterback Donovan McNabb threw for 39 yards on 15 attempts in his Minnesota debut. The following 15 players -- Doug Baldwin, Jake Ballard, Kenny Britt, Dez Bryant, Early Doucet, Matt Forte, A.J. Green, Devin Hester, DeSean Jackson, Jeff King, Mohamed Massaquoi, Hakeem Nicks, Greg Olsen, Steve Smith and Jason Witten -- all had single receptions this week longer than 39 yards. What a bunch of show-offs.
This week's horrible fantasy team that crushed your team
Ryan Fitzpatrick, QB, Bills -- 17-for-25, 208 yards, 4 TDs
Mike Tolbert, RB, Chargers -- 93 total yards, 3 TDs
Ben Tate, RB, Texans -- 24 carries, 116 yards, TD
Early Doucet, WR, Cardinals -- 3 catches, 105 yards, TD
Randall Cobb, WR, Packers -- 35 yards, 2 TDs
Scott Chandler, TE, Bills -- 5 catches, 63 yards, 2 TDs
Photos of the week
"Raise your hand if you want me to stop singing."
MORE GALLO PHOTO CAPTIONS!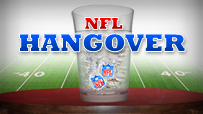 These bonus NFL photos will help you through your day by making you feel good and helping you laugh at friends.
DJ Gallo's NFL Hangover photo gallery

"Yuck. I hate when they take out the Limburger cheese."
"Wait. No. Don't pull that finger. ... Well, that's your fault now."
"This is only my third year here, but ... record crowd?"
"Ah, man. Now I have to go home and deal with nagging from my old lady."
"I'm excited to die. They say pillow heaven is full of people with no dandruff."
"Does that hurt?" "Yes, but I'm a kicker. Everything hurts us to some degree."
"OK, everyone say 'bounty' on three!"
Five things I thought you thought we all thought
1. The Colts were so awful on Sunday that I wonder whether it bolstered Peyton Manning's case for being the best quarterback of his generation. When Tom Brady got hurt in 2008, the Patriots barely missed a beat and went 11-5. Whereas the Colts staked their claim against the Texans as serious Andrew Luck contenders. Without Manning, the Colts are terrible. Without Brady, the Patriots are still pretty good. I don't know whether it decides the Manning-Brady debate, but it definitely decides the question: "Who is the better football coach: Bill Belichick or that guy who coaches the Colts -- Jim or Jeff something?"
2. I bet when Donovan McNabb's first pass as a Viking got intercepted, somewhere Brett Favre stood and applauded out of respect. Even he never thought to start his tenure that way. He was more of a final-pass-interception guy.
3. The new kickoff rule doesn't seem to have discouraged returners from running the ball out of the end zone. Instead, they seem more motivated to do it out of spite and look as though they're almost running faster than before. Just imagine how exciting it would be if they moved kickoffs up to the 50 so we'd get to see returners knocking over five rows of fans to bring the ball out of the stands.
4. Kerry Collins moved past Skechers Shape-Ups pitchman Joe Montana and into 10th place on the all-time passing yardage list on Sunday. But don't expect Collins to become a Shape-Ups endorser. He looks a bit too old for their target demo. He's more of a Hoveround guy.
5. This Tuesday, your fantasy league's waiver wire will be renamed "The Place With All the Colts."
DJ Gallo is the founder of SportsPickle.com. His first book, "The View from the Upper Deck," is available from only the finest bargain-book retailers. His next book project will be released soon. You can follow him on Twitter at @DJGalloESPN.